We're a little nervous as this will be our first train trip in Russia.   We check the train schedule near the platform and see that train 112M should be on track 5 at 2200.  Nothing to do now but wait, with hundreds of others, who seem to be all Russian, with no tourists in sight.
At 2200, and on-time a train pulls into track 5, must be our ours.  We see lots of people moving quickly to the platform, so we do the same.  We  find car 8 and there is a line of people in front of the Provodnitsa who is checking people's passports and tickets before allowing them to enter the train.  Now it's our turn and Jeff goes first.   The Provodnitsa is female, about 35, somewhat overweight, but very businesslike and definitely in control.   Jeff hands her his ticket and passport.   She looks at his papers for about 30 seconds, much longer than the other passengers.  Then she starts talking Russian, very fast and stern for a long time.  Jeff shrugs his shoulders and says he does not speak Russian.  That prompts more Russian, faster Russian, and some frustration on her part.   Then eventually she waves Jeff through and he enters the train.  Next I hand her my paperwork,….Ya ne gahvahroo Parooske, I tell her  that I do not speak Russian.   She says something in Russian very fast, for what seems like a long time, and then motions for me to board the train.
We find our way to compartment 5, seats 21 and 22.  I had booked us to ride 2nd class for this leg and we find that it's an older train, drab and gray,  but looks comfortable enough, and so far it's just the 2 of us in this compartment.  I take the upper bunk for this leg of the trip and Jeff takes the lower one.  Both of our suitcases fit under the lower bunk.  We each are given a large plastic bag with sheets, blankets, slippers  and a hand towel.  On a small table by the window, are 2 stankans  which are special glasses just for tea.   Russians love tea and one of the main products that is historically transported along the Trans-Siberian is tea coming from China and other areas of Asia.
About 2 minutes before departure a large Russian man, about 45 or so,  steps into our compartment and takes the lower bunk across from Jeff.    He looks at us curiously, says 'drasvwitcha'(hello) and starts making up his bunk bed.  A minute later the train departs.  This is kilometer zero, we are on our way and this is very, very exciting!   But at the same time, for some reason, I started thinking about some of those black and white cold war movies on TCM that I had seen over the years where a CIA agent is behind enemy lines, riding a gray Soviet train and being watched suspiciously  by all of the Russians on the train.
The train slowly rolls out of Moscow, stopping occasionally, possibly to allow right of way to another train.  It's 2230 now, and we had planned to sleep through this leg, which is about 10 hours and goes to Kazan, a city that is about 750Km to the East.   But the lights are on, and our Russian roommate is sitting on his bunk looking at Jeff and he wants to talk.  He finally says something in Russian, and we tell him we are Americans and do not speak Russian.   He laughs and keep talking in Russian for several minutes, and appears to ask us some questions in Russian.   Once in a awhile he throws in some English words, and eventually we understand that he is a wrestling coach and teacher.   I pull out my English Russian dictionary and we use that to keep the conversation going.  This continues for about 2 hours.
Now the Provodnitsa comes in and tries to sell us some souvenirs and stankans.   She is also in a much better mood this time, very friendly and always smiling.  She wants 500 rubles for the stankan, and I reply that it is too much.  I do buy a couple of key chains from her for souvenirs.  She then talks to the Russian wrestling coach for several minutes, looks at us and laughs several times.  Not sure what that was about.  Around 0100, we tell the coach we're tired and go to sleep.    Around 0500, coach gets up, packs his bags and gets off at a small Russian county town.  We wake up briefly to shake hands and say Dasvadonya!
Monday May 2 Kazan
I slept well fairly good last night but for some reason the train is hot, so I wake up early and stay up.  Jeff wants the door closed, so I dress down to my underwear and hang loose for awhile.   Later I dress up to go down the hall to the restroom, and notice that the Provodnitsa is up and wearing a heavy sweater.   The temperature gauge shows 28 degrees Centigrade which is 84F.
Jeff gets up around 0700 and disappears for awhile.  He has been talking to a Russian in the hallway, who speaks some English.   He was explaining to Jeff that he spent 30,000 USD on a trip to  Pennsylvania last year so his son would be born in the US, and as a result, his son has the option to be an American citizen.   He was also planning on doing this with his next child.
We watch the Russian countryside from the train for the next couple of hours.   For awhile it is rolling green plains, with some snow, nothing but small towns and farmland, but no fences and not many farms.  Then it becomes forested and stays that way, with birch trees everywhere;  there  must be millions of them in Russia.   There are more towns now and many are small.
The towns consist of small wooden houses, usually gray or brown, but sometimes with colorful shutters.   Often there is a small garden area in  back of the house, sometimes fenced in.   The roads are all gravel, no pavement, and there are few stores and shops.  What a change from Moscow!    We see some larger towns now, Sergach, Shumerlya, and now Nizhniye Vyazovye.
Now we are crossing the Volga River and it is quite impressive.    Wider than the Mississippi or the Missouri, it is 2293 miles long, the longest river in Europe.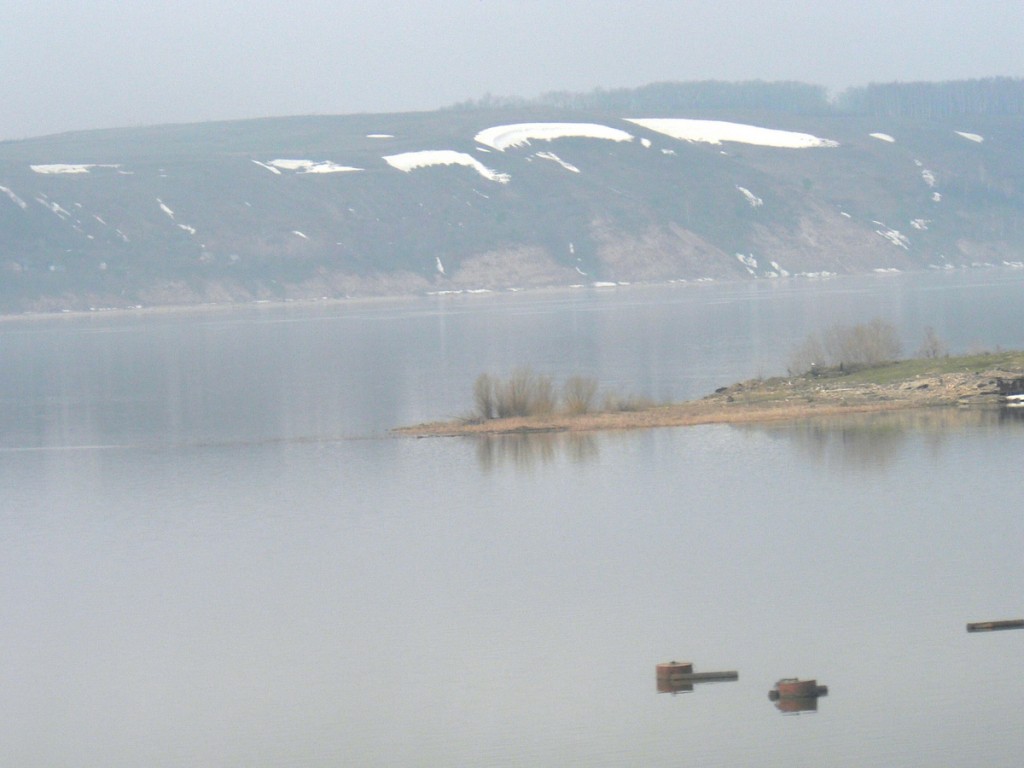 Around 1000, the train slows as we enter the outskirts of Kazan.
We've reserved a hotel in Kazan, and it is about a 1 mile walk from the station but first we need to get out train tickets for our next leg of the trip to Yekaterinburg.  Our Lonely Planet book says we need to go to a building north of the main terminal which is now just  a waiting area for departures.  We find a new terminal with lots of ticket windows but this looks like it is for Suburban trains.  Jeff finds a rest room, pays 10 rubles and uses it with no flak from the babushka collecting fees at the entrance.  We then find that we are in the wrong building and need to go further north to another building.  Upstairs we find the Service Center where we can exchange our E tickets.   There are 3 windows, some signs in Russian but no English.  In front of us are 2 young African girls who appear to be as confused as me.  They go to each window, receive no help, and leave.   Finally I go to the first window, and ask the babushka if she speaks English.   Nyet.   So I explained in the simplest form of Russian that I wanted tickets from Kazan to Yekaterinburg.  She nodded her head, smiled and  asked for my eticket and passport, in Russian, then printed tickets for Jeff and I.  Spaciba(thanks), we're done!
Next:   Kazan
Prior:   Walking around Moscow