Saturday, April 30
At 0530, our room at Godzillas is full of light.  I  manage to sleep off and on until 0730, usually I don't adjust to the time zone differences so quickly.   Don't want to wake up the others so I grab my computer and move into the hallway where there is a couch.  There is an old guy there in his 60's, good to see, as I was worried that I would be the only old person in the hostel.    The computer crashes, damn, it won't boot up due to a hard drive error!   I guess that's what I get for buying a 5 year old computer on Craig's List.
Jeff comes out around 0830 and we decide to get some breakfast.   We go back to Tsvetnoy bulvar and find a Кофе Хауз, same as last night,  must be a large chain.  We get a breakfast menu, and there are some entrees for 300 rubles, about $11 Usd.  Jeff says this is too expensive and he just gets coffee.   I go for the entrée and get a very small bowl of eggs and toast, but it tastes great.    Time to hit the туалет(bathroom), as we're going to walk down to the  Kremlin after we finish eating.  Last night we noticed that public restrooms are very hard to find in Moscow.   I go downstairs and notice  that the restroom is unmarked and has 2 rooms, a small ante room with a sink and then there is a small enclosed stall with a toilet behind it.  The door to the ante room is open and there is a young Russian girl combing her hair.  The door to the toilet is open.  Wonder how this works…the room with the toilet is open but she's busy with her hair, and it's only a couple feet away from her.  So I wait about 5 minutes, she finishes, and luckily I get to use the toilet with no one waiting.   Hmmm, think I just used my first Unisex bathroom.   Haven't seen one of these since Ally McBeal.  Shyoht pajahlsta, we ask for our bill and start walking to the Kremlin.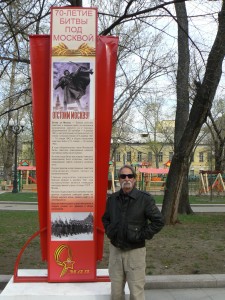 On the way to ul Tverskaya we start seeing lots of 9 May posters , WW2 Victory Day, also known as the 'Great Patriotic War' in Russia.  Over Twenty million Russians died in WW2 and it is not forgotten.  As a point of reference, American losses for the entire war were just under five hundred thousand.  This is celebrated by young and old alike, as Russians are very patriotic.
About 20 minutes later we arrive at the Kremlin.  This time we take in the Changing of the Guard at the Tomb of the Unknown Soldier.  This is a memorial dedicated to the Soviet soldiers killed during World War II.    The goose stepping soldiers move in unison as Jeff takes a video.
Moscow – Kremlin Tomb of the Unknown WW2 Soldier
There is a large crowd of Russians taking it in along with a handful of tourists.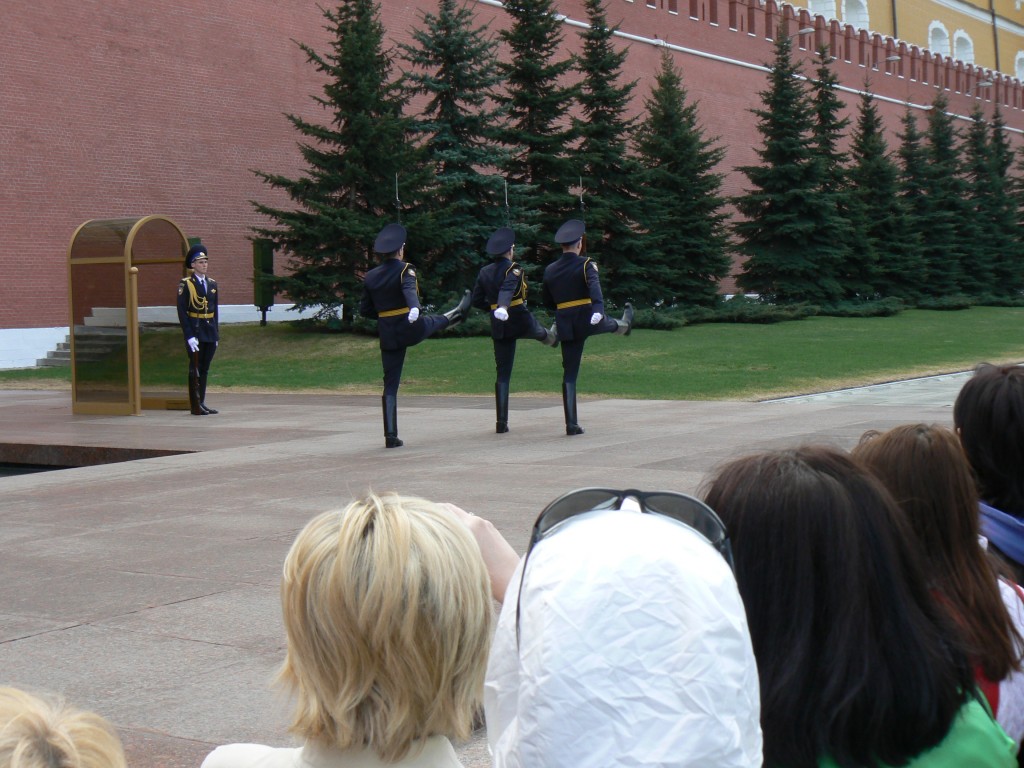 We need to buy tickets to get into the Kremlin, and there is a small office with a line and everyone seems totally confused by the tour options offered.  The option we want allows you to visit several of the museums for 350 rubles,  but elsewhere it seems to indicate that the museums are not open.  No English is spoken by ticket salespersons and we don't know enough Russian to clarify so we buy the tickets, and move on.
We walk into the Kremlin through Trinity Gate and immediately to the right is an unmarked dacha.  This is where Stalin and his wife lived.   His wife committed suicide here in 1932, and Stalin lived here until 1953.  It's a simple looking structure, much like a military barracks.   There is a single guard outside and no one is allowed inside.
The Kremlin is an unusual mixture of churches, museums, government buildings and palaces covering Tsarist Russia, the Soviet Union and the present.
Many of the churches are hundreds of years old and it is surprising they were not removed during Stalin's time.   This is also the working  residence of the current Russian President but he does not live here.    We find that we can enter many of the churches but the museums are closed.  One of the churches has the tombs of several of the Tsars.
The Kremlin sits high on a hill above the Moscow River.  The Cathedral of Christ the Saviour can be seen in the distance.  It was originally completed in 1883 but was destroyed by Stalin in 1931 and was intended to be replaced by a gigantic monument to be called the Palace of the Soviets.   This project was never completed but during the Khrushchev era, it was converted into the world's largest swimming pool.  This remained until 1990 when the Orthodox Church was granted permission to bebuild it, an exact replica of the original structure!
Around noon we see a military precision team entering the Kremlin grounds.    They march to Cathedral Square and perform there for 30 minutes.  They are accompanied by a military band.
Here is a video.   Moscow – Kremlin Military Band and Drill Team
We do some more walking and decide that we need a father/son picture in the Kremlin.  A couple of tourists volunteer to help us.  They are Chinese,  but speak English, so we talked for awhile and found that the older Chinese were from China but their sons were going to school in Iowa.
By now we are both getting hungry and need to go on a restaurant search.  We've been walking for about 6 hours and want a place to sit down for awhile.  Jeff wants Chinese food because there is not much Asian food in Mexico.    The Kremlin is right next to a section of Moscow called Kitay Gorod(Китай-город in Russian).  Translated that means Chinatown.  But we walk for an hour and the only restaurant we see is Mexican.   Exhausted we find a bar and decide to stop for a drink.  We find that they serve Russian food so we randomly select some dishes from the menu, as there is no English.  I get a great plate that is a mixture of French fries and beef with a gravy sauce.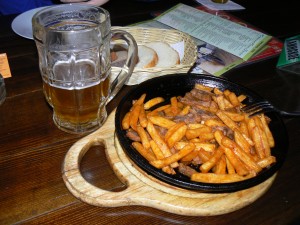 I once had something like this in Saigon in 1972 and haven't seen it since.   It's even better with Sibirska Korona.
Recharged, we decide to go back to Red Square and look for Lenin's Tomb.  Lenin died and was embalmed in 1924 and has been on display ever since with the exception of the WW2 years when he was moved to the city of Tyumen in Siberia.  The Nazis actually got to within 15 miles of Moscow and Stalin prepared to evacuate the city but the Russian winter and fresh troops from Siberia turned the tide.   We find the tomb is closed as Red Square is being prepared for the May 9 Victory Day parade.  Big disappointment, will have to catch it next trip.  There are other famous Russians buried in the Kremlin Wall itself right next to Lenin's tomb including Stalin, Breshnev, Yuri Gagarin and  also an American newsman, John Reed the character played by Warren Beatty in the movie Reds.
Next we decide to tour the Russian History Museum.   This is the other huge building on Red Square that you see during the May 9 parades.   We each pay 250 rubles.  We walk through 7 floors that start with Prehistoric Russia and end with the Romanov reign.  Quite interesting but no Soviet history for some reason.
It's  late afternoon now and we decide to visit Victory Park as I've heard there is a great WW2 museum there.  We walk over to the other side of Red Square into the huge GUM department store to get on the Metro.   I've read a lot about the Russian Metro and am anxious to see it.   It was built during the Stalin era and is hundreds of feet underground.  This was done for military purposes.  But the Metro itself  is filled with bright colors, artwork and sometimes chandeliers.
It's not busy today and the entrance to the Metro is larger this time, but again there are no ticket machines, you have to go to the Kacca and buy one.  "Dvah billyete pajahlsta"  gets us 2 tickets.   We pay 15 rubles each.  We get 2 cards about the size of a credit card, walk to the turnstile, and place the card over a yellow circle.  A little LED turns green and we pass through.   Now we get on an escalator and descend at least 200 feet.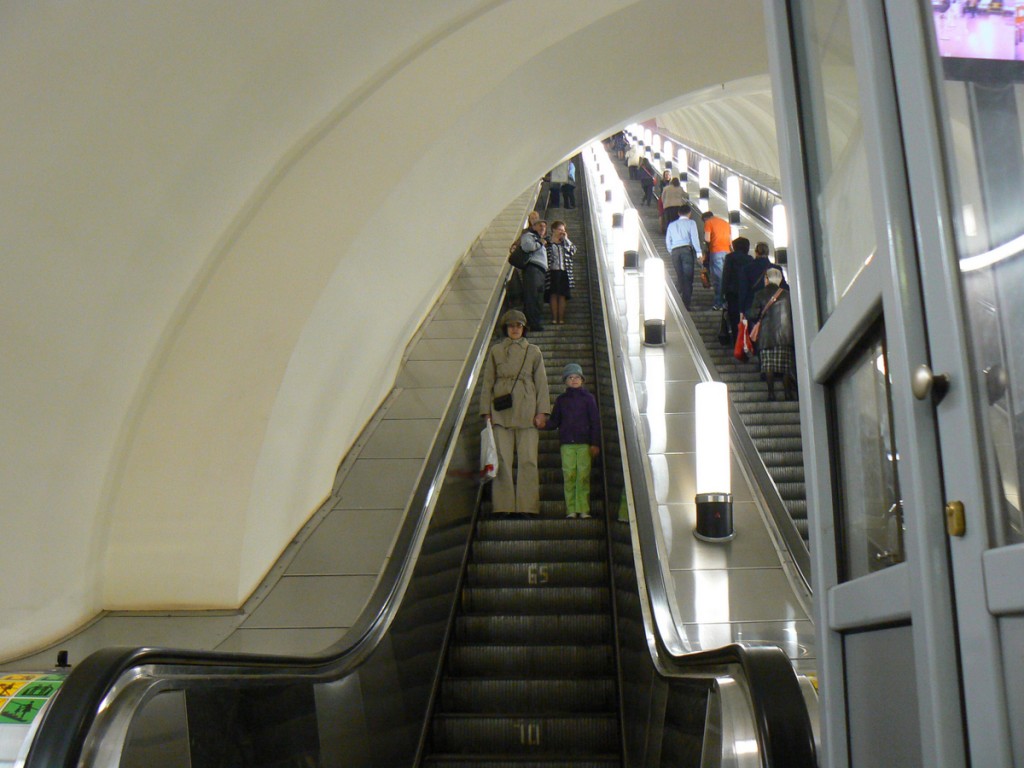 At the bottom I try to take a picture to capture the entire length but it is not possible, as can't see the top.  One thing that is obvious immediately is that the Metro is 100% Russian,  no English, that's manageable but there is very little information in Russian.   The routes are numbered and color coded like most other cities, but all of the stops are cluttered together, and the stops seem to be cluttered together for multiple lines.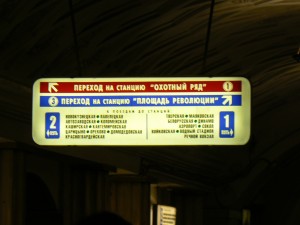 Nowhere is a Metro  map available nor is there one posted on the wall until we get to our car in the departure area.  How does this work?  Anyway, we want the Red line which is line 1 so we follow the signs, now we just need to make sure we are going the right direction.   We find the one going to университет which is the University.  The car is packed and stays that way for our 20 minute ride.
We get off at the University, I check the map and see that Victory Park is about '2 inches'  away.  That was the same as the walk this morning which took about 20 minutes.   Sure could use a WC but we can get one at the Museum.  We walk about 20 minutes and notice that we have covered about ¼ inch on the map….oops we're on the back of the map now and the scale is 4x compared to the front.   Jeff immediately loses confidence in my ability to navigate as it becomes apparent that we have a 2 hour walk instead of 20 minutes.   Out comes the Iphone and Google Maps.  Jeff did not purchase a 3G package so not sure why Google Maps is showing our current position unless we briefly connected to free wifi.  The map is not used during the remainder of the trip.
We manage to arrive at Victory Park about 5:00 and the museum is still open but we need to rush as it is only open for another hour.   We pay 100 rubles each, but no pictures are allowed which is disappointing.  We find the WC, men and women are separate this time,  and take care of that.  We check in our backpacks and coats in another area and start walking.   A good deal of the museum consists of murals of WW2 battles.  From the hundreds of WW2 films I've seen, some of these are recognizable, Berlin, Stalingrad and Leningrad for instance.  There is not a lot of weapons, uniforms or military equipment.  We walk upstairs and enter a room called the Hall of Glory which is very impressive.   It is a large circular room with thousands of names engraved on the walls.  These are the recipients of the Hero of the Soviet Union award.   In the center of the ceiling is a large 'CCCP' surrounded by the Red Star.  It is interesting that the museum was built in 1995 after the collapse of the Soviet Union.
At 1900 we leave the museum and start to look for the Metro.  Victory Park is huge and it takes awhile to leave the grounds.  There are lots of Russians walking around and eating at the food stands nearby.  We walk toward the Triumphal Arch that was built to celebrate Russia's victory over Napoleon in 1812.
There is a Metro stop there, we buy tickets and take Line 3, then 9 back to the Tsvetnoy Bulvar.  The escalator at Victory Park is 276 feet long and is one of the longest metro escalators in the world.  The escalator  ride takes about 3 minutes as this is one of the deepest stations in Moscow.  About an hour later we are back at the Hostel.
Now we're super hungry and don't want to look for restaurants.  We decide to hit the food stands on Tsvetnoy Bulvar.  We find one with shish kabob pictures that look good.    But it is not what I was expecting, think it was lamb and came with rice and curry.  Don't like curry and don't like lamb but the beer that came with it was excellent!   We get back to the Hostel around midnight, talk to our Argentine roomates for awhile and get to sleep.
Sunday  May 1 National Holiday in Russia
I slept until 0730.  Jeff gets up soon after.  He looks a little cranky, says I snored last night and he didn't sleep much.  We go back down the hill to the Coffee House and notice that Tsvetnoy Bulvar is packed with protesters.  The protestors are being bused in by the hundreds.  There are more policemen out today.  It turns out that May Day in post Soviet Russia is a day of national protest.  Seems orderly but a big change from yesterday.
This is our last day in Moscow and I am hoping to see the Armed Forces Museum which is in the northern part of the city.  But first we have some business to attend to.  We catch our first train tonight at Kazansky station at 2210. I've ordered all of train tickets in advance from a website called RealRussia.com.   I have a receipt with a barcode for each leg of the trip, similar to what you would get when you order airline tickets online.  These cannot be used to board the train;  we need real tickets.  So we've decided to go to the train station this morning to see how to get a boarding pass.  I could not find any information about this before we left.   I get the impression that most Russians buy their tickets at the station,  most Europeans have the actual tickets delivered to their homes before leaving, and I think most Americans book tours.   We had the option of having all of our tickets delivered to our Hostel, but since we arrived in Moscow on Friday afternoon and were leaving Sunday night, it seemed too risky.
So after breakfast,  we go to the Metro  and  find our way to Kazansky Station which is in the NE area of the city.   The Metro has much more security today in light of the May Day activities.   We find our way but it's not exactly intuitive, but in advance we write down the names of the Metro stations, in Russian, and this helps.  There are 3 large train stations all located at the same place, Leningradsky, Yaroslavsky and Kazansky and each is huge.
We locate Kazansky, see lots of information but no English and no Information Center with English speakers.   The main terminal is a large building that reminds you of the National Guard Armory but it is beautiful inside with colorful walls and ceilings.  There is artwork everywhere and chandeliers on the tall ceilings.
We start taking pictures and are told by Security that no pictures are allowed, so we stop.   The warning we got was stern but polite.   Last time I had something like this happen was back in 1971 when I was arrested for taking a picture of a rice farmer outside of Taipei.  No big deal,  and we focus on trying to figure out how to solve our problem.
Seems like the local trains are handled in one area and the long distance trains in another.  We are hoping to find an area for converting e-tickets into boarding passes, but see no kiosks or self-service machines of any kind.   We see lots of Kacca windows with long lines, seems like a good way to start.   I had read that in Russian train stations, there are usually administrative windows where foreigners might get some help in English.  Ok so what is the word for Administrator in Russian?  We look it up and it's администратор so we look for this and find something that looks close.
There's a long line but we finally get to the window and I ask the lady if she speaks English….Nyet(no), she says!  So I show her our bar coded receipts which are in Russian but she starts talking fast in Russian and I have no idea what she is saying.  Suddenly, a Russian in line behind Jeff starts talking to Jeff in German, thinking we are German.   Jeff explains in German, to the Russian, what it is we are trying to do, and the Russian in line explains this to the ticket agent who directs us to a different window.  We were not at the Administrative window but she sends us there.   Once at the Administrative window,  the agent checks our passports, and changes our eticket into a real train ticket and we're all set.   Jeff thanks the Russians for their help.    This is a process we would need to repeat at each train station on our route.   Whew, we got thru it for leg 1 thanks to some friendly and helpful Muscovites.
After all that work, we are now hungry, and we've seen some great food stands in the train station, so let's eat.  We try to find one with a short line but no luck, so we go for where we can order by pointing.  First I tell the lady in Russian that my Russian is bad,  but I want to eat.  That works and I then point to the hot dog and a coke.  She gets them but then asks me something in Russian that takes about 30 seconds.  I tell her in Russian, sorry I don't understand.   She's ok with that but there is a drunk  guy behind me who thinks I cannot hear her, so he starts repeating what she has just said, only much loader.   I tell him in Russian I don't understand(big mistake), so he repeats it again much loader and looks really frustrated.  The lady behind the counter diffuses the situation by throwing a cold sausage into a bag and handing it to me.  Apparently she wanted to know if I wanted it heated up.  Ok it's been a difficult morning, but it's early in the trip, and we'll adapt.  Before leaving the train station, we familiarize ourselves with the arrival and departures marquees.   There are 9 departure platforms and they are all indoors so we should be all set when we return tonight.
We head back to the Metro and get on the Circular line that takes us near the Armed Forces Museum.  I had read that this was an excellent World War II Museum, and also had static displays of Soviet tanks, aircraft, artillery and missiles.  We still had a good mile to walk after exiting the Metro so Jeff fired up the GPS on his Iphone and that made it much easier.   On the way, we walked past an impressive building called the Theater of the Red Army, shaped like a Soviet Red Star.   It is an active theater that has plays that are military and traditional Russian, but it is not open.
At the museum, tickets were 100 rubles each, and I paid an extra 100 rubles to take photos.    The ticket agents knew we were not Russian and seem to give us a lot of attention.   They were asking lots of high speed questions in Russian for some reason.   We were able to tell them that we wanted to take photos.   A couple of babushkas (older Russian women) were talking non-stop and apparently wanted us to check our backpacks which we did.  We found the restrooms and again men and women were separated.  Back upstairs we were looking around and talking about where to start our tour when a young Russian in his twenties starts talking to us in perfect English.   He works for the Museum and starts talking about some of the exhibits.  Then  for the next hour he gives us a guided tour through the entire museum explaining many of the exhibits in detail.  He speaks of a great female sniper at Stalingrad and of a famous Russian officer who loses both arms in battle, and returns to the eastern front as soon as he is recovered.  He talks of the wars largest tank battle at Kursk in Russia, a turning point on the Eastern front in 1943.   There is an American jeep on display as we supplied the Russians with equipment during the war.  He shows us one of the first Kalashnikov's, i.e. AK-47.  We also see the wreckage of Francis Gary Powers U2 which was shot down near Yekaterinburg in 1960.
We then walk outside and there is an impressive display of Soviet fighters including the Mig-15, Mig-17, Mig-21, Mig-23 and Mig-25.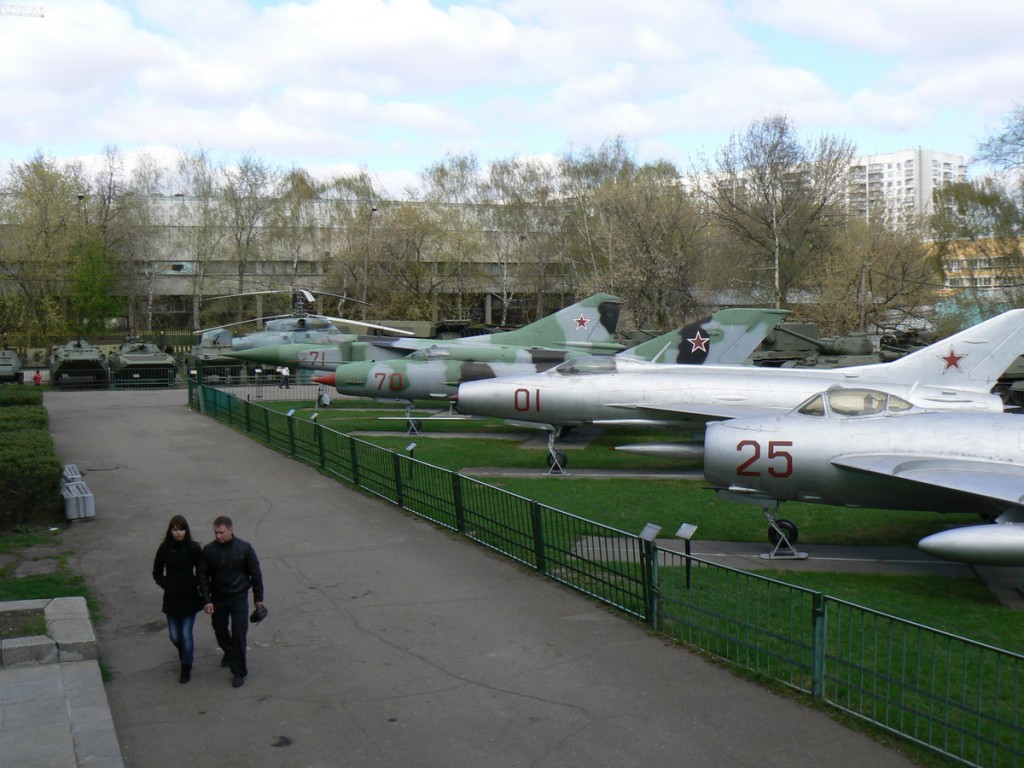 It's around 1700 now and the museum closes.  We decide to walk back to the Hostel which is about 2 miles to the south.  Getting hungry too so we watch for restaurants.  We see a sidewalk café with outdoor seating, the first we have seen in 3 days in Moscow, but it's not real busy.  We want to try a Russian pizza restaurant near the hostel called the Tsvetnom Pizzeria.  This time the menu is in Russian and English so ordering is easy.
After eating we return to Godzillas.  We checked out earlier today, but they  let us stow our bags until we needed to depart for  the train station.   We have an hour or so to kill so I check my email and start talking to an American who is next to me.  He has been  studying Russian Literature at a University in St. Petersburg for several months and this is his first trip to Moscow.   He says the Metro system here in Moscow is more complex and more difficult to navigate than St. Petersburg.  There is some English in the Metro there making it easier to get around.   He was just returning from a day trip to Vladimir where he watched the May Day parade.  He said there were hundreds of old Communist marchers there.  He loved the city and recommended that we visit it.   At Godzillas, we also meet 2 young American Marines who are stationed in California and on leave.  This is their first time in Russia and one of the places they want to see is the Armed Forces Museum so we help them out.  Surprisingly, these would be the last Americans, and the last tourists, we would see for the next 10 days, as we traveled across Russia and Siberia.
Around 2000, we decide to leave for the train, but find that we have an important email from home.   I used the ATM at Godzillas 2 days ago, and this triggered a fraud alert on my bank account.  Hmmm, I told them before I left that I would be in Russia for 3 weeks.   No matter, I have to call them personally and validate the charges if I want to continue using my card.  I'm ready to blow this one off, but in a role reversal my son protests and demands that I take care of this immediately.   I use Skype on Jeff's Iphone and cross this off the To Do list.
We walk down the hill from Godzillas to the Tsvetnoy Metro stop, buy some tickets and head to Kazansky station.  We have our suitcases this time but it's not a problem getting a place on the Metro or getting around, and 40 minutes later we are at the train station.
Next:   Train trip from Moscow to Kazan
Prior:  Arrival in Moscow