As we exit the train and walk on the platform, there is a sign that says 'Mr Jon B' and is held up by a young Russian looking woman.   "Natalie"?, I ask.   "No, I am Maria", she says "Natasha(Natalie) could not make it.  I'm sorry but I speak just a little English".   She asks if we would like to take a taxi to Olga's or if we'd like to walk.  We try to ask how long the walk is but it didn't work so we say we'd like to walk.    Maria leads us to the footbridge that passes over the many tracks surrounding the Ulan-Ude Vokzsal.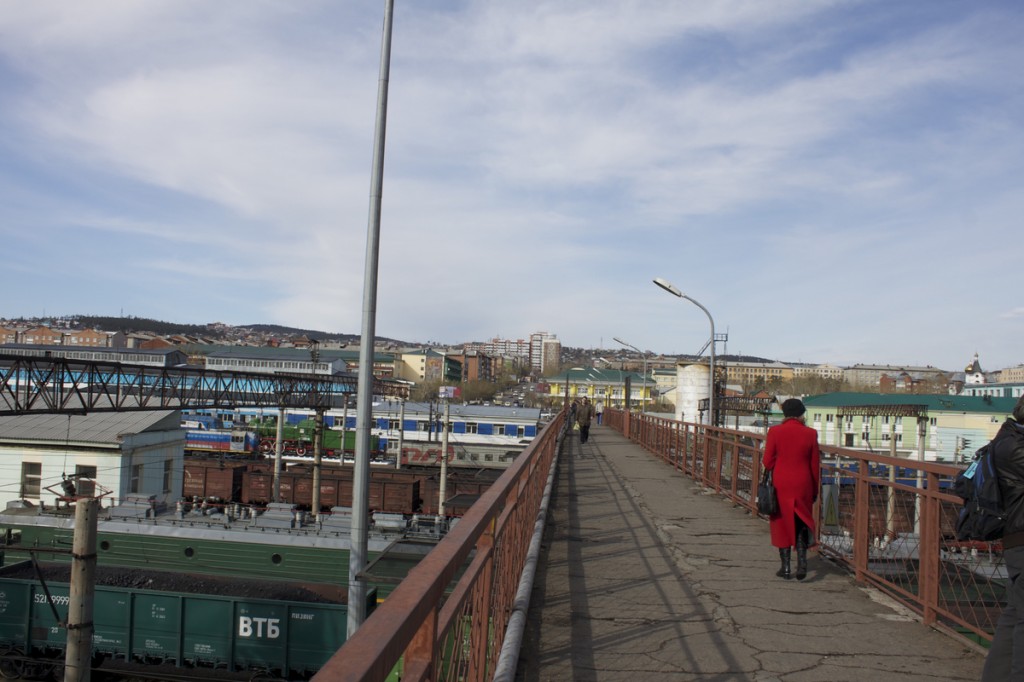 The dozen or more parallel tracks in the rail yard are packed with coal cars in the hundreds.  After walking another 4 or 5 blocks we approach a Soviet looking apartment building and Maria rings the door bell at the front entrance. 
Maria introduces us to Olga who is an older Buryat looking woman, probably in her 60's.  She finds that we don't speak enough Russian to answer all her questions so she starts speaking in French.  Since we don't speak French, Jeff tries to talk to her in German and then Spanish but no luck.  So we do our best to understand Olga's French.
Olga gives us a tour of her apartment which has shiny old wooden floors and very nice furniture.  It looked much like an older and well kept apartment in Georgetown back in the states.   In French, Olga then tries to explain that she will make dinner after the Opera and ballet have completed.  We weren't quite understanding this  and explained that we did not want to go to an opera, but this she did not understand.  She also mentioned something about another American, a girl from New York, that was staying in her other bedroom.   Jeff and I wanted to tour Ulan-Ude for the remainder of the afternoon and then have dinner.   Olga somehow understood this and we agreed to be back for dinner at 2000. Later we would find out that the other American was taking a dance lesson at the Opera house that day and Olga would serve dinner after the dance lessons were completed.
Olga's place is just a couple blocks away from Ploshchad Sovetov, the central square in Ulan-Ude  which is on Lenina Ulitsa.  It's quite cold outside, in the 30's F,  but the sun comes out and brightens up everything.    The main attraction on pl Sovetov is a giant Lenin head, the world's largest in fact.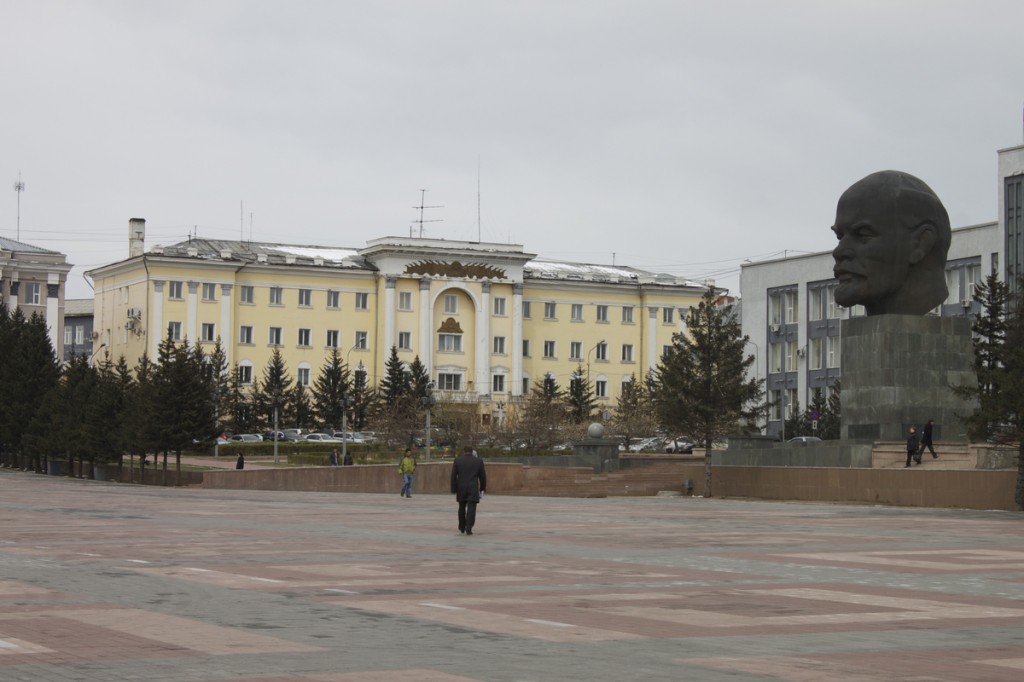 Surrounding the plaza are government buildings of the Republic of Buryatia, along with Russian Federation buildings.   The buildings are well maintained and painted in different shades of pastel colors in contrast with the stern, dark gray bust of Lenin.
A coffee house sits at the corner across from pl Sovetov  on a busy street and we decide to stop in for lunch.   But just before we enter, someone yells "Jon, Jon, is that you?"   Huh?   It's Natalie from Za Baikalom Travel!   She was on her way to Olga's to see if everything was fine and if we needed anything.  Ulan-Ude is a city of nearly 400,000, this is quite a coincidence.   We ask Natalie if she would like to have lunch with us but she has already eaten and is busy.  But she takes time to make sure that we know where to pick up the bus to UB in the morning, and also tells us what to see in Ulan-Ude this afternoon.
After a day on the train, it always feels good to walk and Natalie recommended following ul Lenina through the Shopping District. Ulan-Ude is a clean city with a mixture of new and old architecture.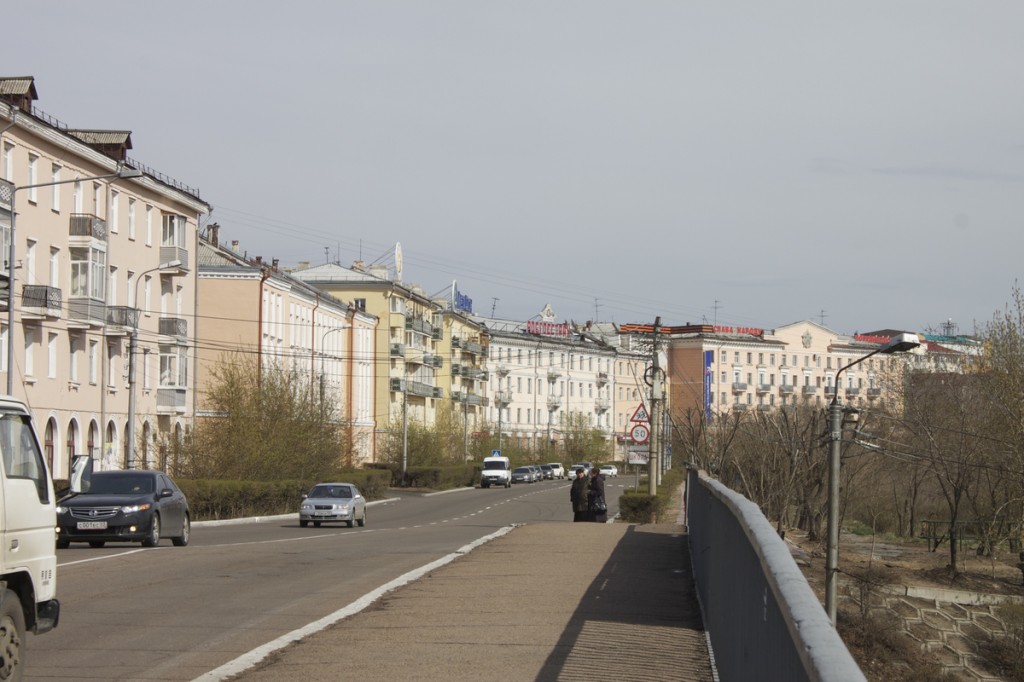 There are more Asian looking people on the streets now, appearing to be the majority compared to white Russians.
Many of the Asians are tall,  often over 6 feet.   After a few blocks, ul Lenina becomes a pedestrian mall and continues to the Odigitria Cathedral which dates to 1785.
We seem to attract some attention here, apparently not a lot of westerners visit Ulan-Ude.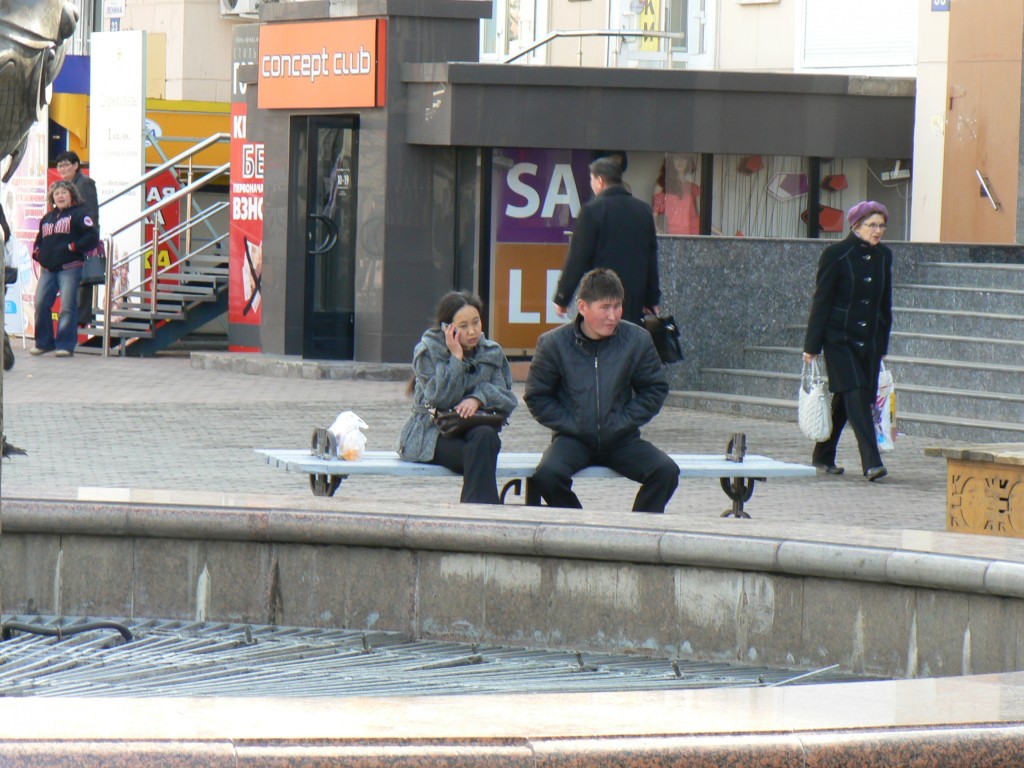 Some of the old Siberian wooden architecture now becomes visible as we turn and walk back on ul Banzarova.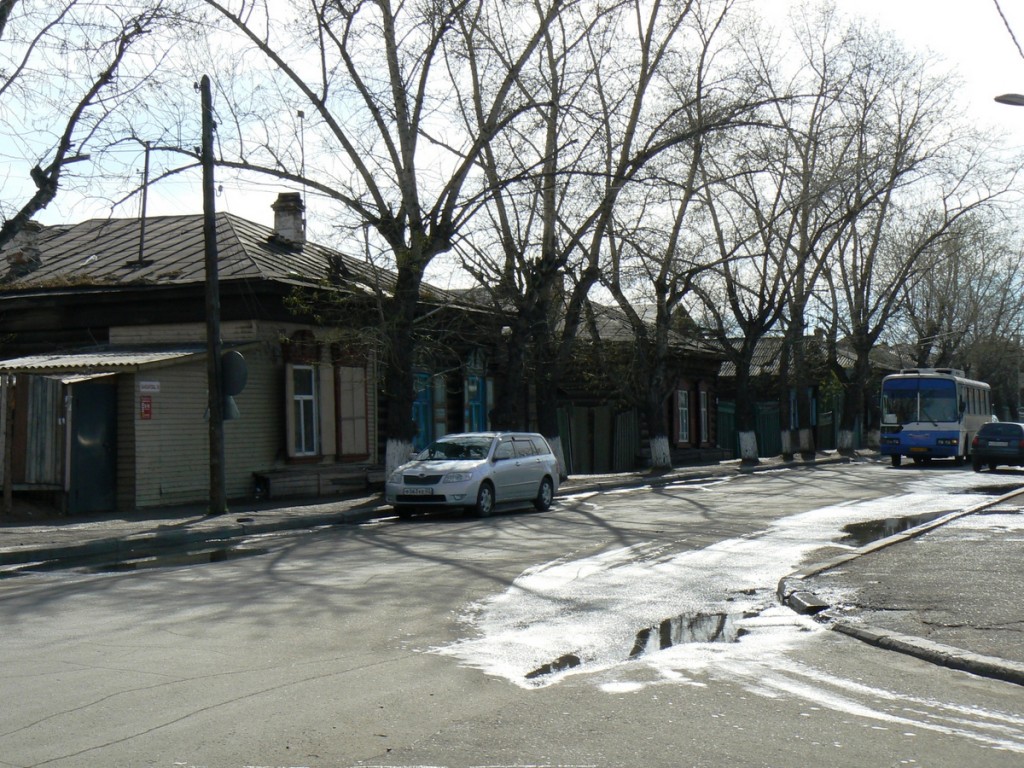 We pass the Opera House and Hotel Geser and return to Olga's to get ready for dinner.
At 2000, Olga comes to our room and says dinner is ready.   Olga introduces us to Diana, who is from New York and has been travelling in Asia by herself for the last 3 months, and has been staying with Olga for the last few days.  Diana will be taking the bus with us to Ulaan Baatar in the morning.  We have travelled over 3000 miles in the last 10 days and this is the first American we have seen since leaving Moscow!   Diana speaks French so we are now able to communicate with Olga through Diana.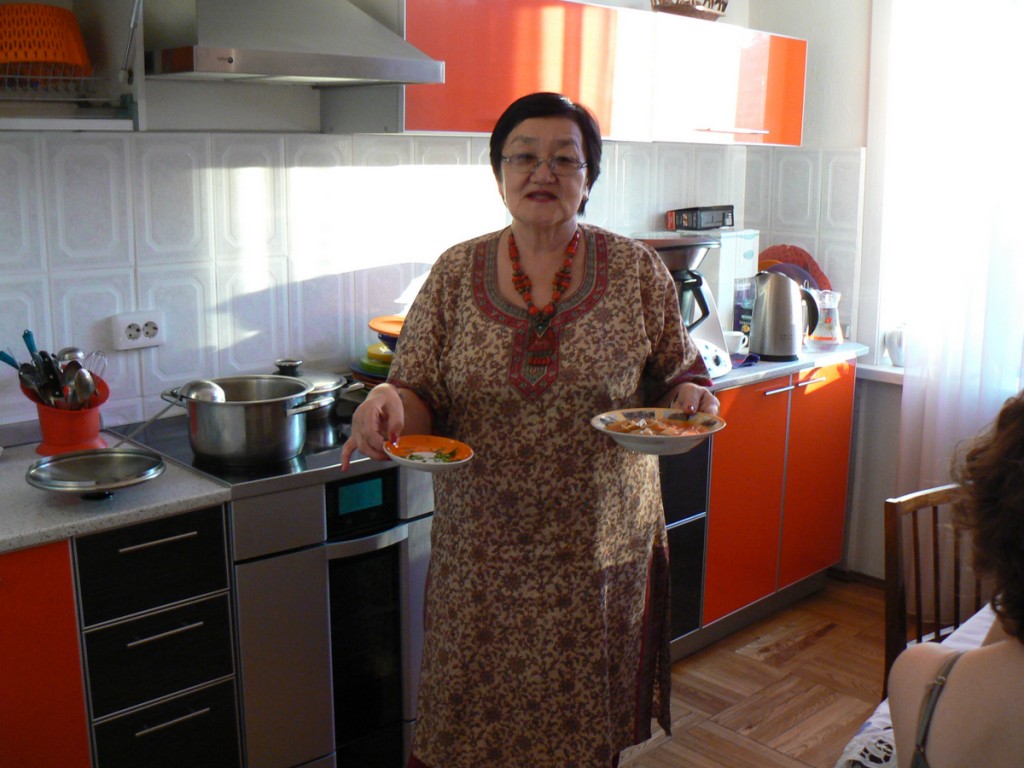 Olga has a long wooden table in her kitchen covered with a decorative, flowered tablecloth on which sits 4 bowls of borscht soup, a large plate of dark bread, a plate of cut up oranges, 4 cups of tea, a colorful salad and a huge plate of dumplings.  Reminded me a little of Thanksgiving dinner back on the farm in Iowa but with a Buryat menu.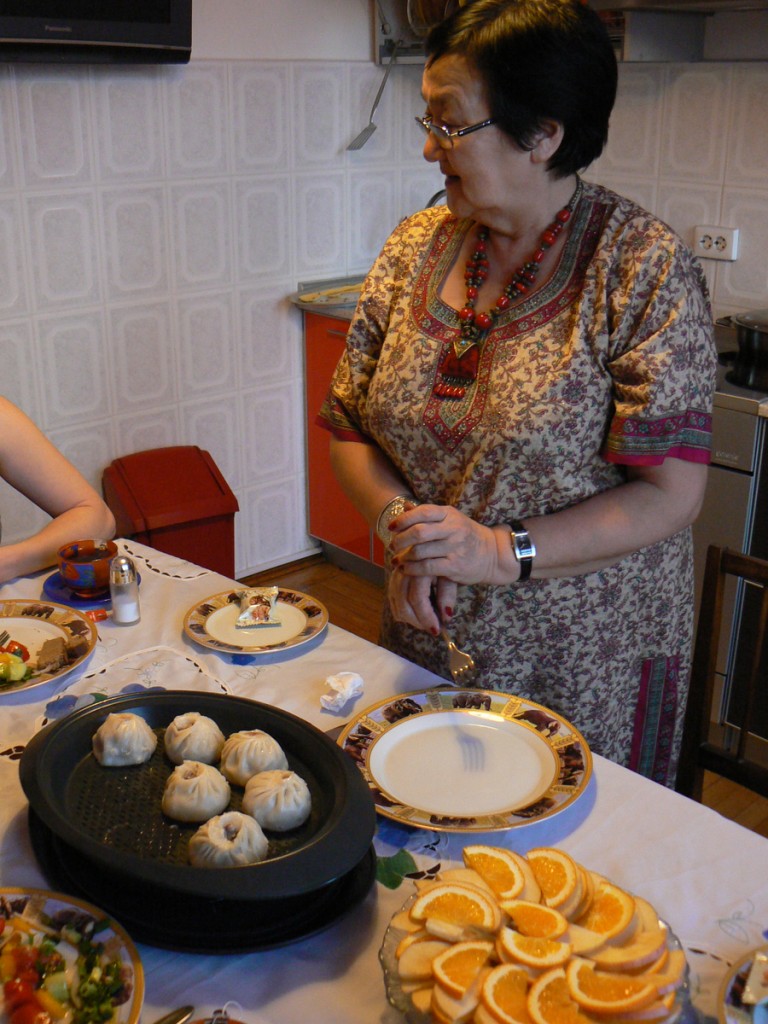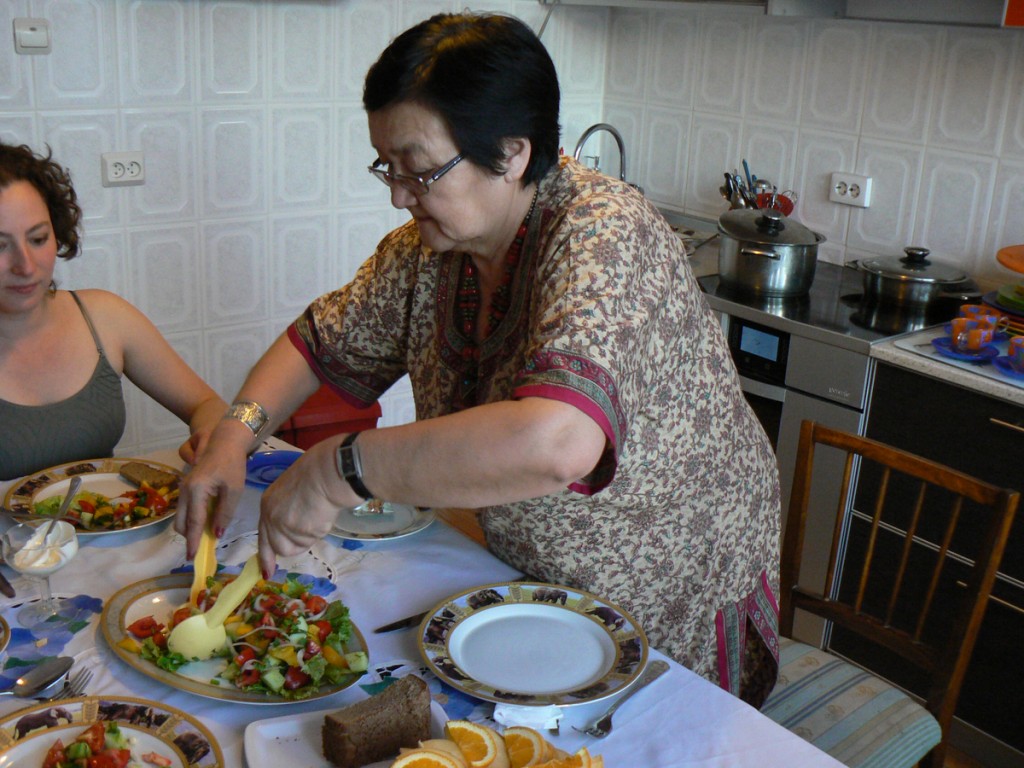 Olga is a Buryat and looks neither Oriental or Russian, but has some features of both.   She is a retired architect who also taught architecture at a school in St Petersburg.   She talks much about the Soviet system, her health care benefits, and higher prices just like a typical retiree.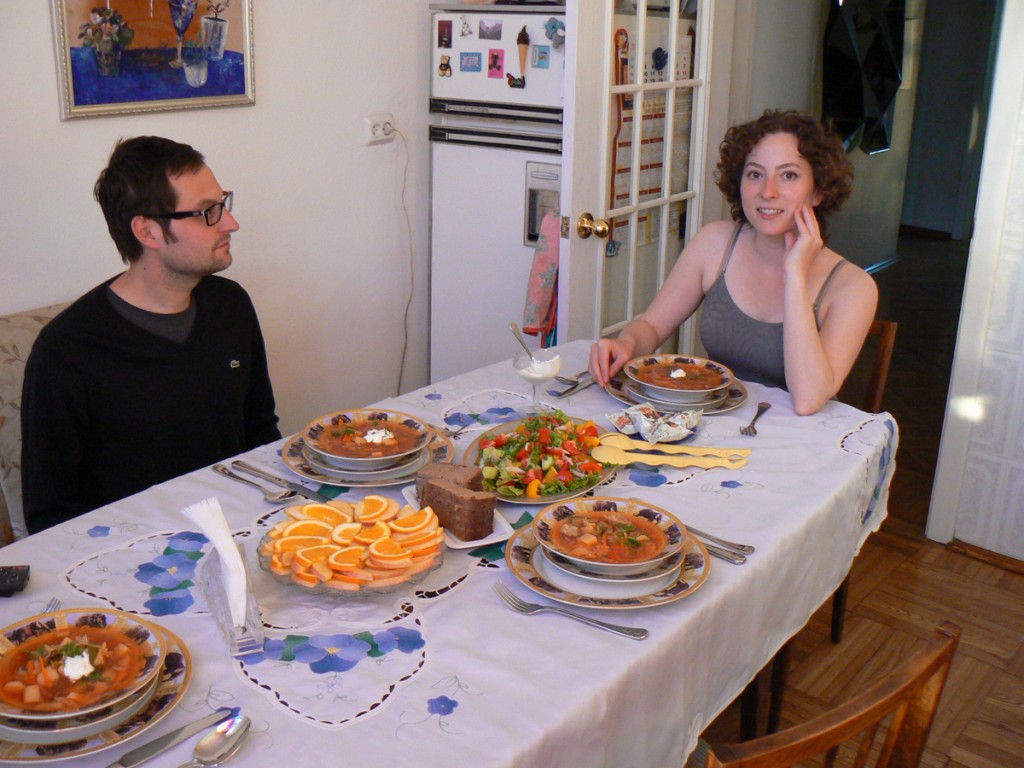 Tomorrow morning we have to catch the bus near the Opera House on ul Banzarova at 0700.  Olga insists on having breakfast ready for us at 0600.   She serves omelets, crepes and tea and then the 3 of us depart.
Next:   Bus Trip from Ulan-Ude to Ulaanbaatar