Saturday May 14
At 0515 we receive a wake up call from the front desk of the Hotel Khaara.   A few minutes later, there is a knock at the door and we are served breakfast!   Fantastic, we were not expecting this!  We have seen nothing but kindness and friendship since arriving in Mongolia, it is difficult to leave.   And I have to say that I really enjoyed the stay at the Hotel Khaara, and would do it again.
Downstairs we thank everyone for our stay and are escorted to our waiting taxi.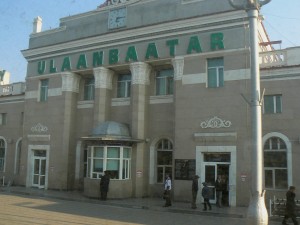 We arrive at the train station at 0615 and train 004 direct from Moscow arrives a few minutes later.     Train 004 is a Chinese train that originates in Moscow and goes directly from Moscow to Beijing over the course of 6 days.  There are several  20 – 30 minutes stops along the way but most passengers board in Moscow and go straight through.  There aren't a lot of people on the platform waiting to get on; people seem to be walking around stretching their legs.   There is no issue with our tickets as we board and the Chinese attendant does not even check our passports.
Our cabin is really nice.  I had read that the first class compartments on Chinese trains are shared by 4 passengers instead of 2 as in Russia.  Not true this time as there are only 2 bunks.  Also there is a ceiling fan and we have our own power outlet, a big plus!  This time there is a private bathroom between each compartment that is shared with our immediate neighbors.    It seems that there are several empty compartments in our car, it is maybe half full, a big change from our previous experiences.  Everything else in our car is nicer than before, the carpet is thicker, the walls have nicer coverings and in general everything seems to be newer.   The 'public'  bathrooms in each car are also much cleaner as they probably get very little use.   The temperature in this train is noticeably cooler than the Russian trains.
Also noticeable on this train is the nationality of the passengers.   It appears to be almost all Europeans.    Ok I get it now.   Apparently most people that take the Trans-Siberian to the east get on in Moscow and stay on the entire trip nonstop until they arrive in Beijing or Vladivostok.    We had a different plan and that must be why we saw only Russians in our travels.  It was just by accident that we booked the Rossiya, or the 'express' train for this last leg of our trip.
On the platform, outside of our car a young blonde European girl dressed in a jogging outfit is jumping rope.  She looks very athletic and jumps rope until the train is ready to depart.  The train attendant advises that she board immediately;  I get the impression that this has been going on since Moscow.
My only complaint is that the windows are dirty.  Normally this wouldn't bother me except that I am a serious sightseer.   On the next platform a young Chinese shoujay is cleaning the windows of that train as ours start moving slowly from the station.  We'll have to take care of this problem ourselves at the next stop.
We pass through the southern side of UB noting the dry brown mountains with city climbing up their slopes.   On one of the slopes is a large mural of Chinggis Khaan, put together with thousands of white stones.  In contrast with the natural scene are hundreds of power lines, construction cranes and road projects mixed together with wooden homes and gers.
Just to the southeast of UB, we are now moving through dry grassland steppe.    Looks a lot like eastern Montana or South Dakota, not many towns but cattle grazing freely.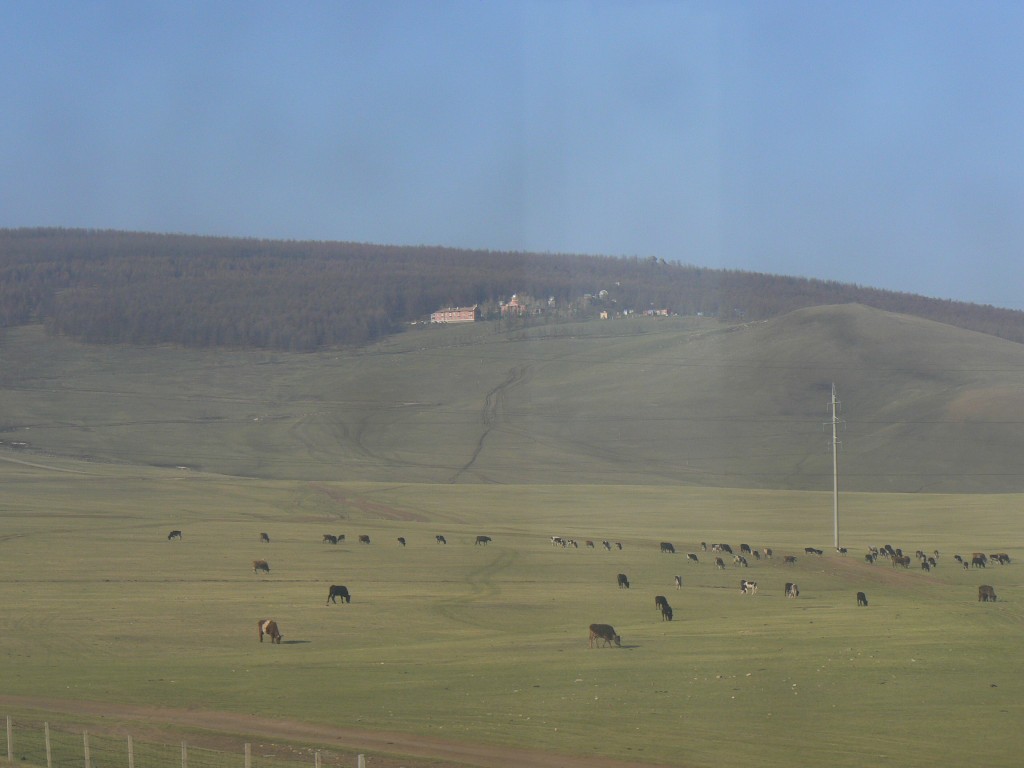 Occasionally we pass by a collection of prayer flags reminding us that we are in Mongolia.  A couple hours later, our train stops in the middle of the isolated countryside for about 15 minutes, allowing another train to pass by.    As we depart, someone is filming the train; he is standing on a rocky precipice and taking a picture of our car.  We take a quick one of him.  Who was that? And what is he doing by himself in the middle of nowhere?  Probably an American.
By 1100 the terrain has changed significantly as we enter the infamous Gobi Desert where we will spend most of the next 24 hours.  The desert here is more like an old unused crushed rock road back in the Midwest.  No large sand dunes but flat with a mixture of rocks and sand with some dry vegetation.  In the distance I can see camels wandering alone with no humans near.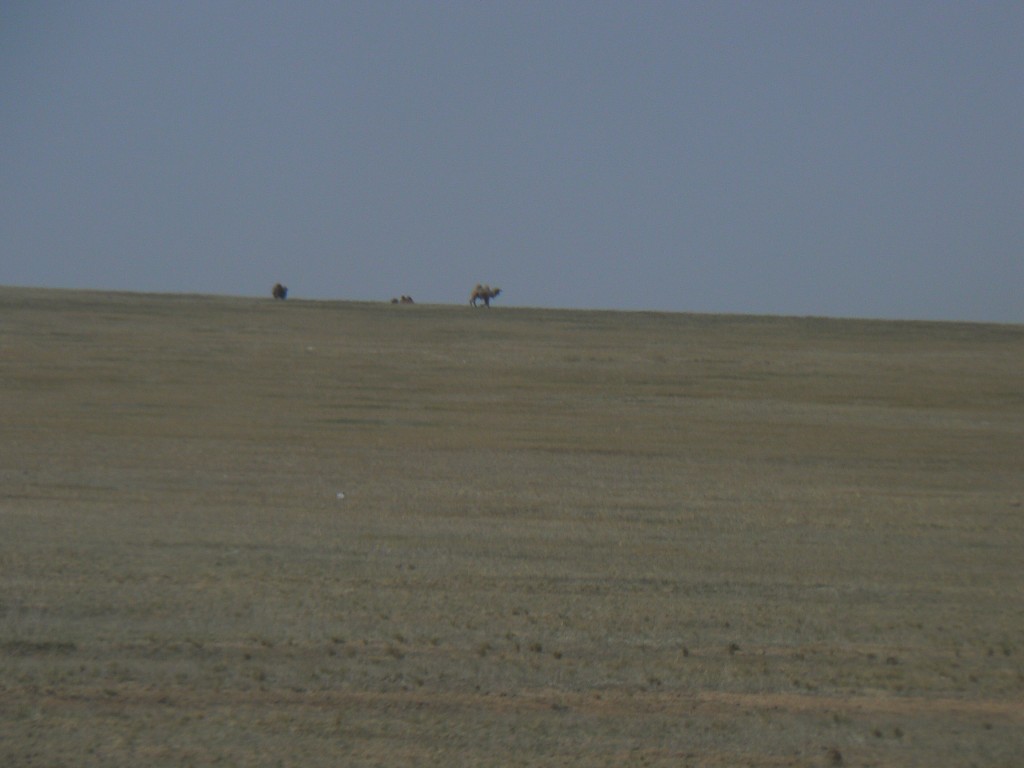 One thing that is noticeably different on this segment of the trip is the black smoke that hugs the side of the train and sometimes obscures your view.   The Chinese train has a diesel engine whereas the Russian trains were all electric.   So there is some pollution from time to time, but not much different than driving behind a Metro bus back home.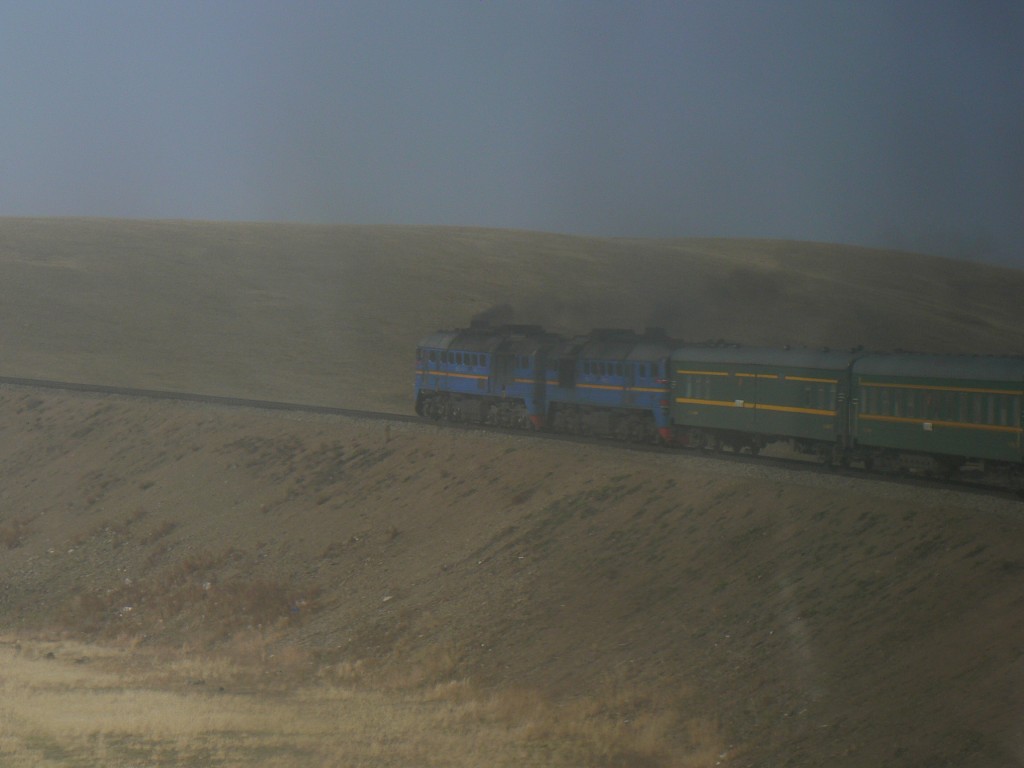 At 1133 we arrive at our first stop, the small town of Choyr(also known as Choir) in central Mongolia.     As we slow down to enter the town, old  military barracks and watch towers can be seen and they appear to be abandoned now.  Choyr is the site of a former Soviet Air Force base that was decommissioned when the Soviets left Mongolia.   What an assignment that must have been!  And I used to complain about Pope Air Force Base in North Carolina?    There are no trees to be seen, just stone/sand buildings, fences , power lines and sand.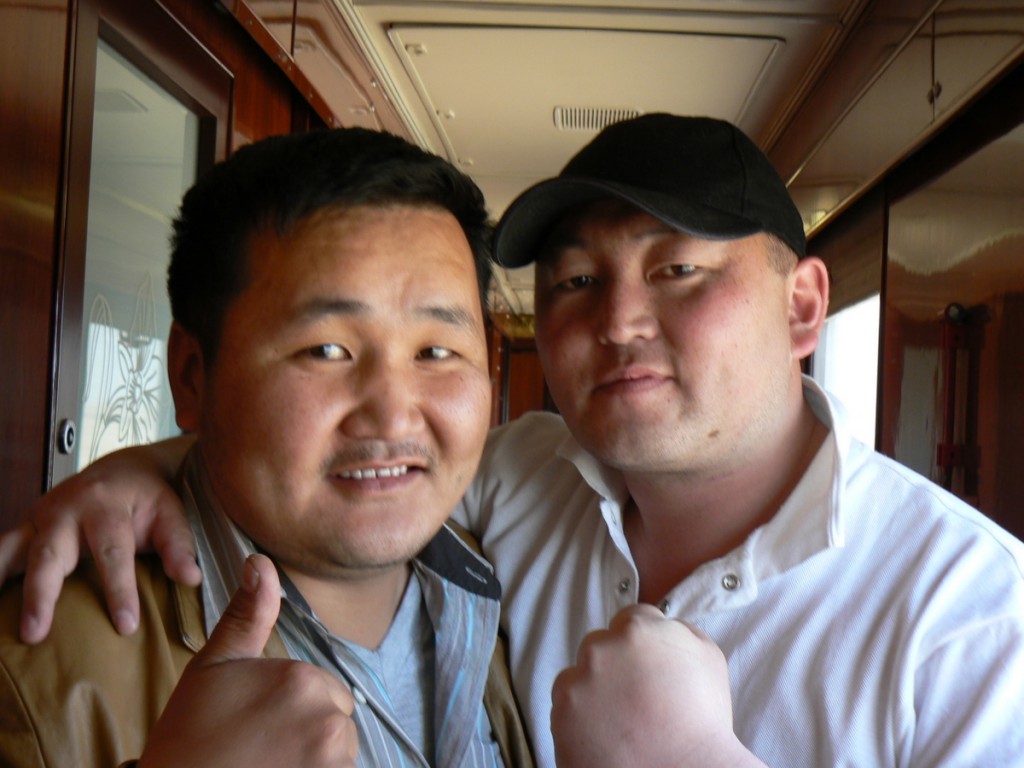 We slide our windows down now and take it in.  A couple of hard drinking Mongolians come into our compartment now and start yelling 'Chinggis Khaan' many times at the top of their voice.   We try to talk a little in English but with no luck, and soon they leave.  Now this reminds me of something that I had read Chinggis Khaan once saying… "A man who is drunk is like one struck on the side of the head;  his wisdom and skill avail him not at all.  Get drunk only 3 times a month. It would be better to not get drunk at all, but who can abstain altogether?"
We have about 30 minutes here and we want to do some sightseeing but first Jeff and I team up to clean the train windows.   He works from the inside and I work from the outside.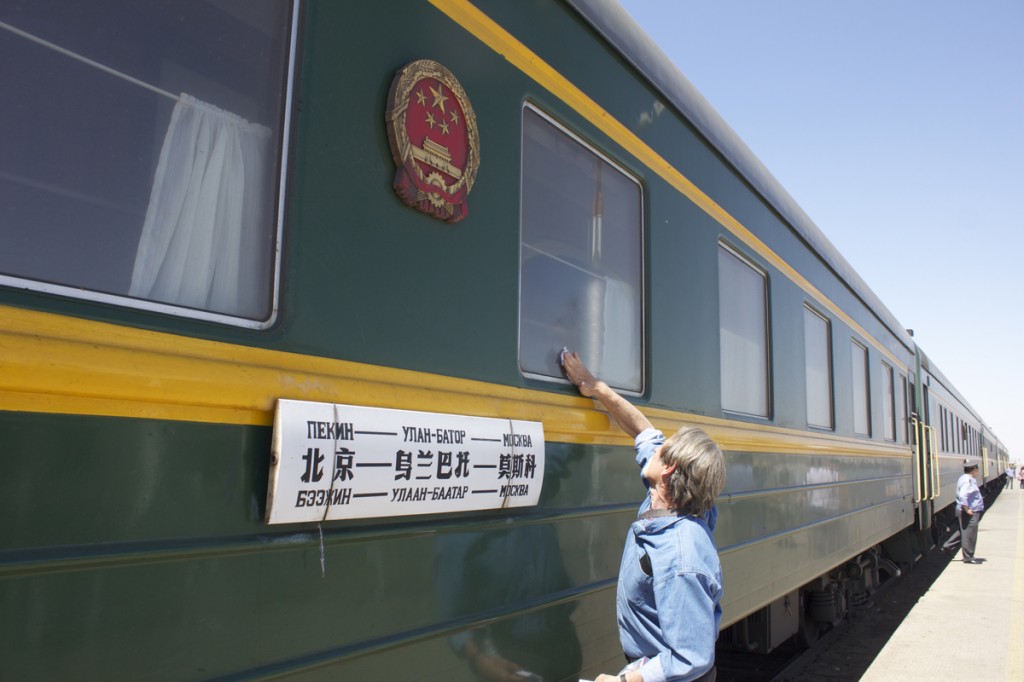 Down the platform a ways I can see a couple of Germans doing the same, except they have a squegee that extends several feet, paper towels and a bucket of water.  Now that is a pair of experienced train travelers!   The Chinese attendants watch and don't seem to mind, apparently they are used to this.
Jeff and I walk down the platform and cross over to see some of the city.  On our way, our earlier  observations were confirmed.   The passengers are outside stretching and they appear to be all Europeans.   Many of them are big, larger than Russians, but not Americans. 

The city itself follows the railroad and is only a couple of blocks in width but parallels the tracks for some time.   Children dressed similar to small American children are running through the streets and playing, as this is the weekend.    In the center of the city is a prominent statue of a young man on a pedestal.  Later we discover that it is VVT Ertvuntz, a Soviet Cosmonaut who is from Choyr.
The train departs Choyr around lunch time so we walk down to the Dining car to check it out.   The Dining car is Mongolian and would have been switched yesterday when the train left the Russian border.    The dining car is decorated ornately, the entire interior looking like a hand carved shoji screen.   The scenery outside is bland and brown, but the isolation is stimulating and you can't help but to watch the miles go by knowing you may never see this again.    Occasionally we see camels or even herds of horses wandering in the sand.   Once in awhile we pass through a small village.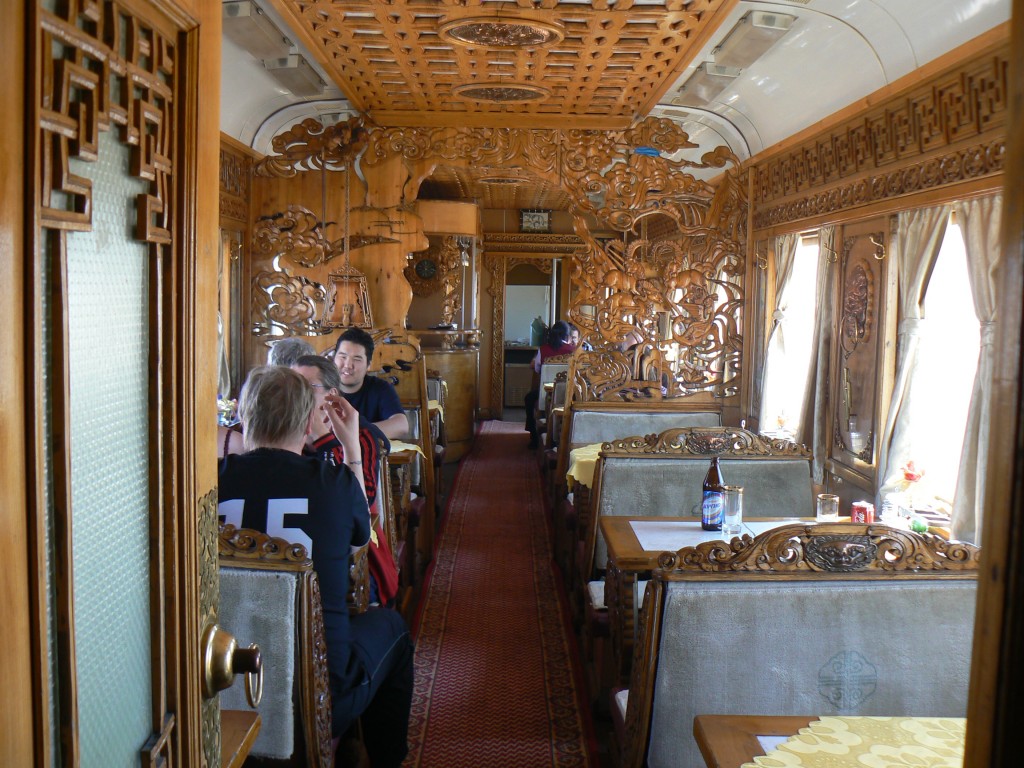 There is not a lot on the menu except for beef which is fine with me.   While waiting for the waitress we grab a couple bottles of боргио(Borgo) beer from the self service refrigerator.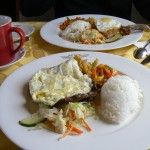 The label says  " The Mongolian classic lager beer from 1927".  There is only one other couple in the dining car and it happens to be the young European girl and her father.  Both are wearing athletic wear and for some reason I think she is an athlete and he is also her coach.    Our meals arrive and they look good but the taste isn't quite what I expected.  We get 'beef' with a fried egg on it,  rice,  mixed vegetables and lettuce.   I think the beef is actually lamb or mutton but I'm not totally sure.
At 1505 we arrive at Saynshand(aka Sainshand), a city in SE Mongolia with a population of around 20,000.
We have a 37 minute stop and everyone departs the train and walks up and down the platform.  The windows are dusty so I return to my cleaning routine.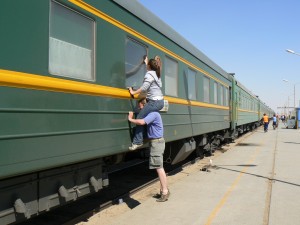 A young Australian couple is doing the same on the next car, but she is mounted on his shoulders and gets a more thorough job than I.   "You need help, mate?", he asks.  Sure!  They come over and take care of our windows and continue to help others.
The town is similar to Choyr, sandy streets but the train station is interesting.   Down a sandy street is a small building with a large Hotel sign.   The young  athletic European girl with the coach/father heads down the platform and runs laps around a football(soccer) field  a short distance away. 
We're still in the middle of the Gobi desert but the weather is pleasant in May, sunny and 80 degrees F.

Back on the train we are given several forms to complete before we reach the Chinese border.    These include:
                China Arrival card in English
                Mongolian Departure  Card in English
                Customs form in Mongolian
                China Customs form in English
At 1700 we go back to the dining car and have another meal of steak or mutton.  The veggies are especially good.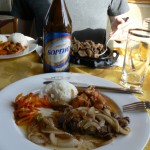 We stay for another hour or so drinking beer and tea and watching the desert go by.  For awhile it turns to shades of red  with tufts of grass.   The distant mountains are long gone and the terrain is flat with some rolling hills.   For awhile a road parallels the track and truck traffic moves along through the desert.   Then we enter a stretch where large round sand dunes dot the landscape along with a single ger and a small brick house, the first we have seen for nearly an hour.
We return to our compartment at 1900 and it is still light out.  There is the smell of dust for some reason, and then suddenly the entire compartment is filled with a massive dust cloud!   We walk into the hallway and the Chinese conductors are running around talking at high speed and opening windows.    A middle aged Chinese woman 2 compartments away from us runs out into the hallway and gives orders to the conductors.     She is apparently an employee of the rail company, possibly observing the conductors, i.e. they're getting a 'check ride'.  A couple of minutes later, the dust settles and everyone can breathe again.   The conductors then clean the entire car from top to bottom to remove the layer of dust that is covering everything.  For the next 2 weeks,  I have allergy like sneezing bouts like I have never experienced before.  Never did hear what caused this, but it seemed as though something was opened that allowed the dust to come through the floor of our car.
The sun is starting to set in the west as we come to a stop just outside the small town of Zamgn Uud which is on the China border.   The highway I had seen earlier is now next to the track and hundreds of trucks are stopped, waiting to pass through the control zone.  Our train slowly continues and comes to a stop at the train station.   The platform is filled with Mongolian merchants waiting to board a train to China to see their goods.   I had heard that if you travel second class  that at this stop the merchants will fill your compartment with their goods even if this is not their compartment.   A team of very business like customs officials are now walking down the platform and enter each car.
They collect our passport and Mongolian forms and return with them about an hour later.  Meantime, no one is allowed to leave the train.  We watch as our car is uncoupled from the rest of the train, and the Mongolian restaurant car which was just forward of ours is removed and replaced with a Chinese dining car.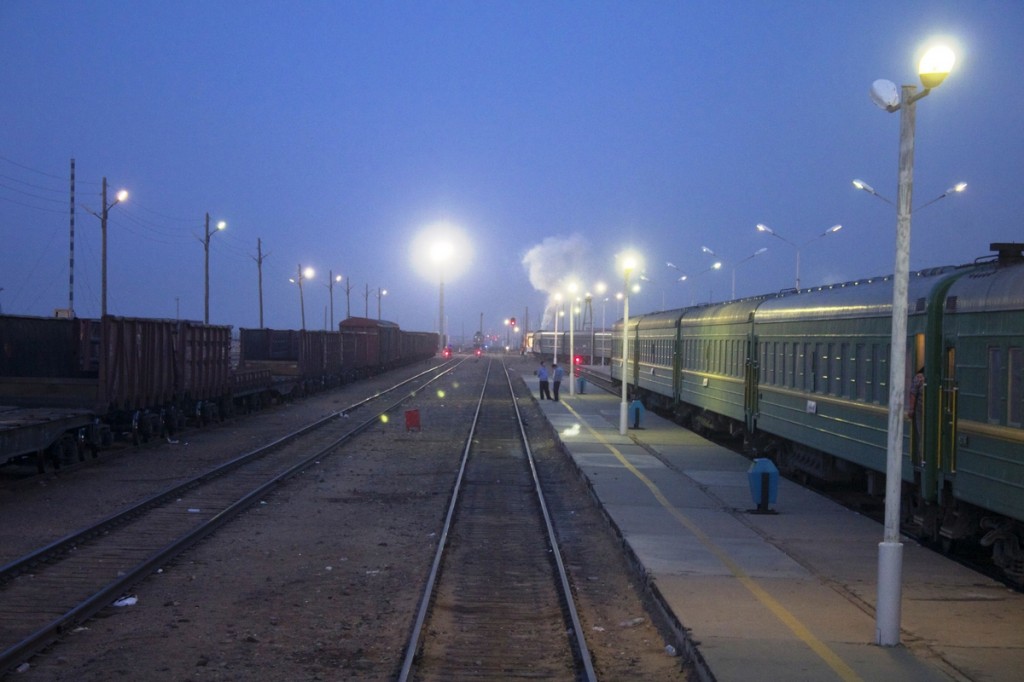 Two hours after our arrival the train departs for a short trip to our entry point in China, the city of Erlian.  Although we are in China we are actually in  Inner Mongolia, a semi-autonomous region.   It is dark now but the train station at Erlian is lit up brightly in traditional Chinese red and gold colors, and there is classical music playing from loudspeakers.
A smiling Chinese customs officer enters our car, greets us courteously and collects our passports and customs forms.   The conductor comes by now and hands us 2 dining car tickets, one for breakfast and one for lunch.   An hour later our passports are returned.
At the Chinese border, an unusual operation called a Bogey Exchange happens next.   The railroads in Russia and Mongolia were constructed to different standards than the railroads in China, and just about every else in the world.  Specifically, the width of the track is wider  in Russia and Mongolia than it is in China.  So in order for the trains to work past the border, the entire underside chassis of each car including the wheels and axles must be removed and replaced.  To do this the entire train is moved into some long large sheds to complete this operation.   Since you are in the car while this is going on, it sounds something like this. ……Bang, bang, bang for a brief period, then you notice your car is being lifted into the air for a couple of minutes.  This is followed by a loud rolling metal crashing noise for several minutes as your old chassis is rolled away and a new one is rolled into place beneath your car.   Then you feel your car descend a few feet followed by more bang, bang and a jolt.   This process continues for the next 2 hours until all cars have had their bogeys exchanged.  There are a couple of videos on You tube showing this process as it happens here in Erlian.
Most people stay on the train while this takes place, but I have heard that you can leave the train and stay in the station if you want.  Not sure how and where you return to the train as the bogey changing sheds are some distance away.   We started to rethink this decision after the middle aged Chinese woman next to us started talking to the conductors, almost nonstop for an hour just outside our compartment.   While I don't understand Mandarin, it was clear that she was issuing orders to them, or maybe she was just complaining.   Twice the conductor rushed to the samovar and filled her tea cup as she continued to issue orders.  Despite the noise outside our compartment and in the bogey changing shed,  I doze off around midnight.    At 0100, I wake up briefly as the train completes the bogey changing operation and departs Erlian.
Next:   Train Trip from Mongolia Border to Beijing
Prior:   Gorkhi Terelj National Park