People on the streets of Ulaanbaatar  are very friendly, often saying 'Hello' to us as we walk to the hotel.   Nearly everyone is Asian and the Mongolians resemble Chinese in many ways.  Then we are stopped by a man who asks if we would like drive a Russian tank or shoot an RPG(Rocket Propelled Grenade Launcher) for a small price.  Not tonight, we say, but we take his business card.
We are staying at the Khaara Hotel just a couple of blocks off Peace Avenue, the main street of UB.  A young Chinese girl helps us check in.   She appears to be speaking Mandarin and a little bit of English but we're able to work things out.    We walk up to the 4th floor and enter a small room with 2 beds.   Jeff is not happy as it is well below his standards and we briefly discuss moving to another hotel, maybe tomorrow.   The bathroom is small with the toilet, shower and sink all in the same space, about 3' by 4'.   Wallpaper is peeling from the walls and the rooms look old but clean enough.  The Wireless is intermittent but we're able to check email before finding a restaurant for dinner.
Before leaving on the trip, I had eaten Mongolian Barbeque in a suburb of Minneapolis at a place called BD's  Barbeque.
On the menu, I noticed they had several locations in the Midwest and one foreign location; that one location was in Ulaanbaatar, Mongolia.   It's just a few blocks from the hotel so we walk there and found that it is exactly the same setup as the one in Minnesota.   It was very busy, with most customers appearing to be local.   The food was very good and much the same as back in Minnesota.   Only disappointment was that no pictures were allowed.
Returning to the hotel, we can hear a huge party taking place downstairs.  Out in the hallway, are a couple of computers so I use one of them to check some photos.   Lots of young people are walking up and down the stairs.   We can still hear the party at midnight and our hallway is really noisy.
Thursday May 12
At 0530, there is loud chanting down the hall from us.  I think someone got up to pray but he doesn't seem to be too concerned about anyone else in the hotel.  This continues for about an hour and I decide to get up and try the shower.  It works well for me but floods the entire bathroom before  Jeff can use it.  He's been living in Mexico for 3 years so I'm sure he can deal with it.
At 0800 we head downstairs for breakfast.   The restaurant is empty but soon a tall, distinguished looking Mongolian comes over to our table.   He is dressed well in a gray suit, white shirt and tie, and is carrying a large glass of beer.    "Do you mind if I join you, he says".  Would you like a drink he asks, and says he really enjoys a beer or 2 early in the morning.   He says his name is Ulan Koo and he is the owner of the hotel.   He asks if we are enjoying our stay here.  Sure, everything is great, as we are caught by surprise and lie about the hotel.  He asks where we are from and we talk a little about our homes and travels.  Then he explains that he has also traveled a lot.   He was a member of the Mongolian parliament for several years and traveled to many other countries including the United States.   He looks at me and says, " you look like John Bolton, do you know that?"  John Bolton, who used to be the US  envoy to the United Nations,  yes.  Then he explains how he got into the Electronic chip business and talked some about the Intel 8085 processor.   His son worked for awhile for Micron Technology  in Boise, Idaho. His daughter is studying medicine in Chengdu, China.   His wife soon calls to his cell phone, and he winks at us as he nods his head, and seems to  reluctantly take some orders from her for the day.  He says she drives him everywhere, but he doesn't explain why.   Now he is in the hotel business and is close to retirement.    He switches the subject now and talks a long time about Chinggis Khaan(Genghis Khan).   I had read a couple of books about Chinggis Khaan before leaving so I was able to follow him, and he was surprised that I knew much of his life.
An hour later, a waitress comes to our table and takes our order for breakfast.   Ulan Koo wishes us well and says to see him if we need anything while staying at the hotel.   He was so interesting that we quickly forgot about all the small nuances and decided to remain at the Khaara.  Eggs and bacon for breakfast, first time for that since leaving home 2 weeks ago, great breakfast.
Last  night Jeff was unhappy with our hotel room and we had discussed looking at another hotel or maybe a hostel.   Diana and her friend were staying at a hostel called the UB Guesthouse near Sukhbaatar Square, so Jeff had wanted to check that out.   We had earlier decided not to move to the UB Guesthouse, but the people there were really friendly and offered some great tours so we thought we'd check it out.  We decided to buy a tour for the following day to Gorkhi Terelj National Park.  For $30 each, we would have a cab and driver for the entire day.
Now it's time to go do some UB sightseeing.   On a bright, blue and sunny day we leave the guest house and walk to Sukhbaatar Square.  It is named after Damdin Sükhbaatar, a Mongolian revolutionary who helped Mongolia  gain independence from China in 1921.   The Square is large and covers a couple of square blocks.   At the north end stands the white columned,  Mongolian Parliament building.  Long steps lead to a grand, bronze statue of Chinggis Khaan flanked on each side by  son Ogedei Khaan and grandson Kublai Khaan.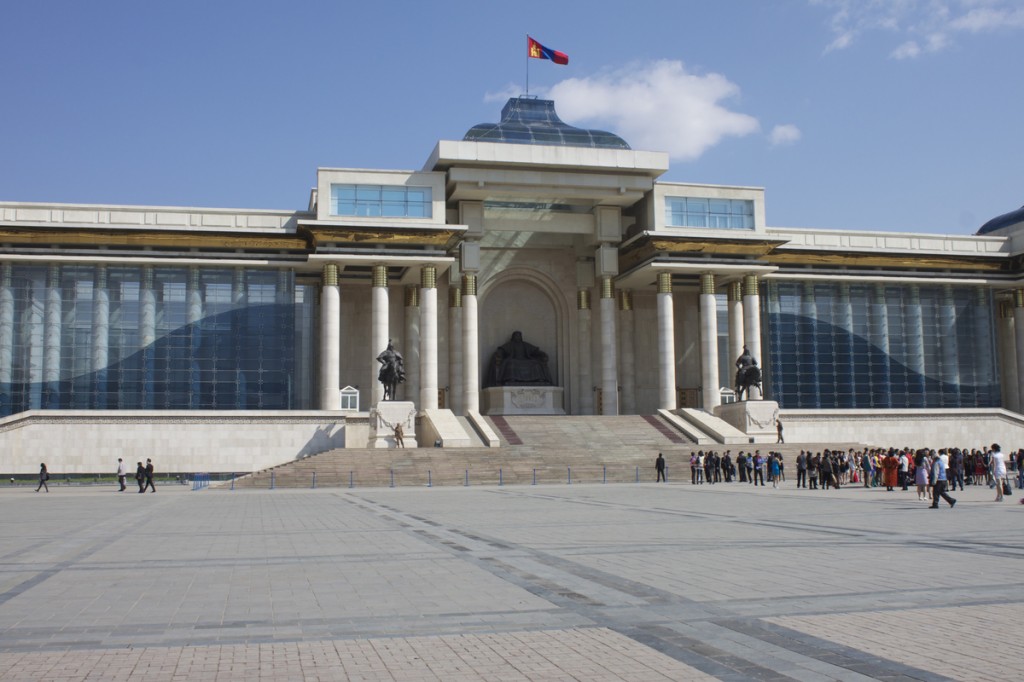 A large group of young Mongolian women approach the statues and start taking pictures.  The women are interesting.  They are Chinese looking, white skinned and all have long dark hair made up in various styles.   They are dressed elegantly in modern dresses with high, high heels.   Each is armed with shopping bags, cell phones and cameras.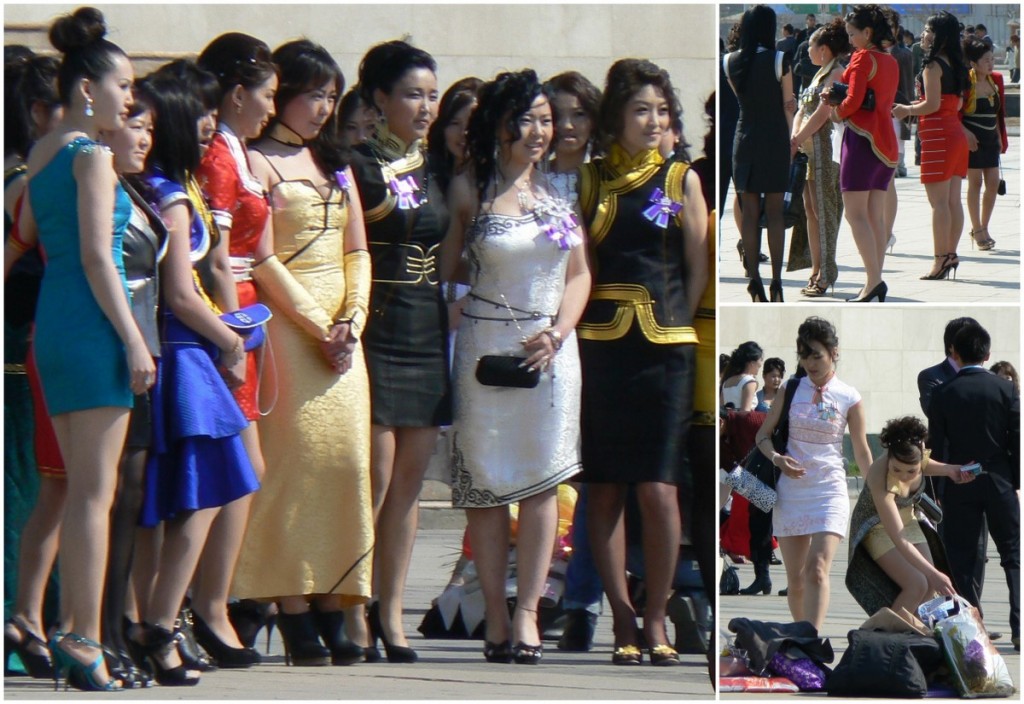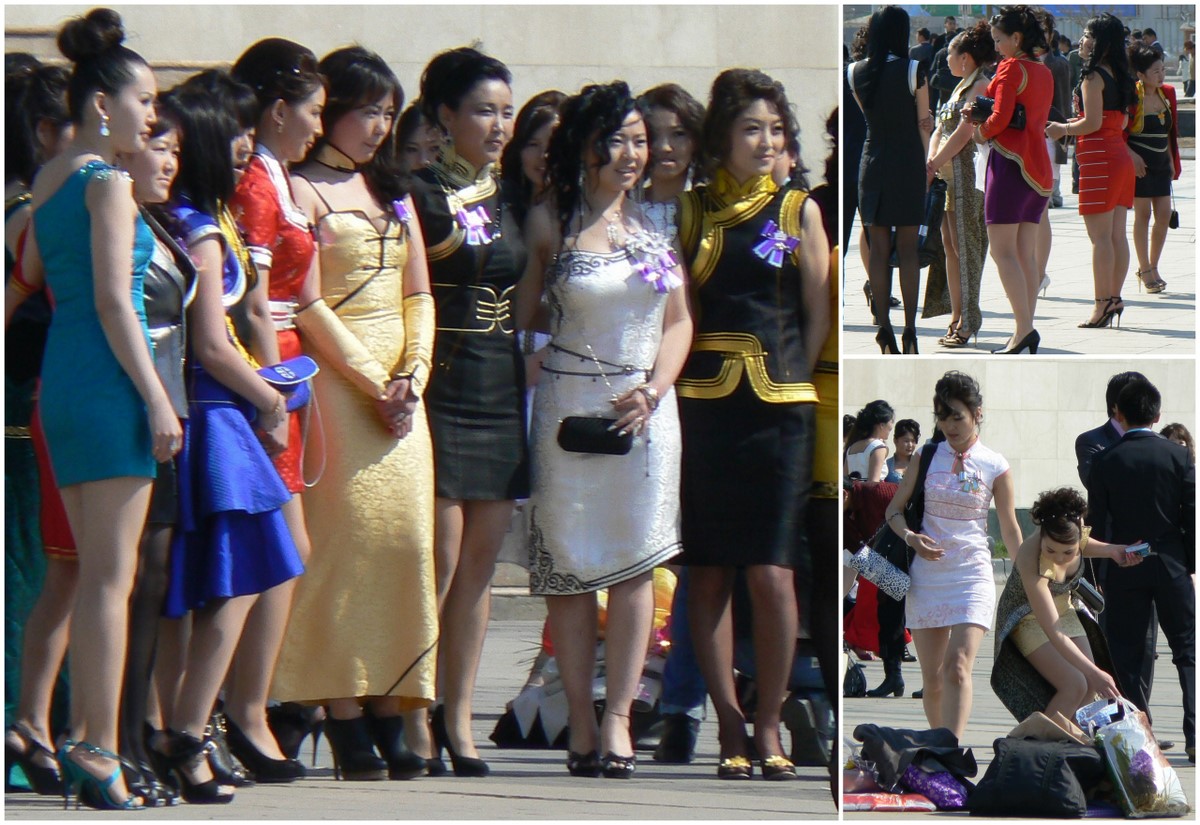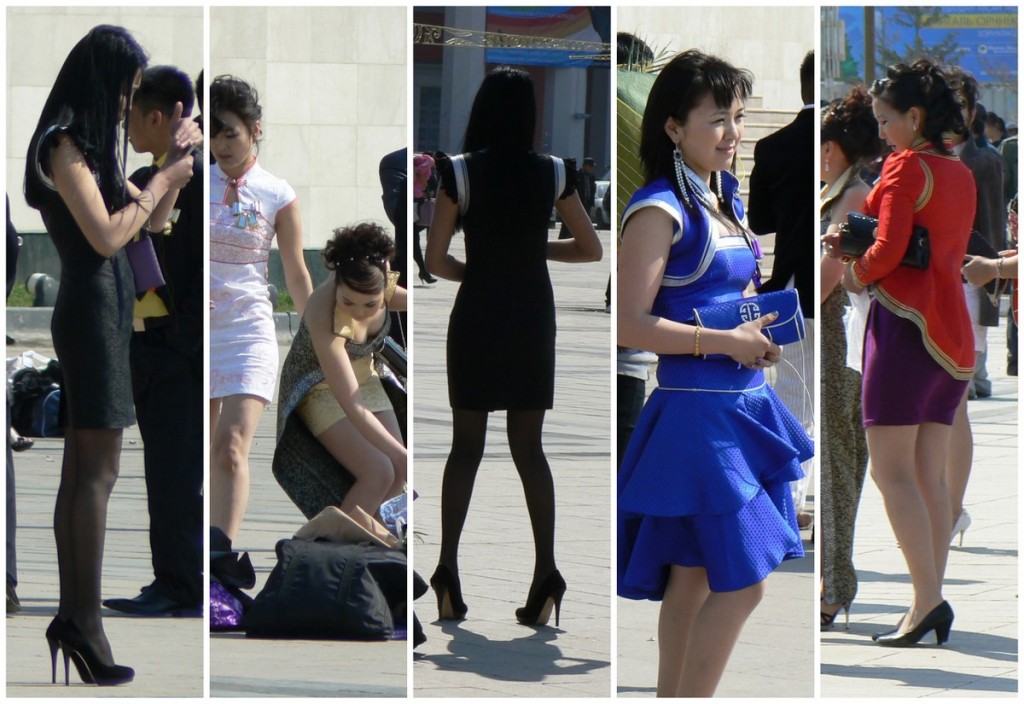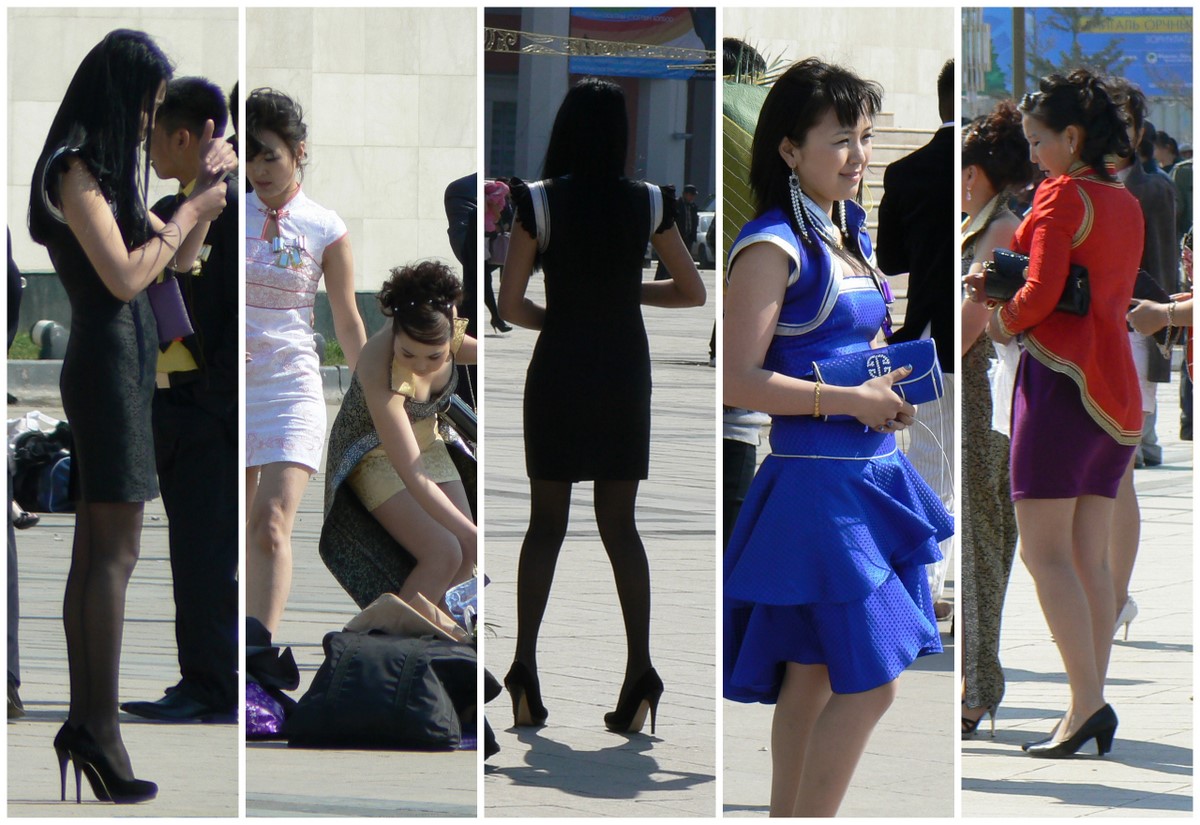 Ulaanbaatar Women on Sukhbaatar Square
At the other end of the Square are several young men, dressed up but drinking beer near a group of buses.   Apparently it is a college or high school group on an outing.
We walk a bit and turn west on Peace Ave looking for a restaurant for lunch.   There are several coffee shops and western looking restaurants but we notice a place called баялаг ьууз that is very busy with young Mongolians.
We are escorted to a seat and given menus with no English.  A young Mongolian man and his girlfriend notice our confusion and ask if we need help.  They recommend a 'Mongolian hot pot'  noodle dish  that was  excellent for $2 each.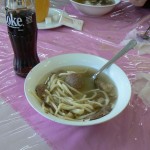 The young Mongolian said he lived in Chicago for a couple of years and loved his stay there.
From here we want to walk to the Gandan Khiid monastery, but I decided to stop at a computer shop a long the way to see if I could my computer fixed.  I went back to the hotel and grabbed my computer and took it to a shop just down the street.   They had a Dell adapter which we tried, and the computer immediately powered up.   How much?   20,000 Tugriks, that's about $15 USD.  Fantastic! I have lots of emails to get caught up on.
We spend a few minutes at the hotel leaving some clothes at the front desk for cleaning.   Once again, no washers or dryers are available and we have to send out some clothes for cleaning which is expensive.
Back on Peace Avenue, we walk west and then take a street lined with pine trees up the hill to the monastery.  Several other locals appear to be doing the same.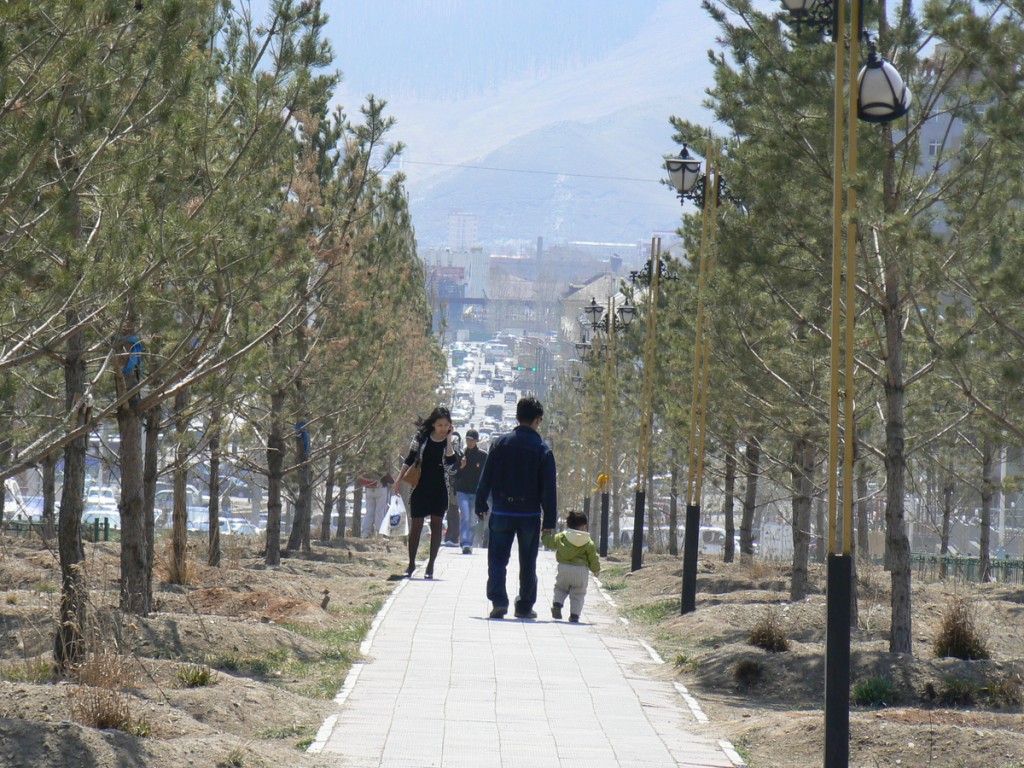 The Monastery soon comes into view, a large complex that consists of several datsans(temples), stupas and other buildings that serve as housing for Buddhist  monks or as libraries.  Originally there were more datsans, but some were destroyed by the Soviet Union Communists who had a large influence in Mongolia in the 1930's. Some of the buildings during that time were used to house Russian officials and their horses!  Many of the monks were killed, imprisoned or forced to join the army. In 1990 after the Democratic Revolution, the monastery was restored to its historic grandeur.
We walk through a large Oriental looking gate and enter a courtyard.   The people there are a curious mixture of tourists, Mongolian locals, and Buddhist monks.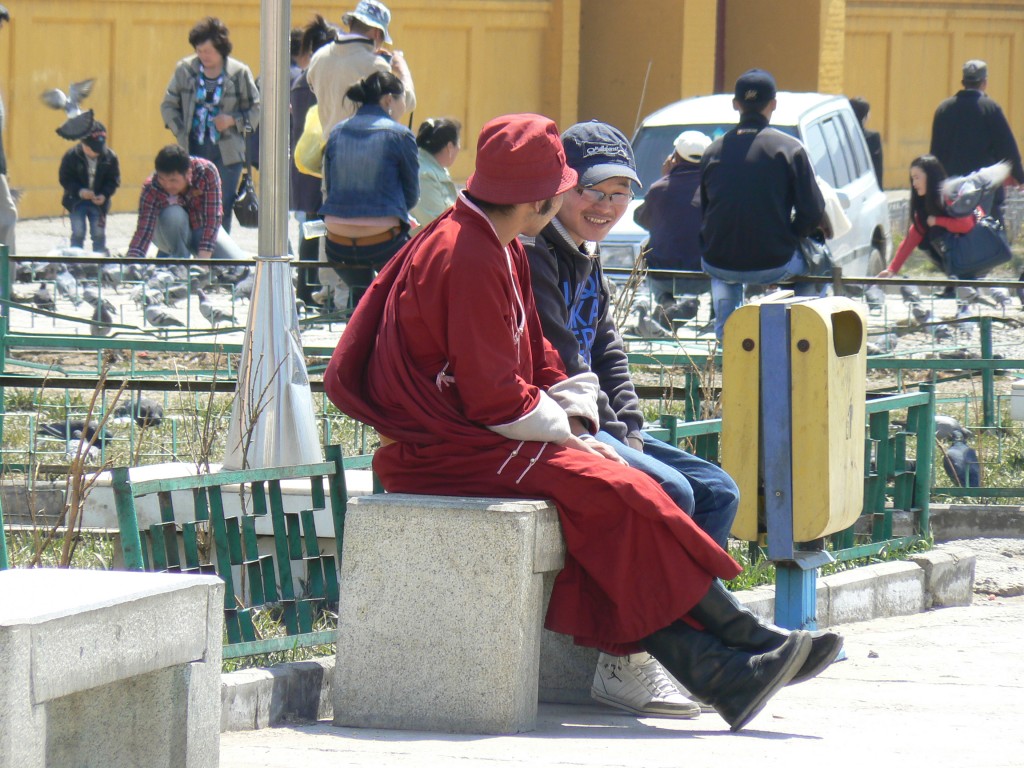 At the end of the courtyard stands the large MigJed Janraisig Datsan, the main building in the complex.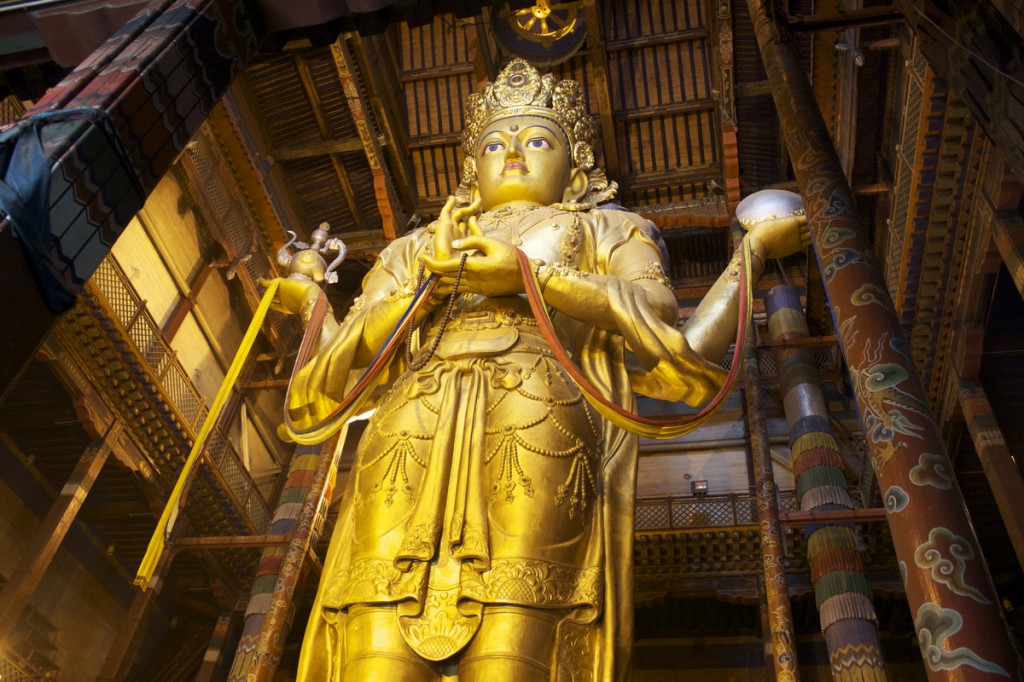 Immediately inside stands an 86 ft copper statue of Buddha, the Buddha of Longevity, which is gilded in gold.   Several people are praying at the foot of the statue.   Many others are walking the rectangular path through the datsan turning hundreds of prayer wheels.   Prayer wheels are gold cylinders about 2 feet high, containing sacred text, and mounted on a spindle that turns.   In Buddhism, turning the prayer wheel is considered the same as reciting the text or prayer aloud.  We want to take pictures but they are not allowed without a special pass so Jeff buys one from a Mongolian outside of the temple who is wearing a New York Yankees cap.   He also tells us not to miss the Buddhist ceremony that will take place in the courtyard a little later.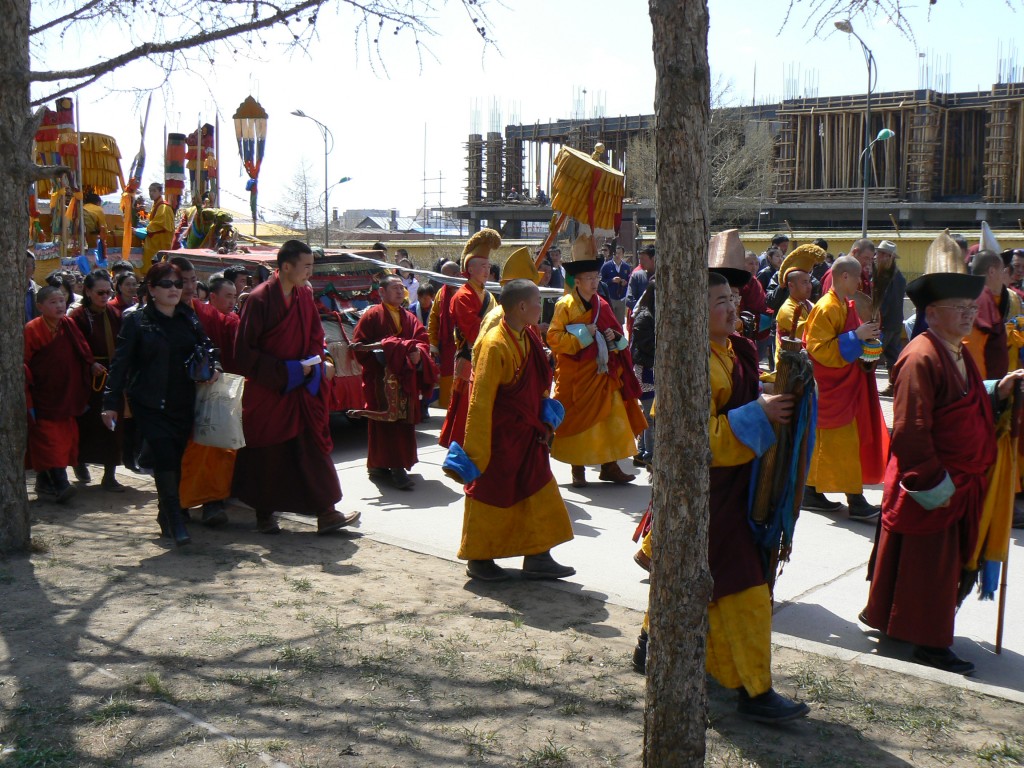 As we leave the MigJed Janraisig Datsan, near the front gate, we hear a long, deep 'whoooing' noise with chimes,  bells and a deep 'gong' every 10 seconds or so.  The ceremony/parade  has begun and the 'whooing' noise is coming from a Dungchen, a 10 foot long horn that is blown by one of the monks while it is balanced on the shoulders of another.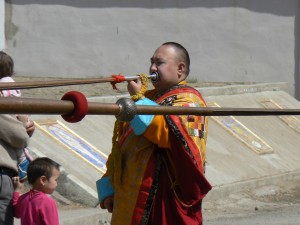 A parade of monks follow along with a float carrying food and possibly prayer flags.  The monks are all male, and of all ages from approximately 10 years old to elderly.   Some wear golden robes with maroon sashes.  Others wear orange with maroon.   The parade only lasts a couple of minutes and the monks disband, the purpose of this I am not sure.  As I take pictures of the colorful monks, one of them pulls a camera from under his robe and takes a picture of Jeff and I.
It's getting to be mid afternoon now and there is more of Ulaanbaatar to see.  I really enjoy history so we walk back toward central UB to visit the Natural History museum(2500 Tugriks).   The Gobi desert contains many dinosaur remains and some of these are on exhibit in this museum.  I was especially impressed by a giant dinosaur claw about 3 feet in length, unfortunately the remainder of the dinosaur was not found.  There are 2 other complete skeletons on display, however.  One is a large flesh eating  Tarbosaurus, about 40 feet tall and apparently 5 tons in weight.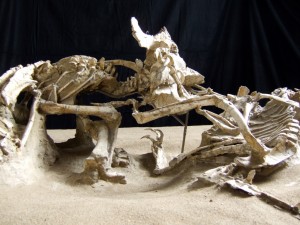 The other is a 25 foot duck-billed plant eating Saurolophus.  In another exhibit is a Protoceratops which standing over a Velociraptor with the Velociraptor claw in its mouth.  On display in other rooms are real dinosaur eggs(petrified), mammoth tusks, rhinos and a gigantic 50 pound vulture.
Not too far away is the National Museum of Mongolia(2500 Tugriks).  You have to pay 10,000 more Tugriks to take photos.   Disappointed that we did not pay extra for photos in the Natural History museum, we did it here.  Not quite as interesting to me as the Natural History museum, but it does have interesting artifacts from the era of the 'Mongol Horde' on the third floor.   The second floor has several examples of Mongol costumes and clothing throughout history.  Overall there are 10 halls, covering Ancient History of Mongolia, the Mongolian Empire under the Khaans, Mongolia under the Manchu's, Socialist Mongolia, Democratic Mongolia, and Mongolian traditional life.
Earlier in the day, the owner of the UB Guesthouse recommended that we eat at the Irish Pub so we head there and have steak with some Chinggis beer.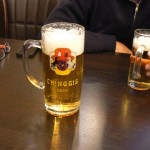 There are quite a few westerners here as you might expect, probably more than we have seen during the entire trip.  Not quite as interesting as our lunch in the small Mongolian café.
Back at the Hotel Khaara, it is again loud and noisy until midnight, but we're both so tired that we just ignore it.
Next:   Gorkhi Terelj National Park