Wednesday May 11
At 0700 a colorful Korean made bus pulls into the parking lot by the Opera House.  We paid 1000 Rubles($30 USD) each and bought the tickets before we left from Natalie at the Baikal Travel website.  The bus  has seats for about 40 passengers and each is taken.  The seats are smaller than in the US and are very close together much like an airline, but there are large and clean windows for sightseeing.   This will be a 12 hour trip and there is no bathroom on board but Natalie had said that the bus will stop every few hours along the way.   Our bags are stored in a compartment underneath similar to Western buses, and there are no separate baggage tickets this time, as in Novosibirsk.  The bus won't depart until 0730 so most people get off, many having a smoke in the parking lot.
At 0730 the driver asks everyone to board and we're on our way.   I am really looking forward to this trip as Jeff and I had many discussions about whether to take the train for this leg,  which is the more traditional way of traveling to UB.  The train ride however takes about 10 – 12 hours longer, with most of the time wasted at the border for Customs processing.  In addition, much of the travel is at night with the train arriving in UB at 0700 in the morning.    The bus trip will take about 12 hours, all of it in daylight.
The bus will be following the Great Tea Road and passing through some remote, historic places that I had not heard of prior to taking this trip.   The Great Tea Road connected China with European Russia and had been in existence for nearly 400 years before being replaced by the Trans-Siberian railway in the early 1900's.  The tea was transported with camel caravans that would take about  6 months to travel the entire trip from North China to Moscow and western Russia.  The Tea Road, along with  the Silk Road was probably one of the greatest trade roads connecting different cultures and civilizations.
The bus travels south from downtown Ulan-Ude, crosses the Selenga River and picks up highway A-165 which goes to the border town of Kyakhta.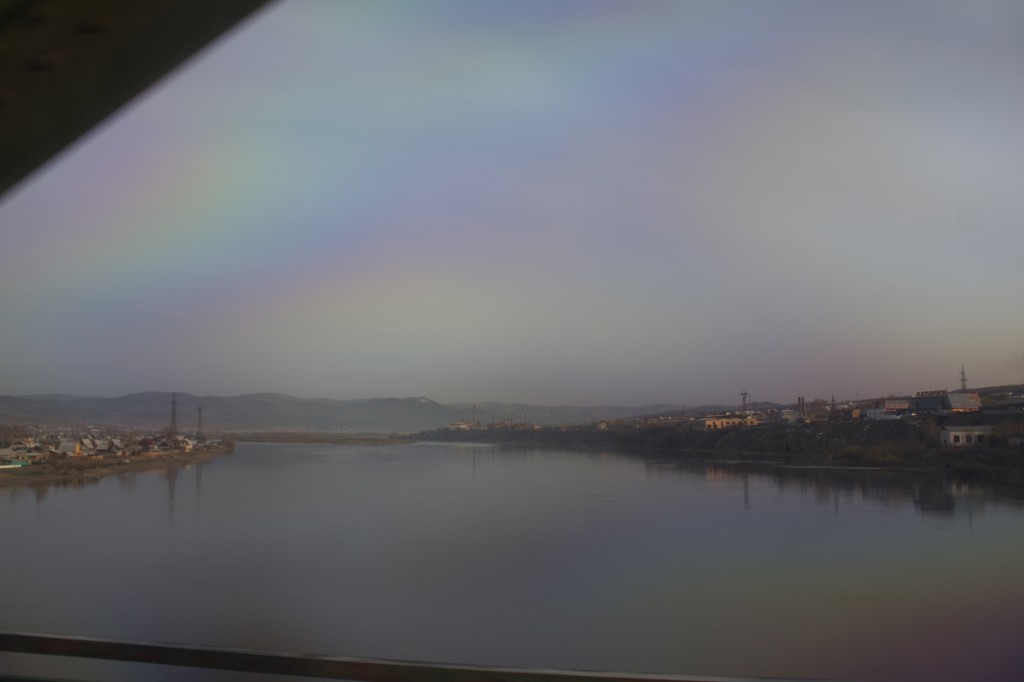 It's a 2 lane paved road surrounded by brown grassy steppe that continues through a valley with low rising mountains to the east and west.  It resembles central Montana in the Billings or Bozeman area.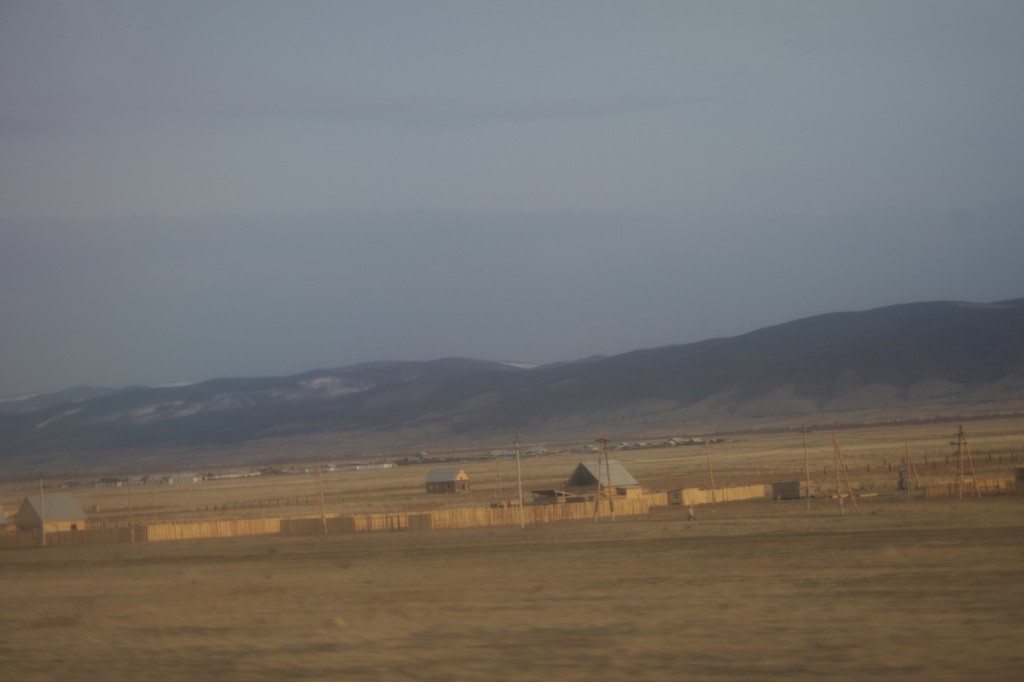 At 0900 the bus pulls off the main road and into a parking area near Gusinoye Lake(Goose Lake).   Many of the Buryats take a smoking break while the rest of the passengers walk down a path to an old wooden shack.    Looks like an outhouse so Jeff and I follow the crowd and wait in line.   There are separate rooms for males and females.  It's one at a time and I finally get to enter after a 10 minute wait.   There's no place to sit, as it's a squatter, but no problem for a guy trying get rid of some coffee.  The inside is constructed entirely of wooden planks and on the floor there is a single long slit.  Looking down it's about a 20 foot drop, but the slit is small enough to keep anyone from falling.   It would take some serious coordination to squat and take care of business here.
I decide to follow the path a little longer, keeping an eye on the bus at the same time.   It leads to a small shrine at the top of a hill.  There are several wooden poles with colorful prayer flags.
Prayer flags are a Buddhist tradition and  are said to bring happiness, longevity and prosperity to the flag planter and those in the surrounding area.   On the other side of the hill, Goose Lake sprawls for several miles.   There is supposed to be a large datsan or temple that was visited by George Kennan but I cannot see it.  Looking back at the outhouse, the line is now gone so I run back to the bus and it is ready to depart.
The countryside has become flatter now and is devoid of trees as we continue south toward the town of NovoSelenginsk.    I am hoping that we pass through this historic town but the road bypasses it.
Several of the Decembrists that participated in the 1825 uprising against the Tsar were exiled here when the town was known as Selenginsk.  Later some other  famous Russians were exiled here.  George Kennan spent some time here in 1886 while working on his book Siberia and the Exile System. While here, he  talked extensively to Catherine Breshkovsky, who was exiled here for 8 years as a result of revolutionary activities against the Tzar. She was released in 1896, resumed her work and was exiled to Siberia again from 1910 to 1917.  Although a Socialist, she did not support Lenin and the Communist party.  Eventually she became known as the little Grandmother of the Russian Revolution.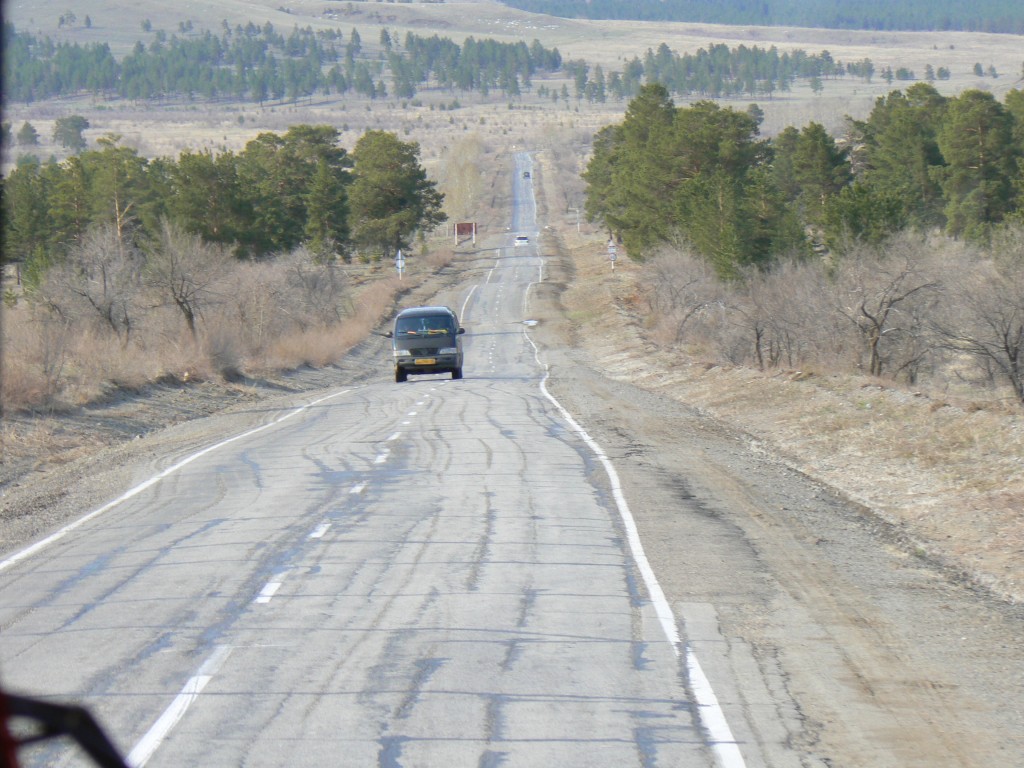 The bus continues down the desolate and isolated countryside of southern Burytia;  Very little traffic, very little wildlife, colorless  but peaceful and enjoyable.  The road becomes rougher now and we start to climb as we get closer to the Mongolian border.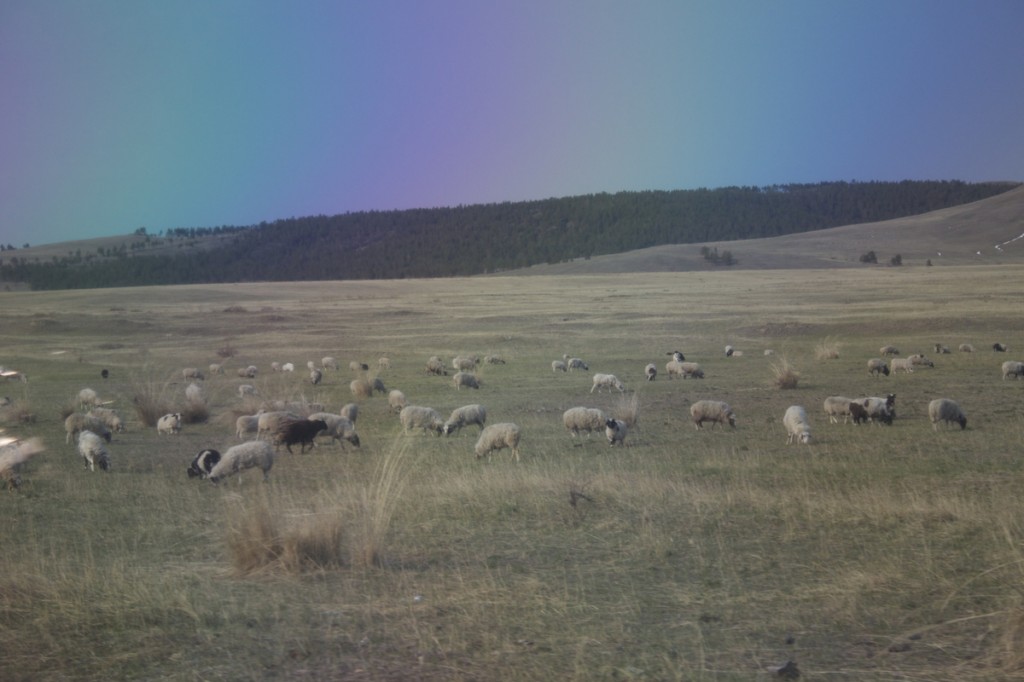 Pine trees become common now and patches of snow cover the terrain.  Sheep are grazing on the hillsides and snow covered mountains are again visible in the distance.
By 1030 we are coming into the outskirts of Kyakhta.  This is another historic city that most people have never heard of.   For nearly 200 years, until the late 1900's,  it served as the exclusive center of Russian-Chinese trade.  The Russians sold furs, clothing, leather and livestock to the Chinese in exchange for tea, rice, fruit, silk and other commodities.  Camel caravans passed through Kyakhta and followed the Great Tea Road to Moscow.  With the completion of the Trans-Siberian railway, which bypassed  Kyakhta, the city  went into decline.
For several miles we pass by a large Russian army post.  A few days earlier, on the train to Irkutsk, we had a met a young Russian Lieutenant named Yuri who was traveling to his new assignment on the Russian Mongolian border.
Could this be it?  At 1045, we come to the Russian Border Control station that processes all people moving between Russia and Mongolia.   We're a little nervous about this, as there was some confusion about whether we needed to keep all of the Russian registration papers from previous stops.
First the bus driver hands us a couple forms to fill out, one of which is 100% Russian and the other is a Health Declaration form that is mostly Russian but partial English.
Diana has met a Russian on the bus who speaks English and she helps Diana, then  Diana helps Jeff and I. A Young Russian soldier enters the bus now and checks everyone's passports.  Then he clears the bus through a security gate.  We're then instructed to leave the bus, pick up all of baggage and go inside.  Inside the door there is a unisex bathroom that we are allowed to use.   This time I got a better idea of the procedure.   As I was using the toilet an older Russian women entered the bathroom, paced back and forth a couple of times, then used the sink.   I opened the door to the toilet and she almost ran me over as I was trying to get to the sink.  While I was at the sink, she started doing her business in the toilet room and didn't bother to wait for me to exit the ante room with the sink.  Guess that's how it's done, or maybe just in emergencies?
Back in the customs area, I join the line where a large German Shepherd is now sniffing all of the bags and all of the people in line.   A female Russian officer provides instructions to everyone impressively in multiple languages.  The bags then go through a scanner and you move to the next station where a customs officer once again reviews your passport and collects your last registration papers.  A young Russian women looks at my papers very carefully with a scowl on her face but when done she hands them back with a big smile and a friendly "Pajahlsta".  The whole process went much smoother than I had expected based on some articles I had read before leaving, but I've never had to go through such a detailed process when leaving a country.  But about 40 of us did go through the entire process in about 1 ½ hours.   Back on the bus, a Russian officer enters one more time, checks each passport one more time, and then clears us to depart the control zone and enter Mongolia.
The bus driver moves the bus through the Russian exit gate, drives about 100 feet and enters another gate that allows us into the Mongolian Customs and Immigration area.
A female Mongolian military officer immediately boards the bus, checks all passports and instructs everyone to complete an Arrival Card which is in English.   Then once again we depart the bus with our baggage and get in line.  On our bus, are about 15 Mongolians and they immediately walk past everyone and go to the front of the line.  Usually when entering a foreign country, the locals go through a separate line which always moves faster.   Here there is no separate line, so apparently the process is that the locals just move to the front of the line without any explanation.  Eventually we make it into an open area where our bags go through a scanner and our passports are once again checked.   At the end of this process are a couple of banks and Jeff converts his Rubles and dollars  into Mongolian Tugriks.  For the equivalent of 100 USD he receives 128,000 Tugriks.  Back on the bus, our passports are once again checked and we are cleared to depart.   We ended up spending about 2 ½ hours departing Russia and entering Mongolia, but I've heard that the same process can take as much as 10 hours on the Trans-Siberian which passes through another checkpoint about 20 miles away.
The bus departs the Mongolian Control Area by 1330 and immediately enters the Mongolian town of AltanBulag.  The bus drives a few blocks, passes a small herd of cattle and some school children, and pulls into a parking lot near a run down hotel called the Altan Plaza.  We've got 30 minutes to eat lunch inside if we want.  There is a large empty dining room inside and all 40 passengers take up the 10 tables.   We're unable to read the menu which is entirely in Mongolian so we head to a small grocery that is down the hall and buy some snacks.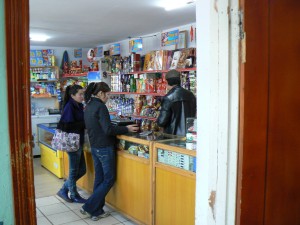 The cashier looks like a character in 1935 Shanghai movie.   He wears a small pair of aviator glasses, a gangster style cap, turtleneck shirt and a black leather jacket and is smoking Marlboros.   He is busy playing cards with 3 other Mongols but pauses to check us out.   I buy a large bag of Mongolian breaded rolls and bottled water.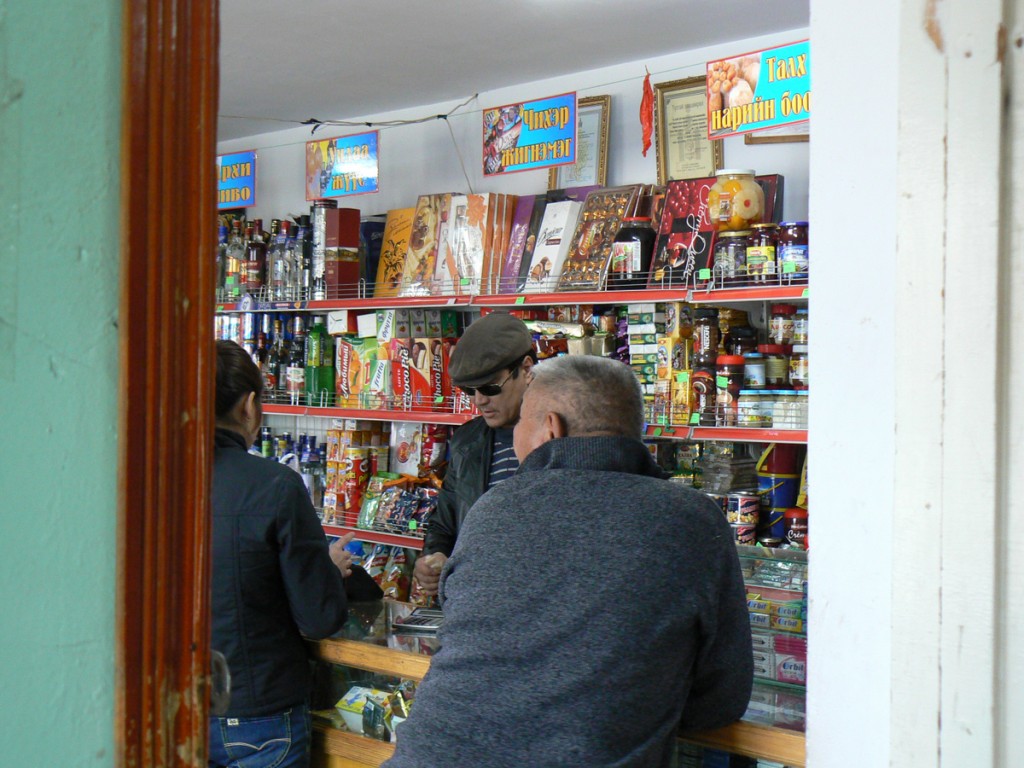 It's around 1400 now, and everyone boards the bus and it slowly departs AltanBulag.  We're 6 hours beyond Ulan-Ude but have only traveled about 120 miles, and have about 200 miles to go to get to Ulaanbaatar.   A couple minutes later, we're into the Mongolian countryside.   I take one more look back at Kyakhta where the Orthodox Cathedral dominates the landscape.   We had a great time in Russia and hope to return soon.
The terrain immediately outside of AltanBulag is dry, brown , and desolate.  Soon however, the bus climbs into some rolling hills covered with snow and pine trees.   In the distance, are large mountains completely covered with snow.   A lone horseman is seen herding some cattle near a small farm.
The farm consists of a wooden stockade and a ger(also known as a Yurt).  Most herders in Mongolia live in these  gers, which is basically a circular felt lined tent.
A few miles later we pass some double hump backed camels grazing next to the road.   In this part of Asia, the double hump back was the camel of choice on the Great Tea Road for long caravans across the Gobi and into Siberia.   A common misconception is that the humps are used to store water, but in fact they are used to store fat so the camel can survive for extremely long times without food.  More herds of cattle, horse and sheep are common as we continue south toward Ulaanbaatar.
We continue and pass through the city of Darkhan and then pull into a gas station just south of Khongor.   Once again everyone departs the bus and stands in line in front of a  new outhouse near the gas station.   And again, it is a wooden structure with a large slit in the floor and a deep, deep hole.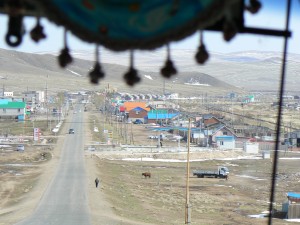 Then on we go through Bayongol, passing more Gers, herds, and stupas on the snowy steppe.
Around 1800 we gradually descend and a dusty Ulaanbaatar becomes visible in the distance.  The small 2 lane road we are on is the main road into UB from the north.
Traffic is heavy and it takes about an hour to get into the center of the city where traffic comes to a crawl.   The driver pulls into a gas station and announces that we will be dropped here as it is faster to walk to Sukhbaatar Square than drive.    This is OK with us.  We check with Diana to see if she is fine.   She has made friends with an English speaking  girl from China on the bus who is also traveling alone and the two of them have decided to tour Mongolia together.  We grab our bags and start walking to our hotel.
Next:   Ulaanbaatar
Prior:   Ulan-Ude