Novosibirsk is the 3rd largest city in Russia with a population of 1.5 million.  It is actually a sister city of Mpls St Paul, where we are from.   We'll be staying at the Hotel Sibir which is about a 1 mile walk from the railway station.  We don't need to get our e-tickets converted as tomorrow we will be taking a bus to the city of Tomsk instead of the train.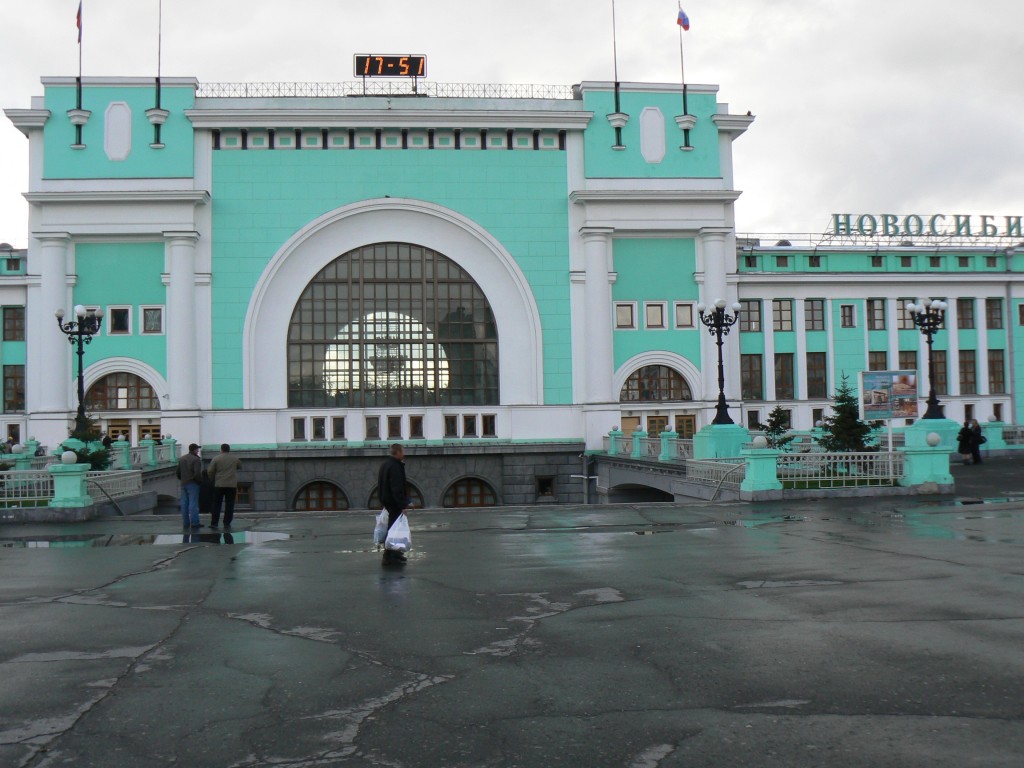 We walk through the train station and admire the architecture, and head out the main entrance to what else but Lenina ulitsa. 
On the left we pass the tall, old and Soviet  looking Hotel Novosibirsk, which I had considered as a place to stay.
A few minutes later we arrive at the Hotel Sibir which looks relatively new, modern and plush, but at a price of $140 a night and just a short walk to the center of Novosibirsk.
Once again we have English speaking receptionists, they register our visas and we're all set.
Our room is superb, even my wife would like it!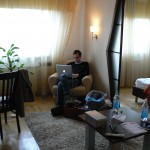 We have 2 rooms, one with twin beds and another with a desk, couch and easy chair.   On go the computers but the Wi-Fi is just so-so , a trend we would see in the hotels we stayed at in Russia.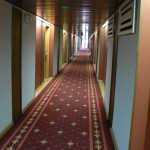 We could sure use a washer and dryer but there is none at the hotel, so we throw some clothes in the shower and do it manually.  Jeff then takes a shower and floods the entire bathroom. Ooops!
The hotel has 2 restaurants so we decide to check one of them out.   It looks very formal, like something out of those Turner classic movies from the 1940's.
It's not real busy, just a few businessmen, all seemingly Russian or Asian.    I have Beef Stroganoff with a Sibirsky Korona and Jeff has chicken.   The serving sizes are really small but the food is tasty and looks inviting.
After dinner, we return to the hotel lobby where they have a travel office.   I had emailed them before I left home and asked how I could get bus tickets to Tomsk, and they had mentioned that it could be handled here at the hotel.  This was one of the reasons that I selected this hotel, because there is absolutely no online information about bus travel in Siberia, no websites, no schedules, nothing!  A 30 something, attractive, red haired Nordic looking woman is working and says she speaks just a little English.  She spends about 30 minutes making calls to the Bus station and gives us a voucher that we will have to redeem tomorrow at the bus station.
We're a little tired  from our long train ride, but decide to walk around and see a little of Novosibirsk.  The travel books I had read said there was really nothing to see here, so we only scheduled one night, but we both are regretting it now, as it looks like a very nice city, and it is the largest in Siberia afterall.  We walk down Lenina to the main square and the square itself covers a couple of large city blocks.   We pass a couple of theaters and a very impressive Opera House.  We pass a Travelers Coffee and wonder if our friend back in Yekaterinburg owns this place.   Unfortunately on this night it is difficult to move about, and the entire square is blocked by military personnel and security forces.  They are apparently practicing for the May 9 celebration.     It's also close to freezing and is now drizzling rain,  so we decide to return to the hotel and watch some Russian TV.
Next:   Bus Trip from Novosibirsk to Tomsk