I had a difficult time finding a reasonably priced hotel in Irkutsk.   It was a choice  between hostels for about $30 a night or Holiday Inn type hotels for $200.    The Delta Business Hotel had a special so I went with it.   We're paying $140 a night for a Twin room.  Like a lot of Russian hotels it has its own restaurant.  The girl at the front desk is friendly and speaks good English.   They let us check into our room at 0800 for no extra charge , a good deal.  We walk up 3 floors and our room is older but looks comfortable however, we  find that Twin room  is a 'Mexican' twin room, i.e. 2 twin beds slid together with a queen mattress over the top.  Jeff complains for awhile  but we decide to live with it.
It's day 11 of our trip and we need to do laundry.  Lesson learned:  In most hotels in Russia, there is no 'Laundromat' so you have a choice of doing it by hand or paying the hotel to send it to the cleaners.  It is cheaper to buy new socks and underwear than have them sent out so we choose to wash them ourselves in the sink.    Meanwhile, we go to the restaurant downstairs, where we just missed breakfast but instead have  Spaghetti Carbonara for an early lunch, and then head for town.
Today May 9th is one of the most important holidays in Russia,  World War II Victory Day.   All cities in Russia celebrate with a military parade and we are hoping to catch some of it.   Even though that day is 65 years in the past, Russians will never forget.    At least 20 million Russians died in WW2, compared to one half million Americans.  The receptionist says there is a celebration in Polschad Kirova so we walk down ul Dzerzhinskogo to ul Lenina and get there about an hour later.   There is a large crowd of several thousand and we can hear military bands playing patriotic music.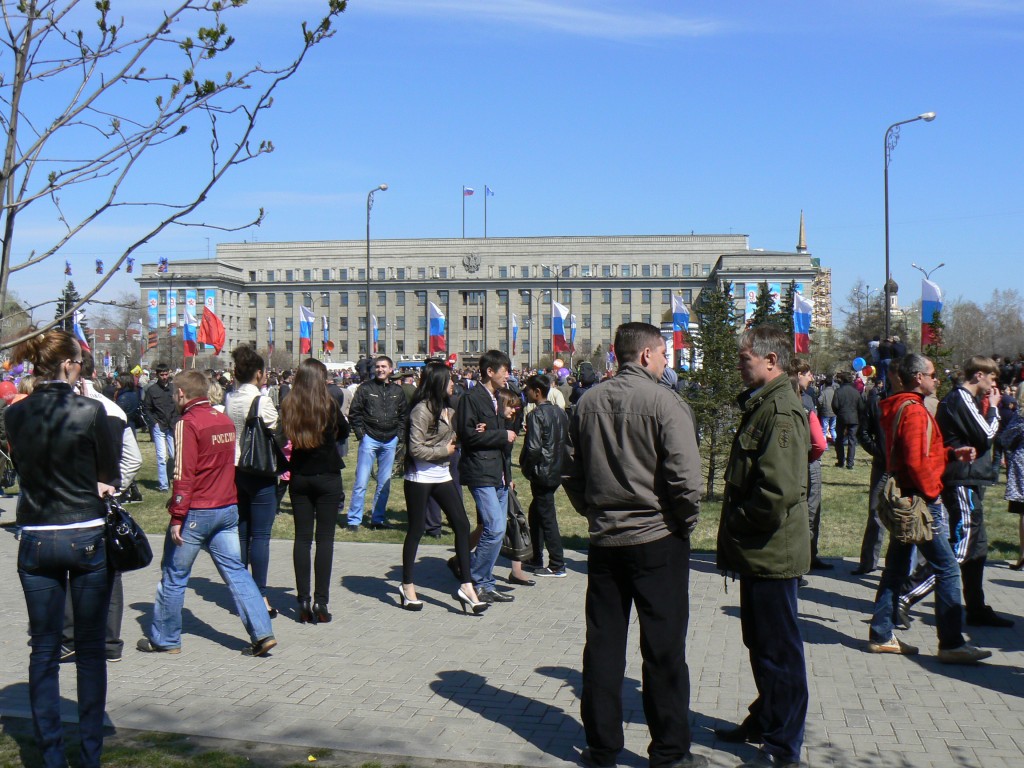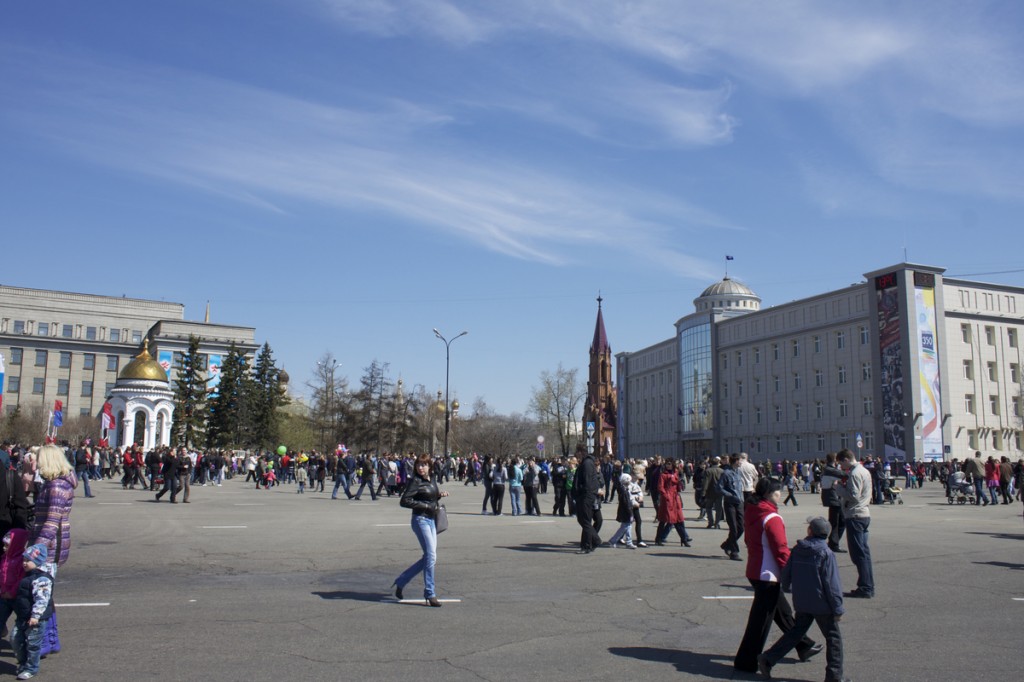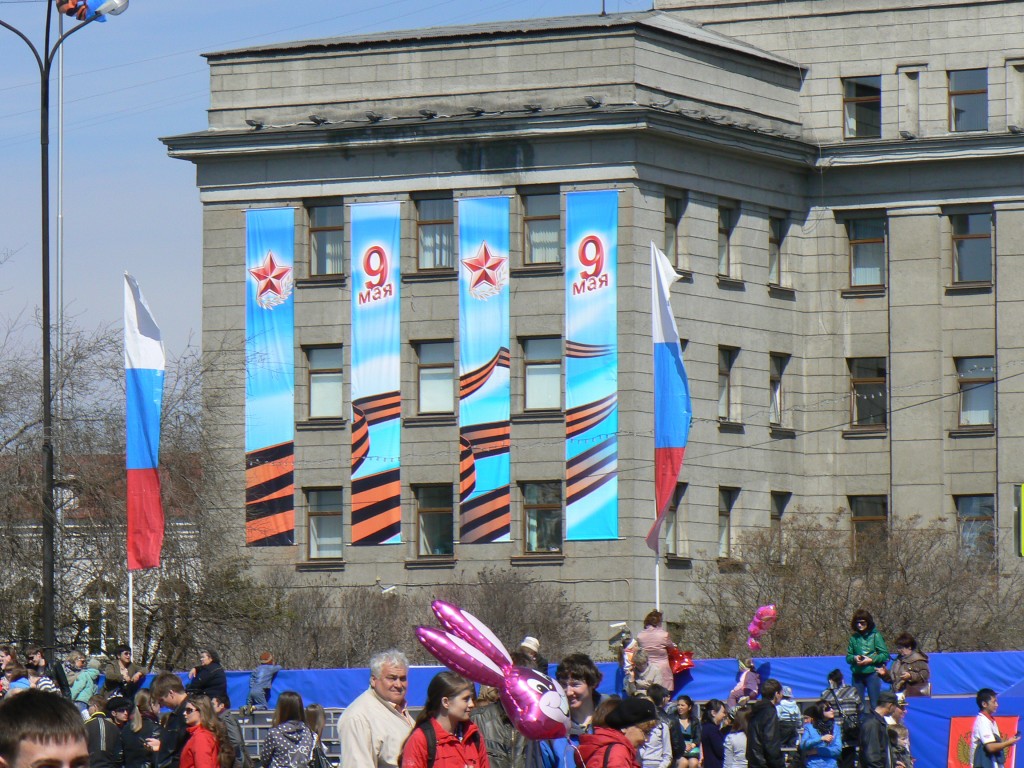 There are Russians of all ages attending including many young people in their twenties and thirties.  There are military people from all branches of the Service.    We just catch the last 10 minutes of the parade and the crowd starts to break up.
A couple of heavily decorated and very old WW2 veterans walk by us in the full uniform, arm in arm with a young woman, presumably one of their grandchildren.  Instead of carrying their Kalishnakov, they carry a bouquet of flowers.  Very impressive to actually see a live Russian WW2 veteran!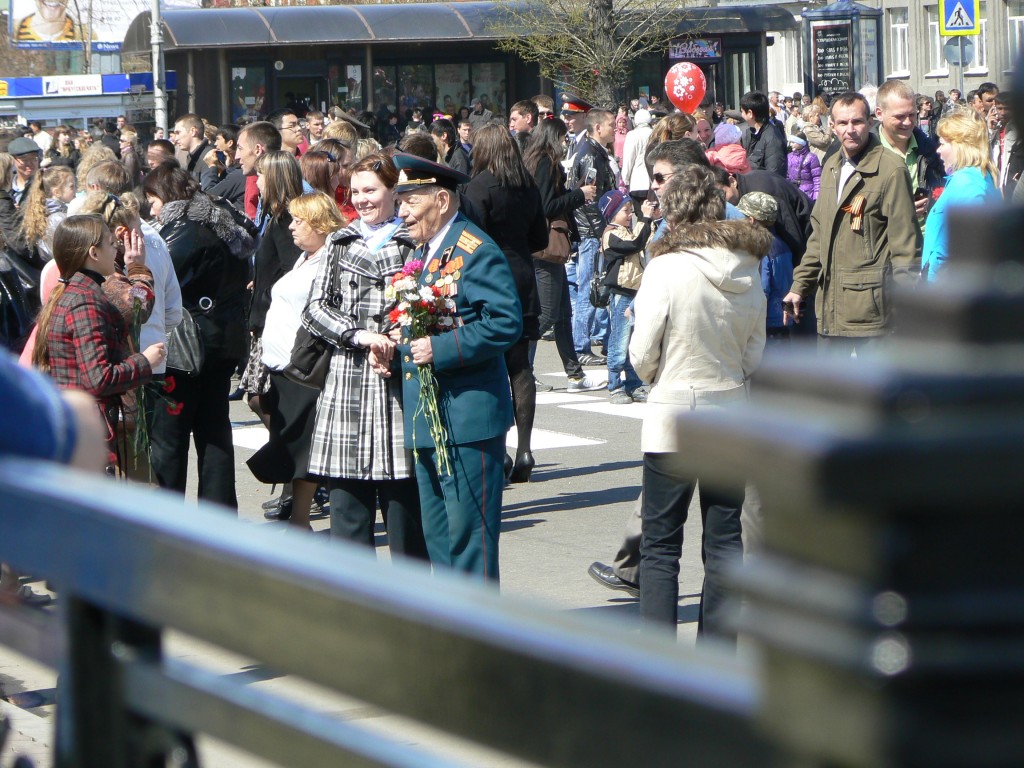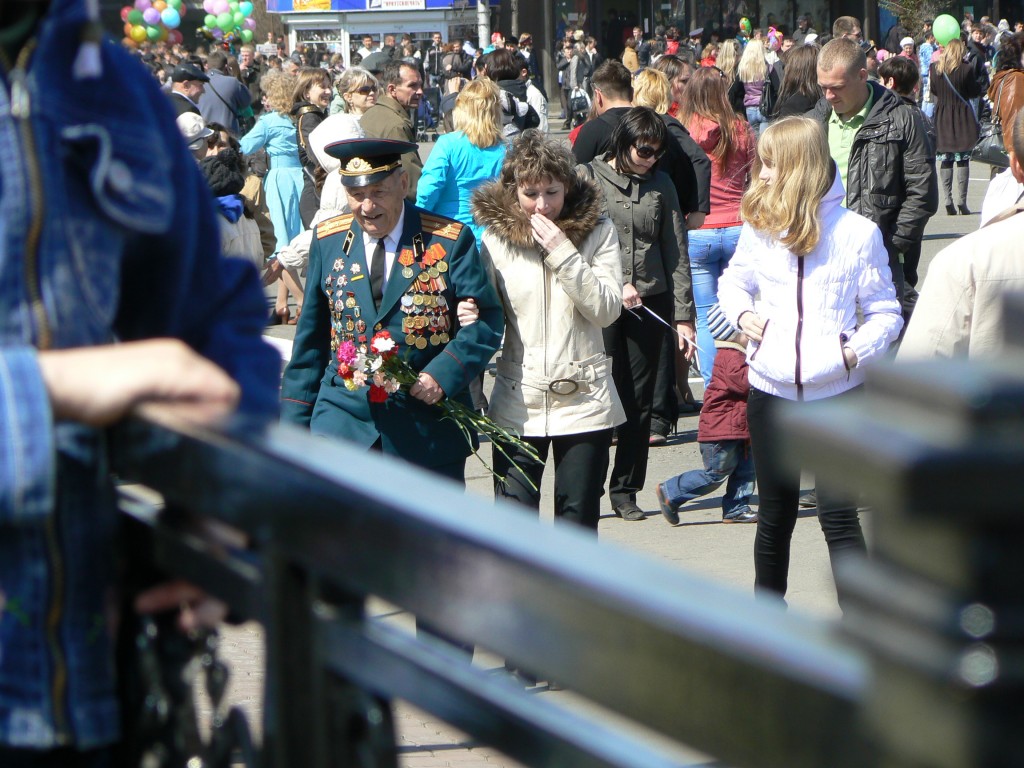 The crowd starts to break up and many people walk toward the River so we follow.   Near the River is a plaza with an Eternal Flame and a Tomb of the Unknown Soldier.
By the Angara River, a group of young Russian military pose for photos.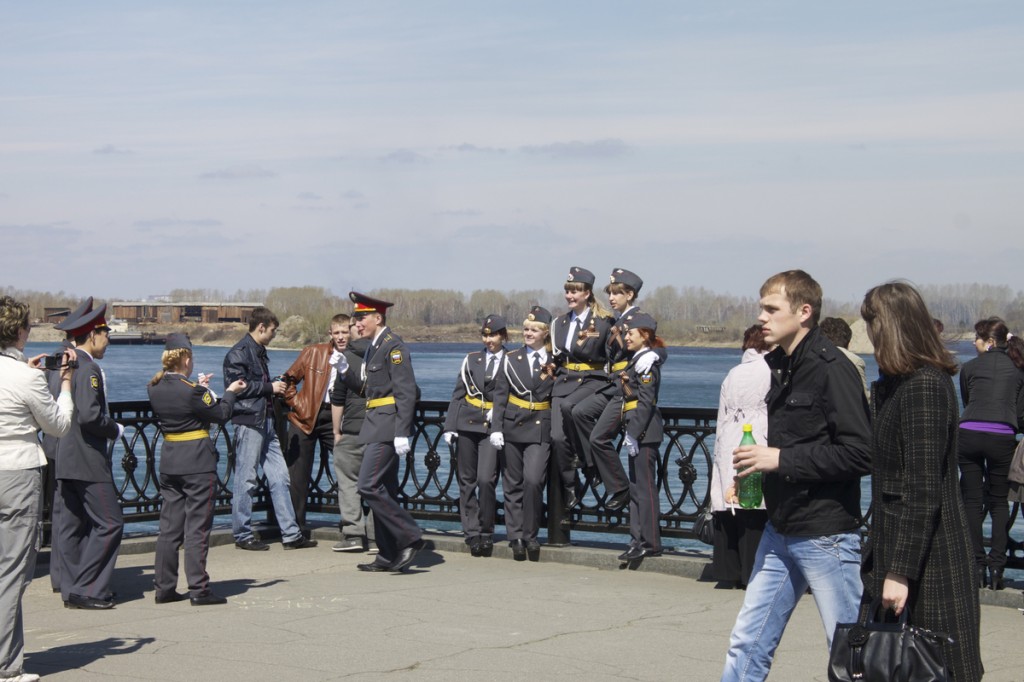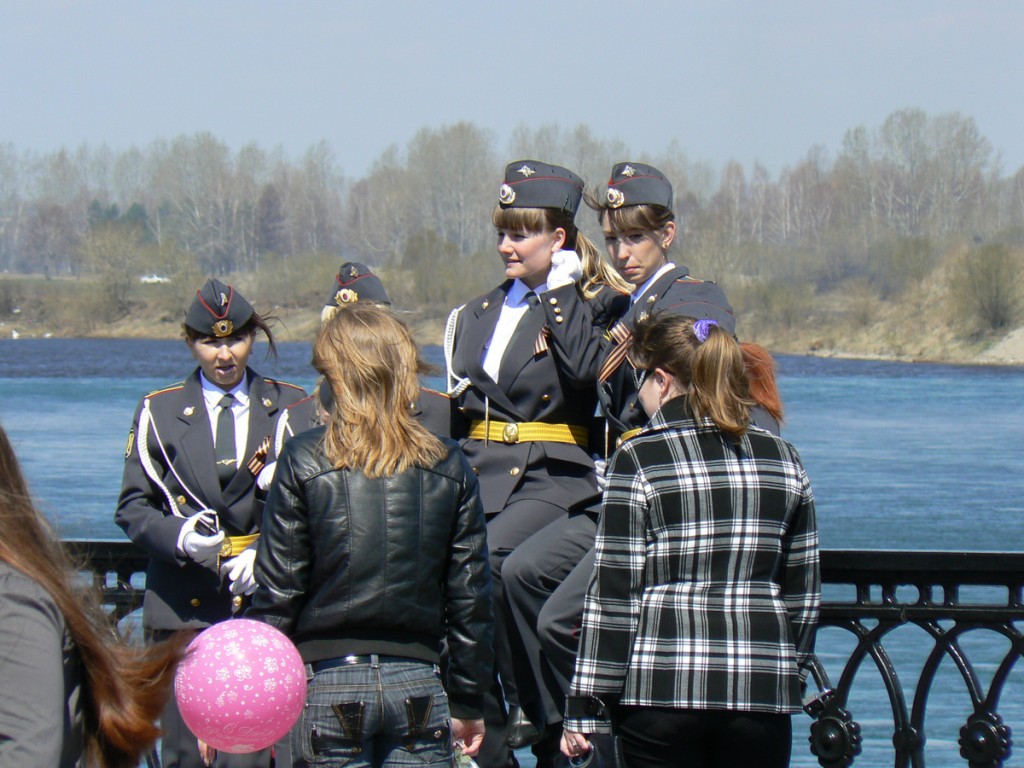 A small group of Russian soldiers and women dressed as peasants attract our attention.   One of the soldiers plays an accordion and sings Russian folk music while another soldier performs the traditional  Cossack dance with a pair of sabres.
The celebration continues for several hours, and we decide to walk around and see some of Irkutsk.   We are now in southeastern Russia and there is a noticeable change from Moscow.   Irkutsk was once known as the Paris of Siberia but it is really more of blue collar town, more raw and provincial than Moscow, Tomsk  or Yekaterinburg.
The people look much more Asian here, with many Mongolian, Chinese, and Kyrgyz , and Buryats.  Now white Russians seem to be in the minority.
The inner city is clean, with streets radiating in all directions similar to Paris.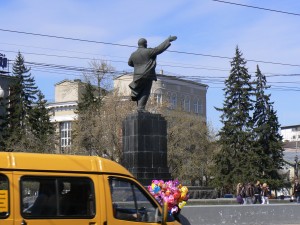 In the center of the city is ever-present Lenina Square with the typical Lenin statue.  Across from the square is a beautiful old baroque building that I later find is the former headquarters of Alexander Kolchak, the leader of the White forces in the Russian Civil War.   Since the fall of the Soviet Union, he is now honored in Irkutsk as he was assassinated here in 1920.
As we continue back to hotel,  we notice a large number of old buildings with hand carved wooden lace trim.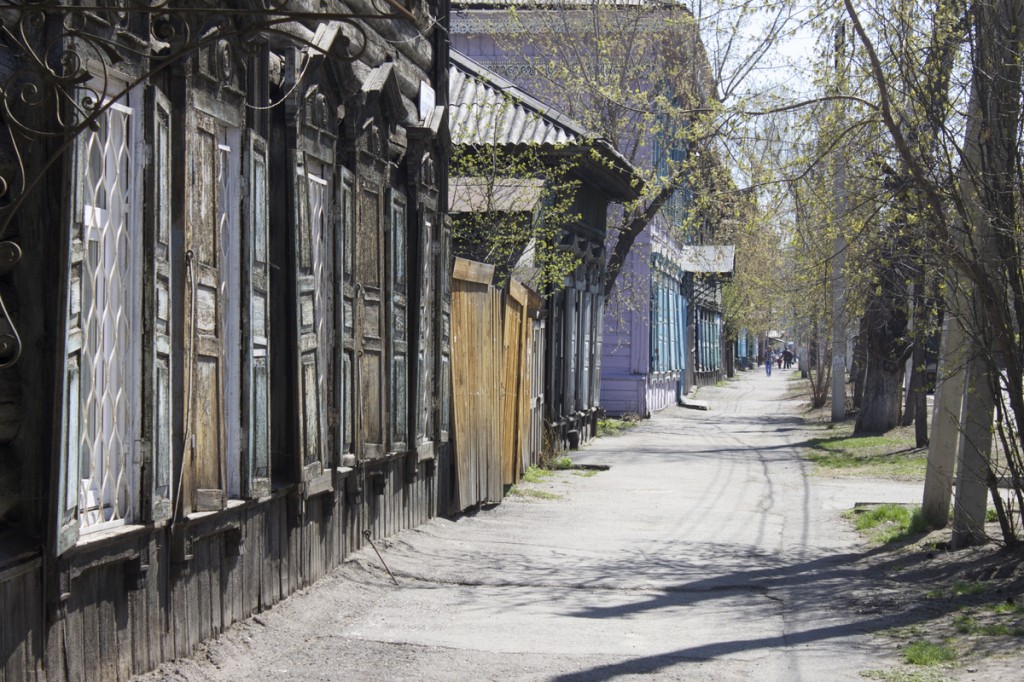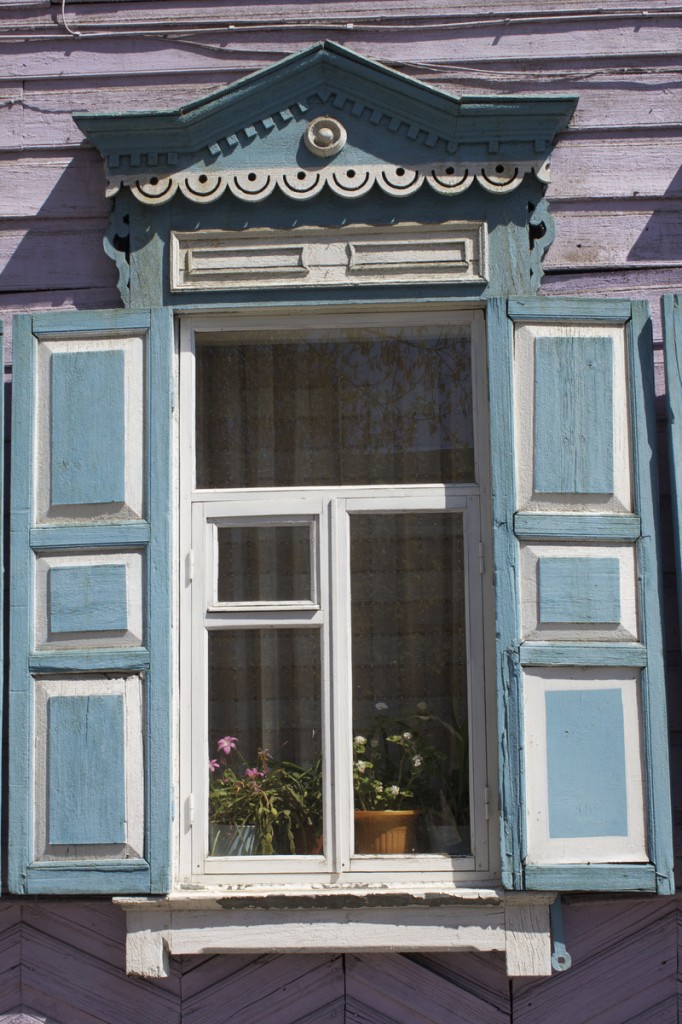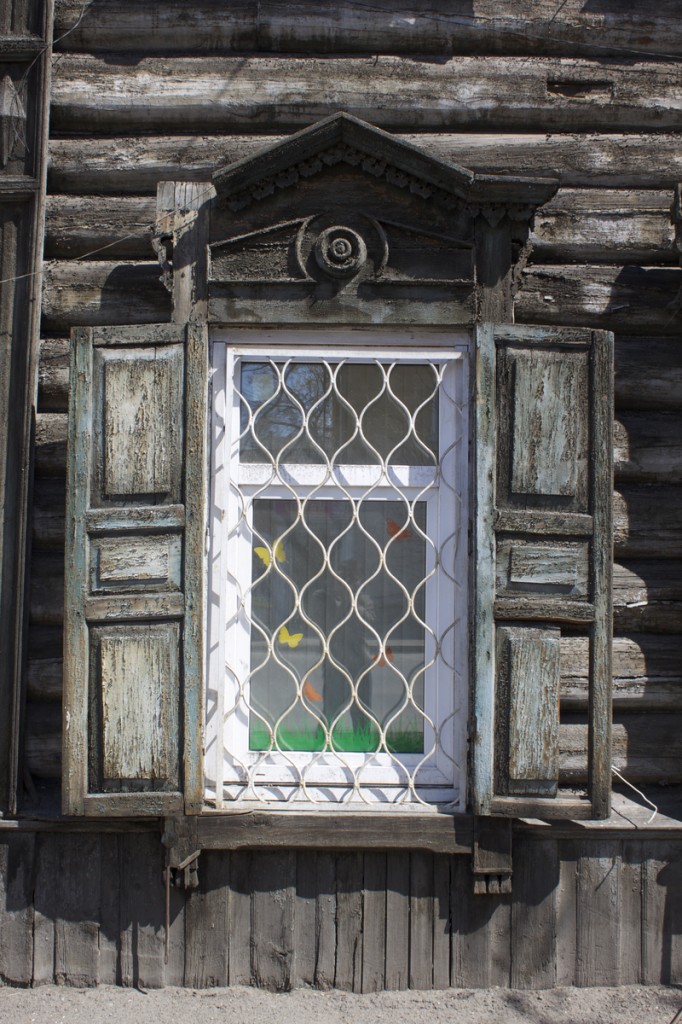 Irkutsk is about 2 hours from Lake Baikal and we are considering going there tomorrow by bus.   At the hotel,  there is no information about Lake Baikal, so we walk to the bus station which is about a mile away.   The international bus station is a bit of a surprise, much like the one in Novosibirsk.  It looks like something from the 1890's and has no information and no schedules.   Most of the building has been torn down and they appear to be rebuilding it.
There are a couple of kaccas but by now we have learned that we are not going to get the information we need to reliably get there and back.    Back at the hotel, we try again but they are also unable to help us, although they understand what we want, so we drop the trip to Baikal, as we will be traveling there by train on the way to Ulan-Ude in a couple days anyway.
Back at the hotel,  we're starting to think about dinner.  We have had a excellent meal every time at the Hotel restaurants in Russia so we try again.
The hotel restaurant is fairly large, French looking and has a small bar.  A very blonde young Russian woman in a black skirt and white blouse is our waitress.    The menu is in Russian but we recognize a couple of key words.   Jeff orders Omul, and I have a French pork dish with a sauce that is outstanding.   The food in Russia is so good!
Back in the room, Jeff goes to work on backing up all of our photos and videos.   I turn on the TV and hit the jackpot!   World War II action on nearly every  channel.   On one channel is a WW2 Russian produced movie, on another is the military parade in Red Square in Moscow, and on the local channel is the parade in Kirov Square in Irkutsk!   Around midnight or so, the TV goes off and we go to sleep.
Tuesday May 10 Walking around Irkutsk
We awake around 0730 after a good night's sleep in the 'Mexican' Twin beds.   Looking out I can see that it has snowed overnight and a thin white layer covers the old wooden houses and asphalt streets.    Breakfast is once again included in the price of our room so we walk down to the restaurant where it is being served.    Fish, ham, cheese, granola, coffee, tea, peach and apple juice are available.   We have the same waitress as we did at dinner last night, and lunch yesterday.
Our schedule requires us to make a choice today between a trip to Lake Baikal and Listvyanka,  or see more of Irkutsk.   We know how to get to Listvyanka with the marshrutky(mini bus) service from the bus station but we're not sure that we can make it back in time for the train which leaves early the next day, so we decide to see a little more of Irkutsk.
The Central market is about a mile away so we start walking.   Between the two of us we barely have enough warm clothes for the 30 degree temperatures.  For the first time on our trip, we get out gloves and stocking caps.  As we near the Central Market plaza two packs of rogue dogs stare at us, teeth glaring,  then defensively walk by us just a couple of feet away.   Everyone else ignores them so we do as well.
The Central market is quite large covering a couple of blocks and consisting of both indoor and outdoor vendors.   Outside it is mostly fruit and vegetable vendors.   Most of the vendors are dressed in heavy winter clothes, including vests,  hooded jackets and boots.   I buy some bananas from a tall dark skinned Buryat who looks more like a mafia hitman than a fruit salesman.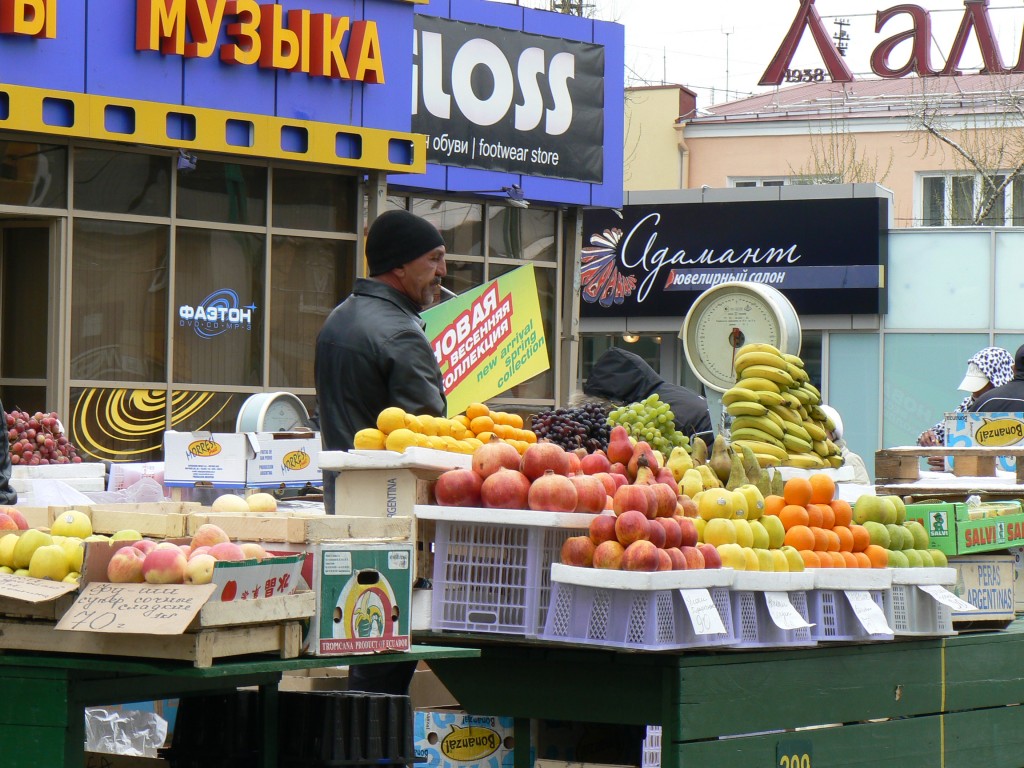 Inside one of the large covered buildings are many colorful stands selling fish, meat, tea, house wares and more fruits and vegetables.  This looks like a great place to find some gifts for our family back home.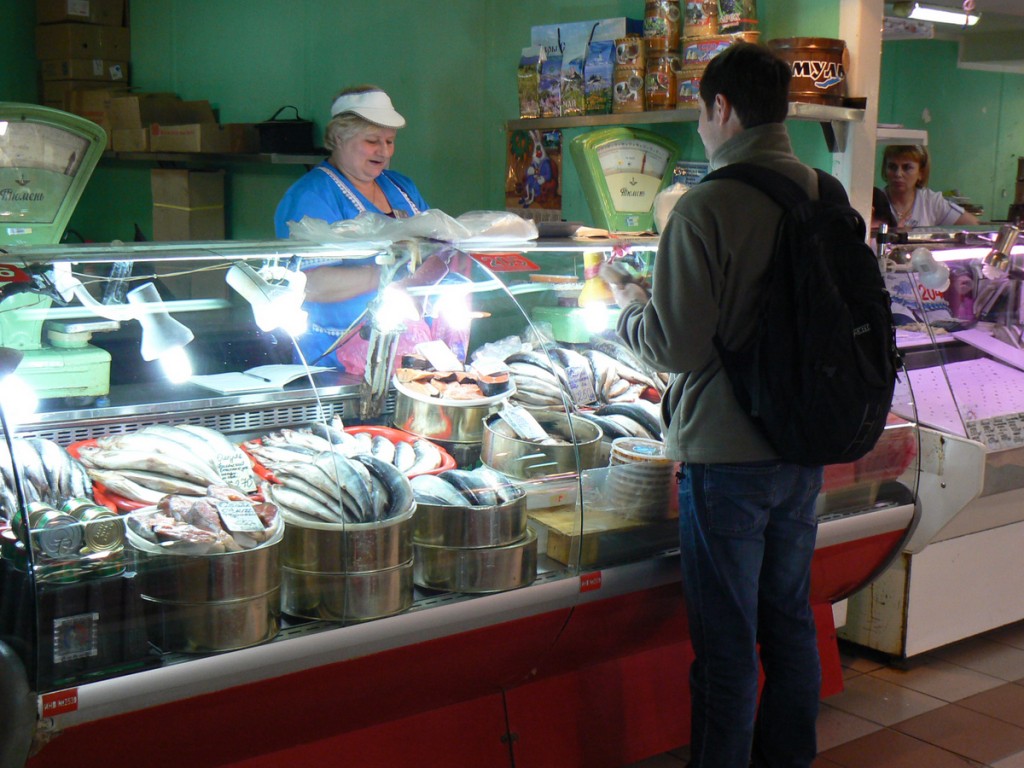 Jeff decides to buy some canned caviar for  Mother's Day from  a very friendly old Russian babushka.  She is also selling  Lake Baikal Omul and Russian salmon that looks delicious.   From another stand, I buy some tea and a Trans Siberian stakan for my daughter.
I would like to take a bunch of pictures here but still having some reservations after the Kazansky station incident, and the Russians are more reserved, and seem to value their privacy.   So I limit the photos to vendors where we have bought food and souvenirs.
Now we walk over to the large торговый комплекс (Shopping Complex) building.  It's a large 3 story department store with clothes and electronics, much like a Dayton's department store from the 1950's.   Along the way is an interesting poster of Mr and Mrs Sverdlovsk?  The Shopping Center is quite busy and people seem to be buying and not just looking.    I'm trying to find a power cord for my Dell laptop but no luck.  I could also use a flash drive for backing up our photos but they cost about twice as much as in the US so I take a pass.
Back on the street we start looking for a good place to eat lunch.   Jeff notices several policemen and a policewoman walking into an old wooden building with a large menu posted outside.   "Policemen always know where the good food is" he says, "let's give it a try".
Outside the front entrance, above a large Gold colored menu is a sign "столовая"(dining room).   Inside there are several small, simple wooden tables mostly occupied.   It's cafeteria style with food packed into a small 10 foot area with about 5 people serving.    We watch what the policemen do and follow them through the line using the 'point and pick' method.    I select meat with a cheesy sauce, mashed potatoes, carrots, bread and an Admiral Kolchak beer.   Jeff has a rice casserole with tea.    The total cost is about $5 USD.
We take our time and enjoy the food  but a young Russian woman removes our dishes and trays while we are finishing eating.  Just another one of those things that we will never understand.
Next on our agenda is a visit to the Maria Volkonsky house, now a museum.   As we walk down ul Timiryazeva, we see and hear a family of 3 speaking German.  It dawns on us that these are first tourists we have seen since leaving Moscow about 10 days ago.   Where are the Americans and Europeans that ride the Trans-Siberian?   It would take us a few more days to find the answer to that question.
Before leaving on this trip, I began to study Russian history and became interested in a revolutionary group known as Decembrists.   The Decembrists were a group of Russian aristocrats and military officers who attempted to overthrow Tsar Nicholas I on December 26th, 1825.  Their goal was to reform the feudal, serfdom system and implement some democratic changes.  The Decembrists failed and many were killed in a battle in the Senate Square of  St. Petersburg.   The survivors were imprisoned, briefly tried and exiled to Siberia.  Among  the leaders of the Decembrists  who were exiled was Sergei Volkonsky,  a military officer who married Maria, daughter of a Russian general who was a hero of the Napoleonic Wars.  Maria Volkonsky and other wives were allowed to follow  their husbands to Siberia as long as they gave up their positions in Russian Society.  Sergei  Volkonsky was imprisoned near Irkutsk for nearly 30 years before being pardoned by Tsar Alexander I. While in Siberia, Maria Volkonsky and the other wives created schools, hospitals and helped to modernize the local society.
The old and elegant wooden home is well preserved from 1856 when the Volkonskys returned to St. Petersburg after Sergei's release.
After the museum, we walked to a supermarket near the bus station and we spent some time picking up food for tomorrow's train trip.  My favorite Siberian chocolate cookies are on sale!   Outside, tram's move by continuously.  Not riding the tram is one of my regrets from the trip.  They are basically small, narrow, electrically powered street cars that are present in just about all Russian cities.
Around 1800 we return to the hotel for the dinner.  It's a different waitress tonight!  I have Lake Baikal Whitefish and Jeff has Grilled Pork with Peppered Vodka.
After dinner, we talk to the receptionist, checkout and setup a taxi for 0430.   The receptionist insists that they  pack a breakfast for us, early in the morning, because it is included in the price.  The next morning it is waiting for us along with the taxi.   We thank her for the wonderful stay in Irkutsk, the excellent food and great service.
Next:   Train Trip from Irkutsk to Ulan-Ude