I'm traveling from Minneapolis and have found that flying Sun Country to New York and AeroFlot to Moscow works the best for me.  Total cost is $565, not bad compared to Delta, which is direct to Moscow, but costs $1225 one way.   My son lives in Guadalajara Mexico and he takes Mexicana  to Houston and then Singapore Airlines direct Moscow.
The weather is beautiful at the Minneapolis IAP but the east coast is socked in causing my Sun Country flight to New York to be diverted to Albany.  We sit on the ground in Albany for 2 hours then depart for JFK, where the ceiling is still low.  After sitting in a holding pattern for an hour or so, we are cleared for the approach and are able to land, despite extremely bad weather and low clouds.
I was planning on taking the AirTrain from JFK to Manhattan to see the Twin Towers area, as I had originally had a 7 hour layover  before having  to catch the  1900 AeroFlot flight.  There is not enough time for that now so I walk around JFK for awhile watching the hectic pace and check out all of the nationalities in the terminal.  Around 1600 I decide to check-in  and go through security.   There are hundreds of people in several lines and it seems like mass confusion, but it moves efficiently.   In front of me is a family of Chinese who speak no English, and delay things for awhile.   I'm thinking that will be me causing a slowdown going through Customs in Moscow about 12 hours from now.
In the departure area, we find that the inbound AeroFlot A330 has been delayed for an hour.  About 90 minutes before our new departure, people start to line up to board the plane.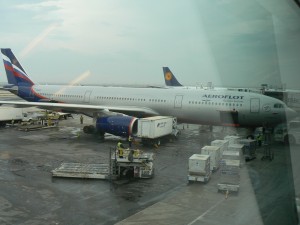 Thirty minutes later, the line has over 100 people.  Why would you do this when you have a reserved seat?  I am one of the last to board the plane, and we still have to wait 30 minutes for pushback.  No weather issues anymore, just preflight checklists I assume.  Onboard, hundreds of passengers file into the A330 mostly Russian, and many carrying a white Macy's bag with a big red star.    I find that I am sitting next to a gray haired woman in her late fifties.  She looks Russian, is very stoic, and we do not talk to each other.    Later  during the flight, the flight attendants  ask her something in Russian but she responds in English and they understand.   They ask me the same in Russian and I also respond in English.   The lady next to me says she thought I was Russian and becomes friendlier.   She is from Connecticut and is part of a church group visiting Moscow.  She mentions that she was born in Russia, and moved to Greece just before WW2, lived there 15 years and then came to the US.   She says she speaks a little Russian and also is fluent in Greek.
After the in-flight lunch, which is pretty good, it is now getting close to midnight and I can see that we are somewhere over southern Greenland.   The Greek lady next to me decides to get some sleep , and 30 minutes later she is partially spooning me and snoring lightly.
Around 0800 local time,  we enter Norway and have a beautiful view of the country, all snow and ice.   I have seen this before and can tell we are somewhere north of Bergen.   Wonder if Siberia will look like this.
Around 1300 local, we enter Russia on a beautiful,  clear day and it looks very similar to flying into MSP from the north.   I can see  lots of trees and forest, but no city from my side of the airplane.  Now  there is a bare spot in the trees  with a long runway and I can see Sheremetyevo Airport.  On the approach, some large residential high rises are visible and they look much like they do in the states.   We descend to about 200 feet, but are unable to land, so the pilot executes a 'missed approach'  procedure!   The pilot says there was an animal on the runway.   We go around and the next landing is uneventful.   While taxiing it is evident that Sheremetyevo is a huge airport but there are very few planes on the ground or at the gates, maybe a dozen.  I am surprised as this is Moscow's primary International airport, and AeroFlot's main hub.  Moscow does have 3 other airports and Domodedovo Airport does handle International traffic as well.  My son should be landing there about now.
The aircraft unboards slowly as nearly everyone has a large carryon bag and that delays the whole process.   I follow the long group of tired passengers  for several  minutes and finally get to Immigration which is very slow.  The Russian Immigration agent  appears to be very businesslike and methodical.   She checks my passport thoroughly, looks me straight in the eye for several seconds, a couple of times, and eventually hands me my passport with a 'spaciba'(thank you).  Customs is next and that moves surprisingly fast.    I'm through the Control area in a few minutes and now in the main terminal which has very few people.  I see an ATM, and try to make it work, but no luck.  I see another one, but no luck this time either.  I walk some more and find another one, and this one works!   Actually, I think the other 2 may have been for Phone cards, not sure.
Continuing through the terminaI, I  stop for a second, take a couple pictures, and begin to reflect on this a bit.  Here I am in Moscow, which was once the Soviet Union and off-limits to most Americans.  Nearly forty years ago, I was a 24 year old crewmember in the Air Force navigating a C-141 across the North Pacific.   We were flying from Elmendorf AFB, Alaska to Yokota AB, Japan, 100 miles off the Russian Coast and I could see them jamming my radar making our flight as difficult as possible.   You would be shot down if you got too far off course.  Never thought I would ever see Russia peacefully in my lifetime.   I cannot believe that I am actually here and can travel freely throughout this country.
Time to find the Air Express Train now.  These trains are new and located at the 3 main Moscow airports which are well all outside of the city proper.   They serve to move passengers from the Airport to a large suburban train station within the city.    I went on YouTube before I left and someone had a video of this process so this is looking somewhat 'familiar'.  There are some signs in English that take you to the general area, which is in the terminal next door to where I departed the airplane.  Just to be sure I get help at the Information desk, and they show me where I can buy a ticket.  I find a sign to the departure area for Белорусский вокзал, BeloRussky train station, and the train is waiting;  it departs every half hour.  The train is about  90% full, surprising considering the airport was not that busy.  It will be a 30 minute ride and I will get to see the area outside of Moscow, as the airport is about 35 miles from the Kremlin.  The train departs quietly and smoothly, and we pass through areas that are mostly industrial,  but also have lots of housing, mostly Soviet era but a surprising number of new apartment complexes.
The Air Express now comes to a stop at BeloRussky Vokszal.  It is a huge, pastel green colored complex that I had read was featured in the movie Bourne Supremacy.  (Later found this was not true, it was actually Kievsky station in that movie).

This is, however, the main station for all trains too and from Europe.  So far so good, but now I need to find the Metro station which is located here.  I'm a little nervous about the Moscow Metro because I did not find a lot of information online before I left, other than there is no English anywhere in the Metro system, and very little Russian.   But how hard can it be to find a ticket machine and get a subway ticket?  I had used the subway system in several European, Asian and North American cities, and they had been much alike(although most, if not all had English in addition to the local language).    I walked around the huge area for some time and eventually found a Metro entrance.  Inside, it was very small and packed with people, and had no automatic  machines for purchasing a ticket.  I did see a single Kacca(ticket  window) but it had a long line.  No English and very little Russian.  No indication of where the entrance to the metro area was, or which Metro lines could be accessed at this entrance.  It's also getting to be rush hour on a Friday afternoon;  time for a command decision.  I am going to Godzillas Hostel in Moscow and it is only 2 miles away so I decide to walk.
BeloRussky is on a large roundabout and with several streets radiating in all directions.  One of these is Tverskaya Ulitsa(street) and that's the one I need.  So I ask  a person at the street corner ……"Pajahlsta, gdyeh Tverskaya Ulitsa" (Excuse me,  where is Tverskaya Ulitsa).  The response is "Niz nayo"(I don't know).   Maybe so, maybe she doesn' t live here who knows.  It's all construction and I can't see any street signs so I just use the sun angle and try to go south.   That works, and 30 minutes  later I'm at Pushkin Square and realize that I was actually on Tverskaya.  Good thing I didn't try a taxi, traffic is all jammed up.   I have  a map and it helps somewhat, the problem is the map has the names in English and not in Russian,  but this is the only one I could find back in MSP.  For example, a street sign shows "Садовая" but my map shows Sadovaya.  Садовая does translate to Sadovaya but it would be more helpful if I had a real Russian map at this point.  Better yet, a smartphone with access to Google Maps would have been ideal.
I turn east on Strastnoy Bulvar, but I stop to take some pictures of the Pushkin monument;  I know he's a famous Russian poet, although I admit that I don't care for poetry.  There is a large Orthodox church with golden domes near the square, and a grassy park now.  Thirty minutes later I arrive at Godzillas.
Immediately I see my  son who had just  arrived  10 minutes earlier from Guadalajara, Mexico.    Jeff flew into Domedevo AP which is on the opposite side of Moscow from Sheremetyevo.  He just landed about 90 minutes ago and took the Air Express from DVO to Paveletskiy railway station.  Then he bought a Metro ticket and took lines 2 and 9 to Tsvetnoy Bulvar right next to Godzillas, no problem.
I like Godzillas.  It is basically a 3 story apartment building, owned by an American, probably had a Soviet look to it years ago, but was painted, clean,  and looked inviting.  The people at the front desk speak English and check-in is smooth.  We are told we are rooming with a young couple from Buenos Aires.  Working at the desk is another American, maybe in his late 50's.  Said he was here several years setting up factories for some American Company, loved it here and stayed.  We pay $28 each for our shared room.   In  Moscow, it seems like you have a choice between $300 rooms and $30 rooms, with not much in between.  We check out our room, no one is there, it looks comfortable enough, and I take the upper bunk.  The bathroom is down the hall and it will be shared with maybe 20 others.  No problem, it's close to the room, and clean.
It's about 1700 local, that's 0800 back home so  let's go see Moscow!  Jeff and I take a back path  between some buildings to Tsvetnoy Bulvar, just down a small hill.  It's still rush hour on Friday night and people are everywhere.   Cars start getting my attention and I see lots of VW's, a couple of Skodas(Czech republic), some Korean cars, a Chevy, Nissans,  and now a Bentley driven by a young Blonde haired Russian woman.  We see no Ladas, the home built Soviet 'peoples' car from the Cold War.    I have not been to Russia before but had been to East Berlin in 1989, and it was all Ladas.  Before leaving home, I also watched a 1990 movie called Russia House, which gives a nice snapshot of Moscow scenery before the big change….. all Ladas.
Jeff says he needs Coffee and there are lots of coffee shops, no Starbucks but lots of Russian ones. Coffee here is between 3 and $7 USD depending on what you get,  you pay full price for refills.  Not many restaurants or Cafes.   Everything is written in Cyrillic, no English anywhere, but you adapt, Pectopah is restaurant, кофе is coffee, you learn.  It's April 29 but it is 70 degrees in  Moscow, not bad.    The city is clean, but there is a lot of construction and refurbishment  going on, they must have money here.   We walk past the Bolshoi Theatre.  I don't care for theatre but love the architecture, so that deserves a few pictures.
There is a statue of Marx across the street in Revolution square, more shots.  Never cared for Communism but like history so we take some more shots.  We continue past the Museum of Russia history, we'll do that one tomorrow, Parliament and now we're at the Kremlin.   This city is impressive!   It's clean, orderly, and looks much like any other European city.  It does  not have the Soviet, East Berlin  look that I was expecting.    We continue walking past the Kremlin through Alexander Gardens.    It's busy with young Russians, relaxing after work, and visiting with friends.  The women here often walk arm in arm as they do in other parts of Europe and Asia.  Same when a young woman is walking with her mother.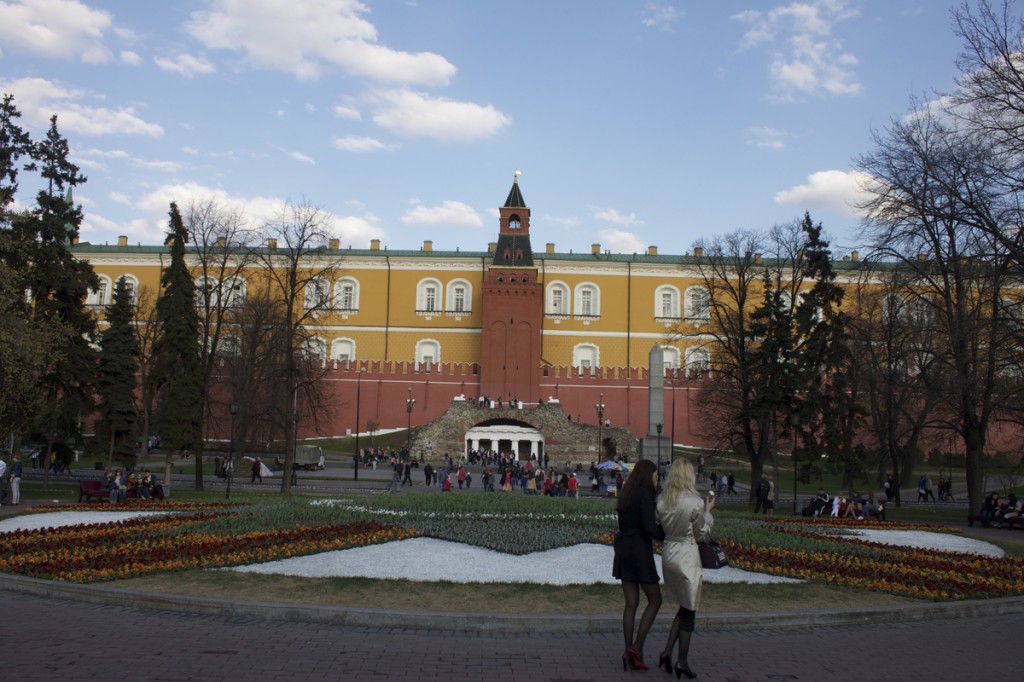 The Russian women are very well dressed, not a lot of jeans, mostly dresses, overcoats and high, high heels, like 5-6 inch high heels.   Bottom line, lots of 6 feet women  walking around.   We hang a left on ul Kremlyovskaya, and walk along the Moscow River, then another left at Vasilevsky Spusk, now walking towards St Basils Cathedral and Red Square.    Wonder if this is the Victory Day parade route, sure saw this area a lot in black and white film clips over the years.
The cathedral is impressive,  built in 1552 by Ivan the Terrible to celebrate his victory over the the Tatars in Kazan.  It is on Red Square, across from the Kremlin, and survived the 70 years of the Soviet Union.  Stalin considered destroying the cathedral to open up Red Square for political displays, but changed his mind.  Within the Kremlin, and from our walk I can see several other churches and cathedrals.  I don't think I have seen a city with so many, quite a surprise and unexpected.
On the west side of Red Square, bleachers are being assembled for the May 9 World War II Victory Parade.  On the East side is the huge Gum department store.  Seems out of place, like having the Mall of America across from the White House.  On the East side of Red Square with the twin spires stands the State Historical Museum.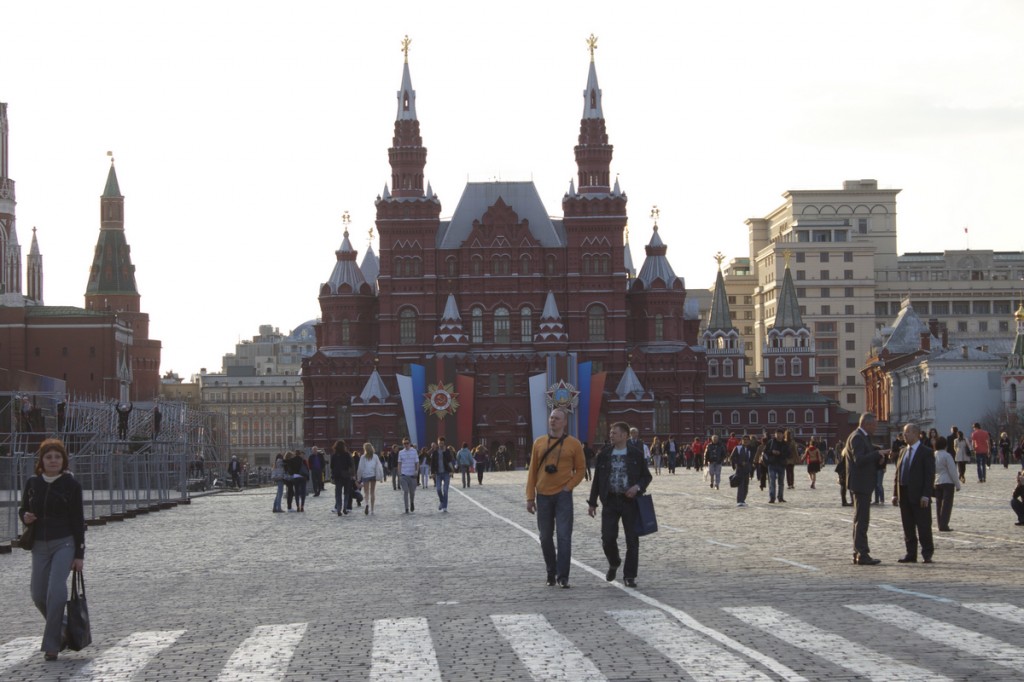 We've been walking for a  couple of hours and I'm hungry,  but where are the cafes?  Have seen no side walk cafes at all, thought there would be lots of these like in Europe.   But there are coffee houses and we find one in near Red Square in the Kitay Gorod district.  It is called Кофе Хауз which translates to Coffee House in English.   We find a seat, Menyoo pajahlsta(Menu please) we ask;  the menu we are given has no English but it has pictures.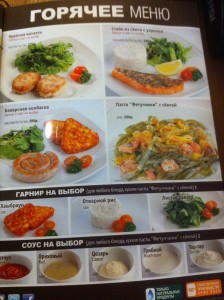 Jeff gets coffee and I go for the Sibirska Korona, as they also serve beer.  The place is packed and bustling with people talking.  A large stack of dishes falls off the counter and crashes to the floor.  Everyone ignores it as though it happens every evening at this same time.    Jeff takes pictures of the menu, he wants to study it on the train, as we will be doing this for the next 3 weeks.  Later Jeff decides to hit the bathroom as he's had a few coffees now and has just been  thru 'back to back mornings', due to the time zone change.   He mentions there is only 1 bathroom and it is unmarked, more on this later.
Time to do some more walking, it's 2100 and still lots of daylight.   There goes another Bentley, again driven by
 an attractive young woman.  We walk to Lubynskaya Square and continue past the former KGB Building, more pictures, and wondering about all the 'history'  that has taken place in that building.  It is still a government building but now houses the Border Guard Service.  There are Hammer and Sickle emblems on the front.
We  turn now north now and walk down ul Neglinnaya  and work our way back to the hostel.  We finally see one or 2 restaurants  but they look too expensive.   We do see lots of street stands which get Jeff real excited as it reminds him of 'home' in Mexico.   Most are selling food to go but we find a small one near the hostel where you buy cafeteria style and then sit down.  We have Kratowska toast and beer.  The female workers laugh as they know we are not Russian and we  amuse them while ordering, with our sign language and poor Russian.  When I am done ordering she confirms my order in perfect English!
We get back to the hostel around midnight and meet our Argentine roommates.    They are married and in their mid twenties.  He works for JP Morgan in Buenos Aires and she is a teacher.  Both speak perfect English, but they find that Jeff speaks Spanish and the conversation becomes some of each.  They are traveling through Moscow and St Petersburg and have a lot of questions about our itinerary through Siberia.   Around 0100 we go to sleep and our first day in Russia ends.
Next:  Walking around Moscow