Around 1500 train 308 pulls into the Kazan Railway Station, Platform 1,  on time.   We know a little better what to expect this time, and are pretty relaxed.   We find vagon number 7 and hand our passports and the tickets to the Provodnitsa.  This time she is a thin, attractive woman in her  early 50's, her uniform is newer, and she seems to be quite classy.    She looks at our papers and passports, smiles, asks no questions and clears us to board.   We walk to compartment number 6 and stow our bags.   For this leg of the trip we had  booked 'firmeny' class.    We are still in a compartment for 4, with 4 bunks, but it is clear that everything in this particular train is newer, cleaner, brighter  and classier than the train from Moscow.   That is exactly what 'firmeny' is supposed to offer.  It costs a little more but so far it looks well worth it.
About 10 minutes later, the doors close and the train slowly begins to move forward.   Looks like we got lucky,  so far just the two of us in this compartment.
The Provodnitsa stops by a couple minutes later and starts talking Russian to us.  We're not sure what she is saying but she then takes us on a tour of her car, showing us the bathrooms, the power outlets, and the samovar.  She hands each of us a  packet with our bedding, slippers, a magazine and a newspaper(in Russian).     We will receive 1 meal on this train, so she also explains the menu to us.  We do not understand what she is saying but nod our heads as the menu is in both Russian and English.    It looks like we have to make a choice between 3 items on the menu so I go with a beef entrée and Jeff takes chicken.   We point to our selection and she is happy.  It is clear that the Provodnitsa  really enjoys her job and takes pride in her work.   As the train departs Kazan, Russian rock music is playing on the overhead speakers inside vagon 7.
Here is a video of our departure(Kazan – Train departing for Yekaterinburg).
It is still a cloudy and somewhat drizzly day outside but with just 2 of us in the compartment this time, it is easier to sit back and enjoy the scenery.  The train has been moving along slowly, maybe 30 kph, and about 20 minutes after departure, the train comes to a stop in the outskirts of Kazan.  We are not at a station or scheduled stop but remain here for about 45 minutes.   Apparently, we had to give the right of way to another train, and we are now moving again, this time we're doing about 80 kph.  In Russia, freight trains have the right of way over passenger trains, and there is a lot of train traffic here.   We watch local people walk down the dirt paths that follow the tracks to a boarding area. 

So far we have passed a relatively nice suburban area of the city, a large bridge with tresses shaped like M's(turns out this is the Millennium bridge), and several  large industrial areas.   The industrial areas do have the classic 'Soviet' look, mostly cement, gray or brown, few windows, smokestacks and power lines everywhere.    In some areas there is garbage, lots of garbage,  scattered openly.     Always there are birch trees.    Along the tracks, we see some residential apartment buildings, often 2 – 3 stories, older and with aluminum sheets for roofs.
This ride should be interesting as we should be passing through an area of Russia that is flat and agricultural followed by the Ural mountains which we need to cross before arriving in Yekaterinburg.   As we leave Kazan we start to pass through miles of green, grassy plains similar to Iowa or Kansas in spring,  but without the numerous small farms.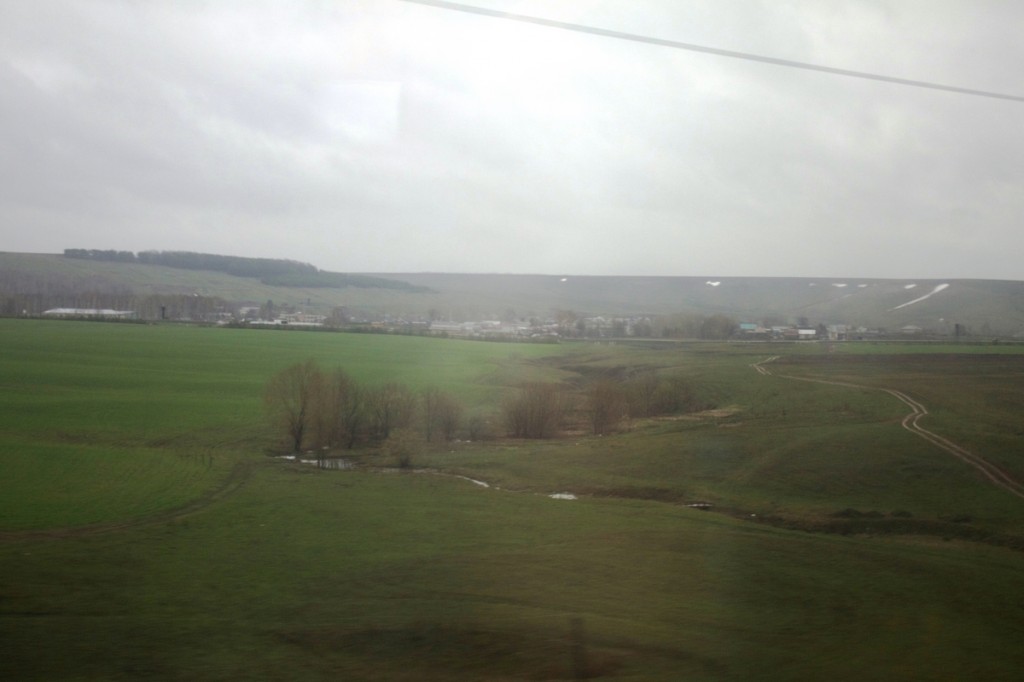 The fields are much larger and there are few fences.  Occasionally a patch of white snow remains.    We do see  a few large farms today, some with several long, low buildings that appear to be for cattle.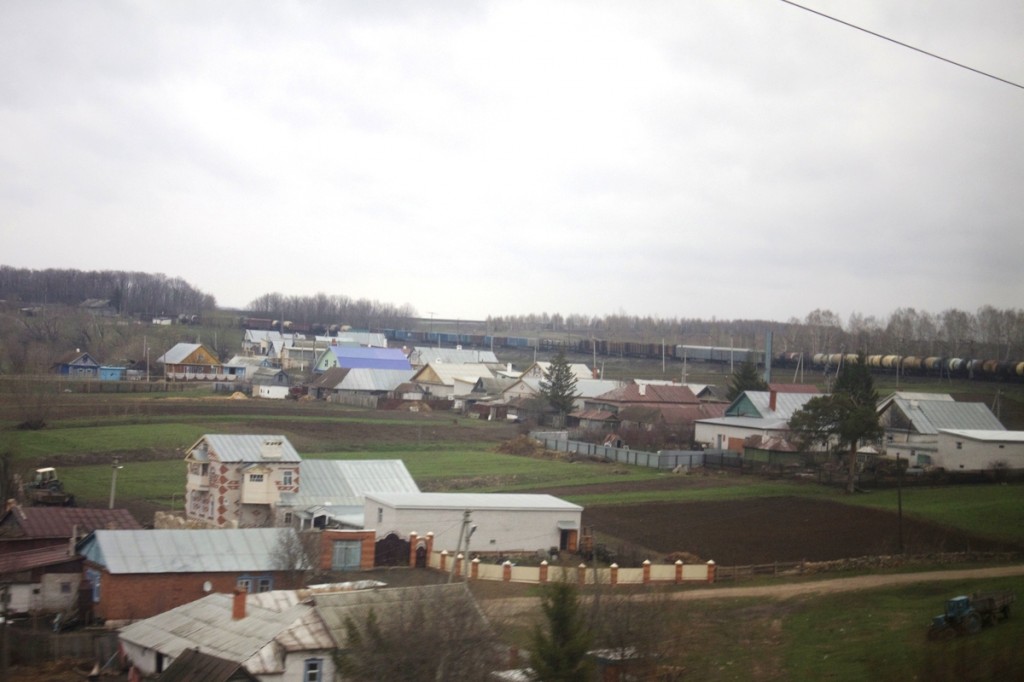 Now  our friendly Provodnitsa returns with a larger silver tray and our dinner.   Along with our entrée, she brings a teapot, borscht, bread and a bottle of water.  Borscht is a soup with beet root as its primary ingredient, so it is bright red.   It is very popular in Russia and we had it served several times on our trip.   Often the soup will also contain some beef, chicken, carrots, spinach and other vegetables.   Takes a little getting used to but very good.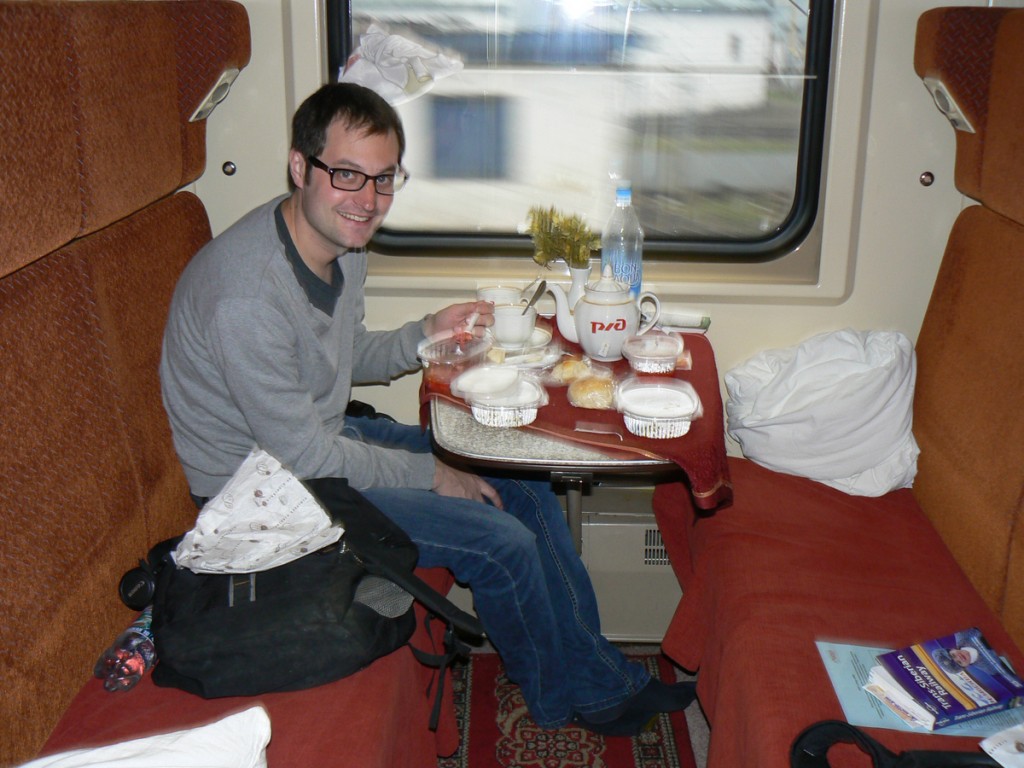 Watching the Russian countryside pass by just makes this all the more enjoyable.   After dinner, I eat a lot of Jeff's cookies that he bought at the supermarket in Kazan.
We pass through lots of small towns, and they are very different from the two cities we have seen so far.   The first thing you notice is that there are very few trees within the towns, and there are no paved streets.  The houses are usually small, brown/gray  wooden structures, often with aluminum sheet roofs.   Sometimes the face of the house will be painted a bright color, yellow, blue or green.  There is very little space between houses but usually there is a garden in the back.   Most of the living space appears to be on the first floor of each house, as the second floor appears to be similar to an attic.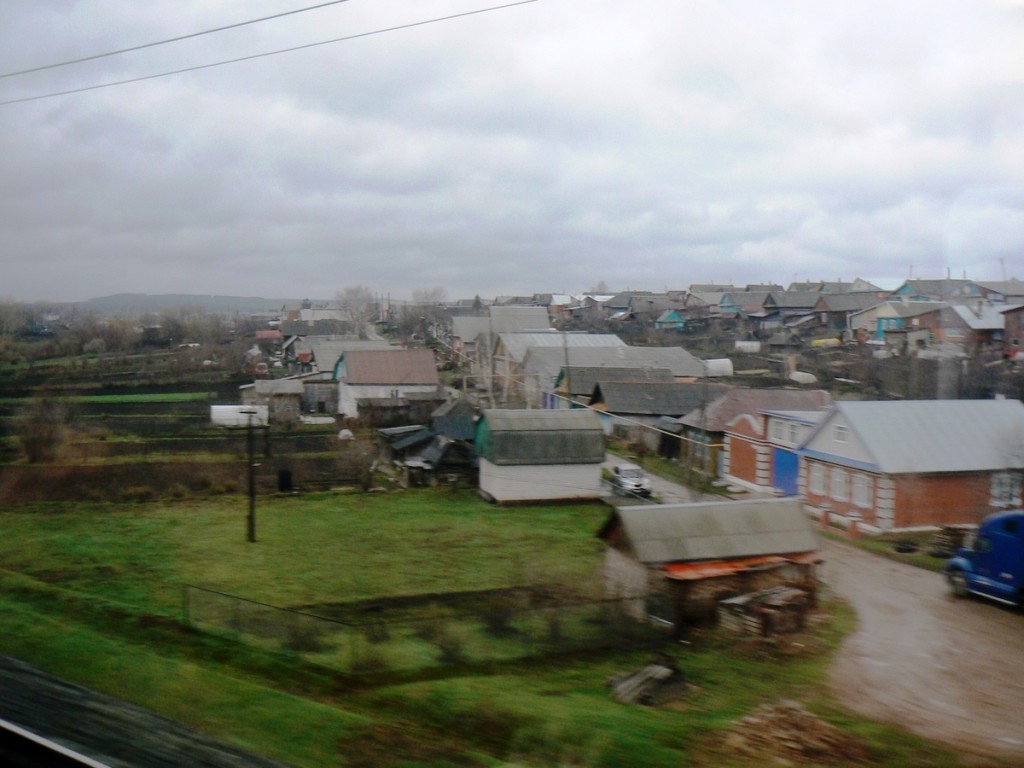 The train travels east non-stop for 6 hours and finally we come to the city of Agryz for a brief stop.  Several  people board the train  but no one enters our compartment.    It has really been nice having the entire compartment to ourselves.   Many people traveling in pairs will often buy all 4 seats within the compartment, just for the sake of comfort.  It's now around 1000 or 1100 local and it is pitch black;  we have already passed through 2 time zones since leaving Moscow.   An hour later we go to sleep for the evening.    We should wake up in the Urals tomorrow, and in Asia!
Wednesday  May 4
I slept off and on for about 6 hours.   A couple of times, I wake myself up with snoring.   I'll hear about it from Jeff in the morning, I'm sure.    At 0630, I get up and try to figure out where we are.     We have moved into a heavily forested area, consisting of pines and birch.   And now we have the first disappointment of the trip; the terrain resembles rolling plains, no mountains or hills!     Although the Urals do reach an altitude of 6000 feet, that is a thousand miles to the north, so we will not see any mountains here.    We pass by the city of Revda and a large lake, looks much like northern Minnesota here.
Around 0900, we starting entering the outskirts of Yekaterinburg.   Our provodnitsa stops  by to advise us that we need to depart at the next stop.   I have not mentioned that 30 minutes prior to each scheduled stop, the bathrooms in each car are locked, so it is always important to schedule yourself accordingly.   The main reason for locking  is that the toilet empties directly onto the train tracks, so you can imagine the inconvenience and the cleanup that would be needed at the station.
Looking outside, the area is still heavily forested, but it is also heavily littered with mounds of trash for a couple of miles.   As we continue, the trash disappears and we start to see industry and residential housing.   At 0927, the train pulls into Yekaterinburg station on time.
We grab our bags, say dasvadonya to the Provodnitsa, and enter the large Yekaterinburg Vokszal.    Needing to once again exchange our e-tickets for real train tickets, we  look at the many ticket windows for the administrative window.   Jeff finds one with a sign posted with the blue  'e' internet explorer icon.  We give the lady in the  kaccka window our e-tickets and passports;  she processes them without saying a word, except for spaciba as she hands us the tickets.
Our plan is to tour Yekaterinburg for the day and then return this evening and depart on the 076 train to NovoSibirsk.    We find a place in the station to check our luggage.  Once again, nothing is said, the guy behind the counter knows what we want,  hands us a receipt and we leave.
Next:   Yekaterinburg
Prior:   Kazan