We pay the cab driver 300 Rubles for the trip from the Delta Hotel and enter the beautiful and grand Irkutsk Vokzsal.
It is cold outside and inside as well;  A couple more layers of clothing would have been a good idea.   At 0500 the train station is crowded with several dark skinned nomadic looking people who have probably spent the night waiting for connections.   Jeff and I grab a seat next to them.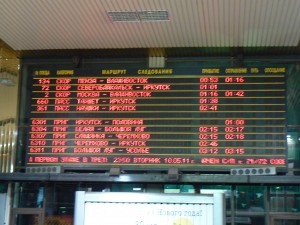 We are waiting for train 134, the same train that we arrived on a couple days earlier.   It will be a 7 hour trip through the mountains, past Lake Baikal and on to Ulan-Ude near the Mongolian border.   Jeff has been giving me a hard time the whole trip for booking Platzkartny(3rd class) on this leg instead of first or second class.   I didn't think too much about this until I saw how crowded train 134 was when we arrived.    Also I had difficulty getting tickets for this leg as the trains were fully booked.
At 0600 we take the tunnel  to platform 3, go through the boarding routine and enter wagon number 12.  Whoooa!!!!  Wagon 12 smells like an Army barracks after a 2 week bivouac, and I'm not inside yet!  As I climb the steps and look down the long corridor, all I can see are bed sheets and feet hanging out of the bunks.   I do my best to dodge the bodies that are dangling from the open bunks, but every once in a while my head bangs into the feet hanging from the upper bunks.
I find our compartment , where we have 2 lower bunks and above us are two, 30-something Buryats(people from the Ulan-Ude region) or Kyrgyzs,  not sure.    Jeff moves in across from me with a "What the hell did you get us into" look on his face, followed by an "I told you so".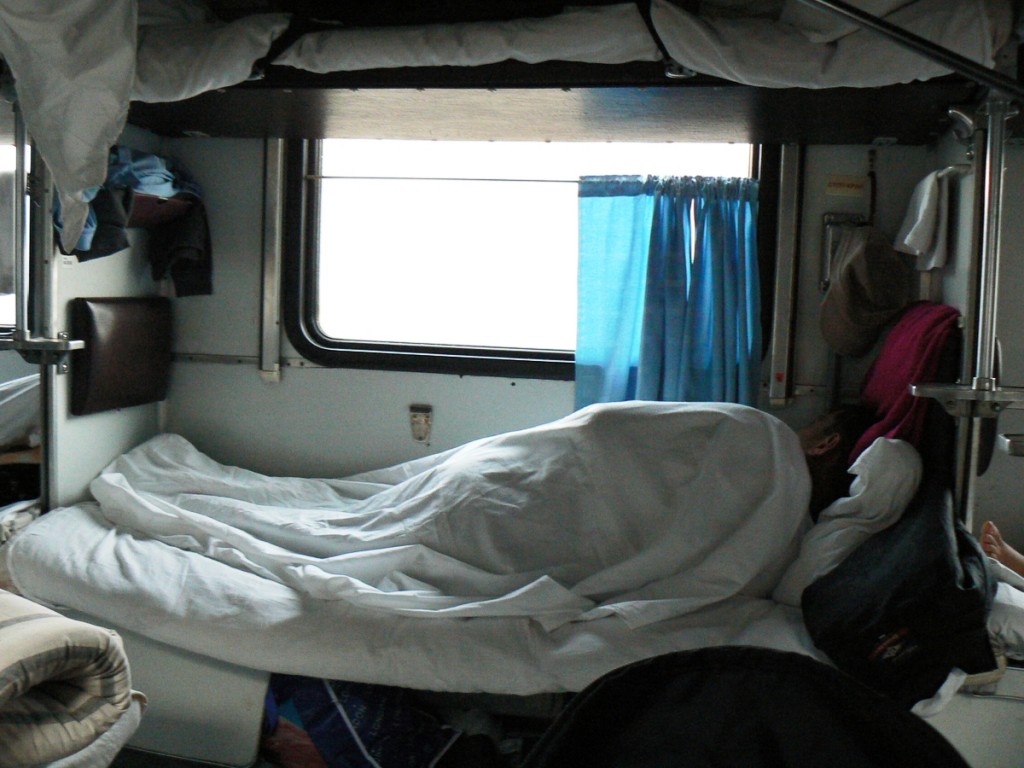 It's only 7 hours, I reminded him.  We open our  bedding packets, make up our beds, try to find a place to store our luggage, and not wake up the others on the train.
At 0616, the sun starts to rise and train 134 departs the large pastel green train station.  Jeff puts in some earplugs, tunes out the world and goes to sleep.   Jeff and I have manythings in common but not this time.   This is just too exciting for me;  I am hyped and trying to absorb this new experience.
Soon we leave Irkutsk behind and start to climb the Primorsky Mountains, once again entering  the boundless Taiga forest.  In the distance the snow covered Sayan mountains that separate Russia from Mongolia can be seen.    The train winds around the hills and rivers  past KM5255 and Lake Baikal comes into view.     The scenery is spectacular but the train windows are dirty.  Often they are cleaned before depature but not this time.
Lake Baikal is the world's largest and deepest lake, so large that it contains almost 20% of the world's entire fresh water.   It is nearly 400 miles long and 50 miles wide.  I wake Jeff up and we take in the clear blue waters surrounded by mountains and taiga.  What an awesome sight!  The train passes through some tunnels then winds down the mountain side to Kultuk then Slyudyanka.
I decide to walk down the aisle and move to the area between train cars for a better view.    It is daylight now and much easier to avoid the hanging bodies.   I can see that the people on this car are not European, Caucasian Russians.  It is a mixture of men, women and children, all dark haired, dark skinned and resembling  some of the Middle Eastern cultures.  Some of the people are now awake and speaking but it is not Russian.   The train car is again very hot, at least 85 degrees.    On my way, I stop at the samovar and make a cup of tea.
The space between train cars is a nice escape and a great place to take pictures but it is also the designated smoking area.    The early morning smokers soon drive us back to our seats.   The train continues to follow the southern and eastern shore of Lake Baikal for nearly 2 hours.
By now many of the people who had been sleeping are awake and eating.  The 'old shoe' smell is now replaced with the many  fish-like smells of an Asian market.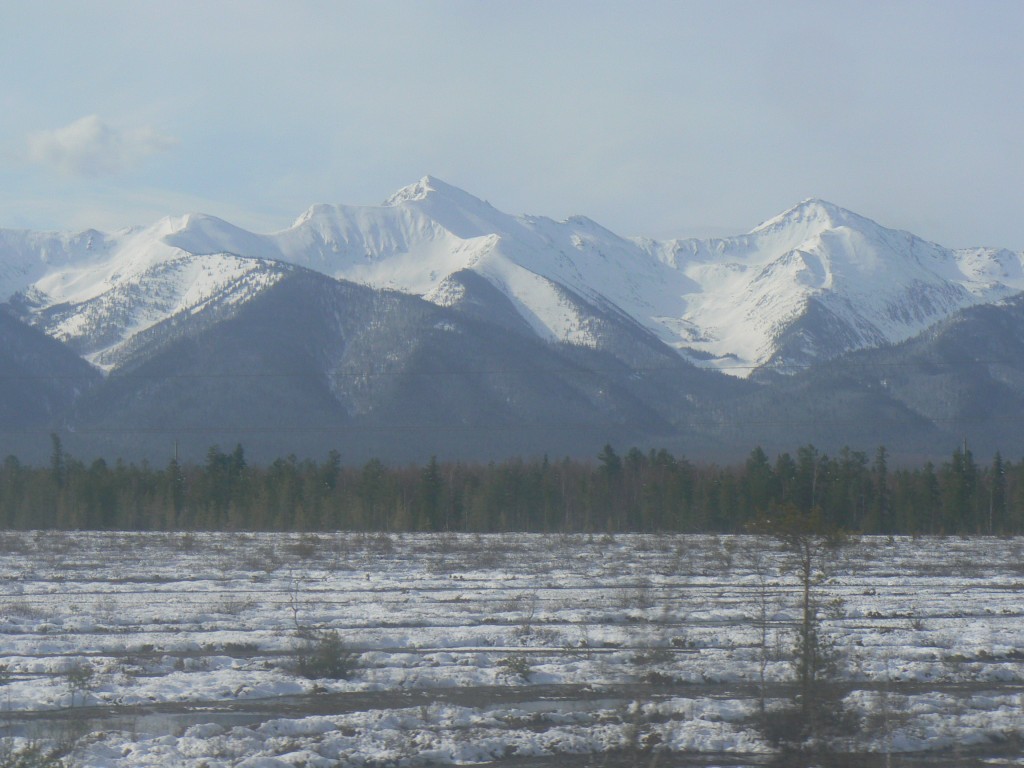 The guy in the bunk above me is awake now and he offers me some dried raisins in a bag.   Spaciba.  They have little stems on them which I eat along with the fruit.   He shakes his head and shows me how to twist out the stem, then eat the raisin.  We both get a laugh.   I offer him a Wisconsin beef stick but he says no thanks.  I offer him a spot on the lower bunk next to me, which has a table, so he can eat easier.  He accepts.
Now several more people walk over to our open compartment and just stare at us.  We start talking back and forth in various languages, a little Russian, a little English and at least one other language we don't understand at all.  They are from Uzbekistan, just Northwest of Afghanistan  and at least 1000 miles to the West.   They are on their way to Vladivostok to look for work.    It looks like most of the people in wagon 12 are Uzbeks.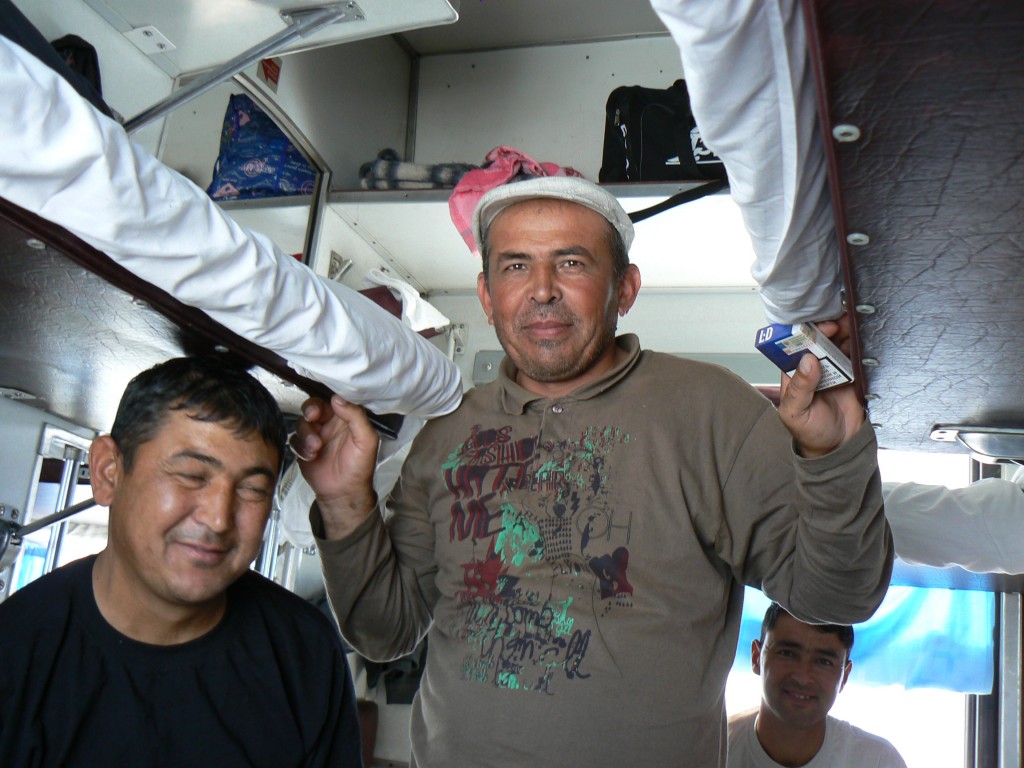 Now a young Uzbek boy of maybe 12 years stops by and asks some questions in English.  Where are you from?   What is your name? How old are you?   Where are you going?   After some time he walks back to his bunk and talks to his mother.   His mother writes down several more in-depth questions in English and has her son give them to us.    What kind of work do we do?   How many people are in your family etc?  I write the answers down on paper and return them.   I hand the young boy a Wisconsin beef stick and he accepts it.  His Mother smiles at us and thanks us.
Some of the Uzbeks start a game of cards that continues for an hour or more.   One of the more friendly Uzbeks randomly starts saying words in English and then looks at us and laughs….."Nice day, Santa Claus, Good morning, I'm sorry, have a nice day" etc.   Not sure what that was all about, just practicing his English I guess.
The train moves along passing through Baykalsk and Vydrino.  At this point we have passed into Buryatiya, a semi-autonomous republic but part of the Russian Federation.  It is much colder outside and there are several inches of snow on the ground,  and this portion of Lake Baikal is solid ice.
Just past Mysovaya, the train turns east leaving Lake Baikal behind until it reaches the Selenga River which it follows for the next hour into Ulan-Ude.  The snow has disappeared but it is cloudy and rainy until the Provodnitsa reminds us we are 20 minutes out of Ulan-Ude, capital of Buryatiya.   We shake hands and wish the best of luck to all of the Uzbeks we have met and prepare to exit the train.
At Ulan-Ude(UU) Vokszal, we will be meeting Natalie, a travel agent from ZA Baikal, who helped me book bus tickets online from UU to Ulaan Bataar(UB), Mongolia.   I also booked a room at Olga's Homestay in UU based on some input from Natalie, and it turns out that Natalie and Olga are long time friends.  Natalie then offered to meet us at the train station and drive us to Olga's.    I just told her to look for an old guy with a long gray biker mustache and a 30 year old who looks like a stereotypical engineer.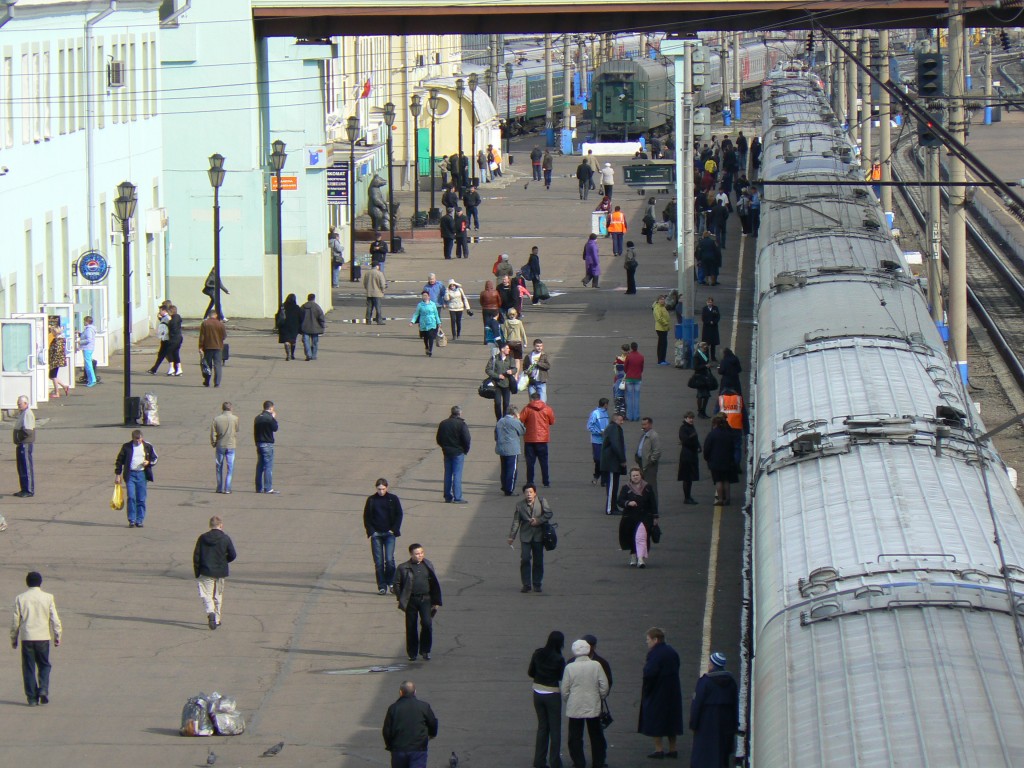 Next:   Ulan-Ude
Prior:   Irkutsk