At 1545 we walk out to Platform 1 and board train 211 to Tayga.
There were no issues or questions  during boarding;  I guess we look like we know what we are doing, or maybe things are just looser once you leave Moscow.   The time to Tayga is 1+15 and then we will have a 6 hour layover, followed by a 28 hour trip to Irkutsk.   We are going 'Platskartny' this time, the lowest level of sleeper car you can buy.
This means that the car we are in is more or less wide open with no privacy. There are two upper and two lower berths in each 'compartment', plus two more berths stacked along the opposite wall. There are no doors in platskartny and the corridor runs through all of the compartments.   We really wanted to go Passenger class, as we did not need a Sleeper car but this is all that was available.  For the first time, Jeff's luggage was too big this time and did not fit under the bunk, so we had to place it under the table.   Luckily, the car is only half full and there is no one in the upper bunks and we do not need to share the table.
"Cmon, Cmon if you like it" by the Cheetah Girls  is playing on the PA in the train, as we depart Tomsk.  A bit later, the Provodnitsa makes a long speech in Russian, none of which we understand.  But it feels good to be back on the train and we're anxious to see some more of Siberia.
Just as we are becoming comfortable, suddenly we have our daily 'Russian incident'.  The window next to our seats falls down, makes a loud noise, as the lock somehow failed, so open air is rushing in.  I had been looking out this window and it almost hits the side of my head.  We try to fix it but can see that it needs a special tool.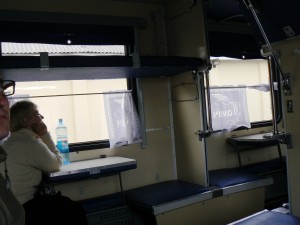 There is a 40 year woman(another babushka) across from us and she looks very annoyed by the problem.   She starts talking fast and emotional Russian to us.  I reply "yah ne gavaroo parooksy"(I don't speak Russian).   Then she talks faster and longer and gets more emotional.  Finally comes a long sigh, then she gets up and walks away.  A few minutes later, she returns with a maintenance guy and he fixes the window.   I tell her spaciba(thank you), to which she nods sternly, says pajahlsta(you're welcome) and looks away.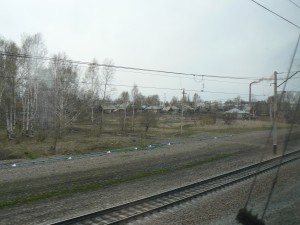 Around 1730 we slowly enter Tayga.   It is gray outside and the town is gray, brown and somewhat depressing,  more so than some of the country villages we have seen.  It takes awhile to coast into the station as Tayga is a much bigger city than I had anticipated.
The train station comes into view and it is huge,  larger than Tomsk or Kazan, and it is the classic Russian pastel green color.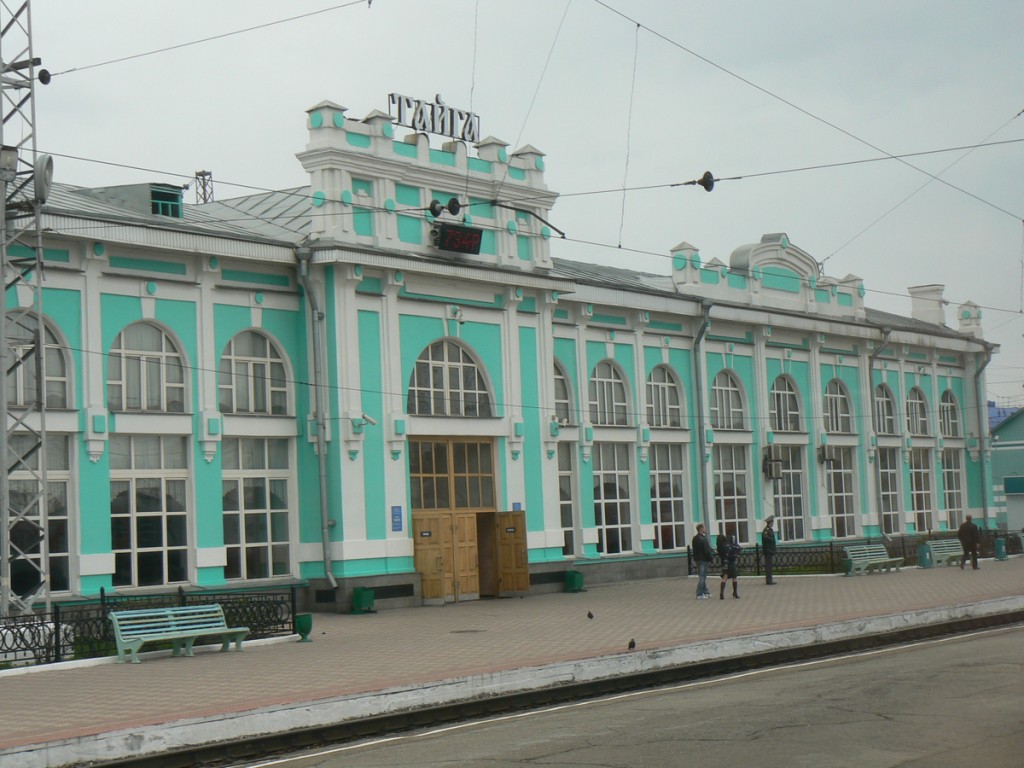 Inside there are hundreds of people waiting for connections.   There are several food services and vendors.  There is also a large Restaurant and we decide to have a sit-down dinner.  The menu is in Russian only, and the waitress is older and looks terrified, as though she is not used to foreigners.  "Ahdeen piva y  beefstek pajahlsta"(1 beer and a beef steak please).   She understands and  looks relieved.  Jeff recognizes 1 word in Russia, сыр(cheese)' points to it on the menu, and orders that entrée with coffee.
Wow, I got a huge plate with French fries, steak with an egg on top, and Jeff got pork chops with pineapple and cheese.    Again a big plate with lots of good tasting food so we left a big tip.  The food in Russia is underrated, and the prices are fine too.  After dinner, we move to the waiting area where there are about 100 people are waiting for various trains.  There is a large group of gypsy like people, and we wonder where they are from and where they are headed.
We're getting pretty comfortable with train travel in Russia,  but we have some time to kill so we decide to double check the train schedule.   Whoa!…we are waiting for train 134 and notice that it arrives at 0003 and departs at 0005, i.e. a 2 minute stop.  There are 3 platforms and 6 tracks, and it is a good 10 minute walk to the furtherest platform.  In addition, the marquee shows that another train arrives and departs at exactly the same time!  We do not want to miss this train as our entire trip has a tight schedule, and we would likely have to wait at least 24 hours to catch the next train.  The marquee is also confusing as several other trains are listed twice, 085/076 both leave at 2105 for example.
So I walk to one of the ticket windows and ask the Kacca in Russia, which platform will  train 134 use?   She gives a long answer in Russian but sounded like she said Platform 3 somewhere in her response, which is the fartherest from the station.    Later I go to a different Kacca and ask again.  I get a 45 second answer, none of which I understand.
So just before midnight,  we decide to walk outside; it is about 35 degrees F and raining and we walk to platform 3 which is about 10 minutes away.  The reason is that you need to walk to a crossover that is a bridge over the first 2 tracks and it is some distance away.   At 0001 we see a train come to the station but we notice it is going to track number 2, platform 1.  So we grab our luggage run about 100 yards to the crossover bridge, climb 50 steps, walk another 20 yards, run down 50 steps and then run 100 more yards looking for  wagon number 9 at midnight in the rain.    We see a few other passengers doing the same.  Jeff finds wagon number 9 and the train is ready to leave.   The Provodnitsa looks at our passports for about 2 seconds and clears us.  As I jump on the train and walk to our compartment, it is already moving.     How Jeff found the right wagon is beyond me as not all of the cars are numbered, and the darkness made it almost impossible.    We find our compartment and this time we are the 'intruders' in the middle of the night.   In our compartment, 2 of the bunks are taken by already sleeping passengers.   Bunks 29 and 30 are ours and they are open.  We stash our suitcases, gather our bedding, noisily make up our bunks and crawl into bed, mostly in the dark.  Wonder who is in the other 2 bunks?  Around 0100 I fall asleep.   Outside I can see it is cold, dark and we are in central Siberia, but inside it feels comfortable and warm.
Sunday May 8 The Train to Irkutsk
In the morning, I wake up sweating around 6, as the compartment feels like 90 degrees.   I step outside into the hallway and see that it is snowing outside and the ground is white.    The taiga is endless but beautiful.
In the morning we meet our new roommates.    The guy on the lower bunk offers me some food.   Nyet spaciba I said, then I caught myself.   Big mistake, never refuse an offer on the train.  So I corrected myself quickly and accepted.   On the bottom bunk, is Alexei, a  40 something Russian businessman on his way to a city near Vladivostok.  In the upper bunk is Yuri, a young Russian Army telecommunications officer.  Alexei speaks very little English but we are able to exchange some small talk.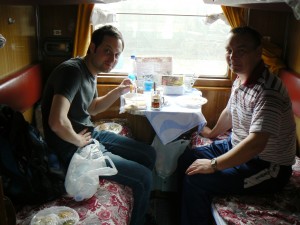 Yuri is quiet and says nothing for some time;  he just watches from above.   A couple hours later, Yuri starts speaking to us in English, fairly good conversational English.   He is 24, from Samara( the birthplace of Lenin), a Lieutenant in the Russian Army, and on his way to a new assignment on the Mongolian border.   (3 days later Jeff and I would pass through his new base.).  He says his wife is in the compartment next door.   Apparently on this particular train, men and women must be in separate compartments, even if married.  We exchange some small talk and then Yuri pulls out a Samsung laptop and shows us photos of  his family and pretty much his entire family history.    Jeff pulls out his laptop, an Apple, and shows some family photos to Alexei and Yuri.   One of them is of me shoveling snow from our roof back in Minnesota after a heavy snowfall;  they laugh and can identify with it.   Yuri says he doesn't like Apple and prefers Windows.   Yuri then pulls out his PDA and he and Jeff discuss music.   Time starts to go by fast.
Now the Provodnitsa stops with a menu as this leg of the trip has services, which includes 1 meal.
I can feel Alexei and Yuri watching carefully to see if I can handle the conversation with the Provodnitsa.   I play it safe and order borscht, beef steak and chai. (note: In Russian beef steak is pronounced the same as in English).   She understands and Yuri smiles with approval.     An hour later, the Provodnitsa returns and serves me chicken!    For desert we have some of Jeff's Siberian supermarket cookies which are very addicting.
Within the last hour or 2, we passed Km3932 which is the halfway point between Moscow and Beijing.   We have been passing through rolling hills of taiga and small Siberian towns with wooden buildings and tin roofs.
Around noon we stop briefly in Krasnoyarsk, a large industrial city of nearly 1 million on the Yenisey River.
At 1530 the train stops at Illanskaya for 20 minutes.   I've been trying various kinds of Russian beer on this trip so I get out to see if they have any new brands.   Definitely.    They also are selling mushroom potato chips which I've never seen before so I'll give that a try.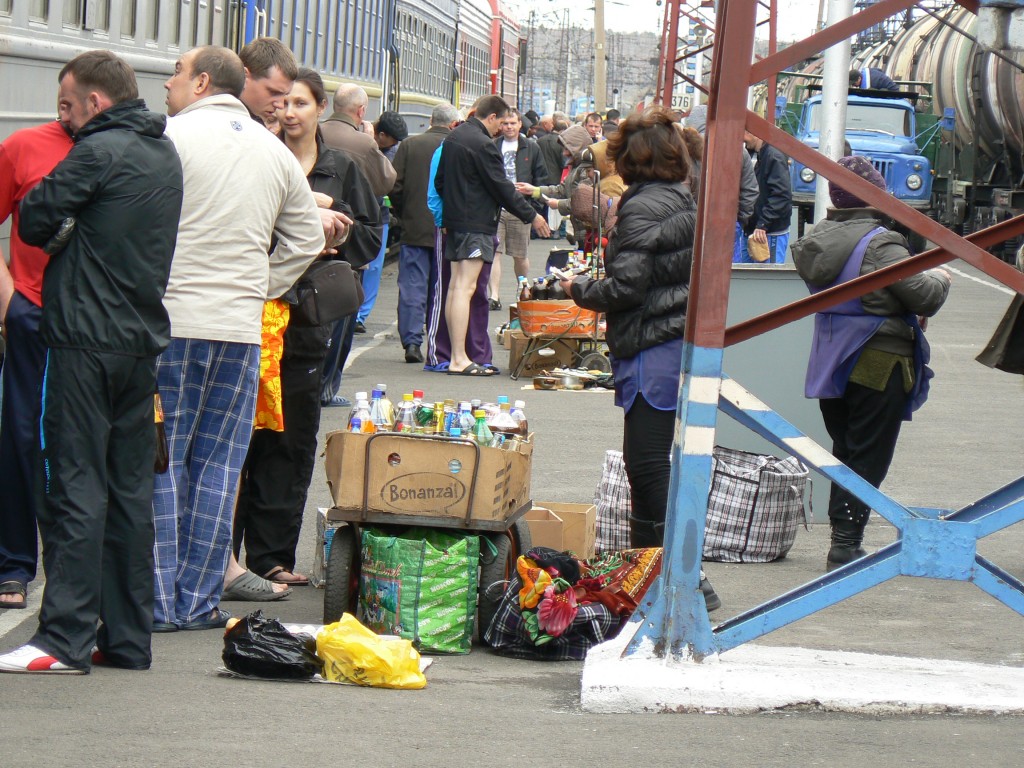 Back in the bunk, I look for an opener but can't find one.    Not wanting to bother Alexei for help, I stepped out and asked the Provod(the male comparable of Provodnitsa).    He gets huffy, walks back to our compartment and points to an opener hidden under the table.   Then he starts reprimanding  Alexei for not showing me  where it is.   Alexei shrugs his shoulders and I apologize.
Feeling a little bad about this, I decide to take a walk through some of the train cars.   In the 3rd car, I run into a young Russian in his mid twenties carrying a 2.5 litre bottle of beer.   I had seen him walk through our car earlier in the day, and he was tanked at that time.   When he finds out I am American,  he gets really friendly and starts talking loud and fast in Russian, and this continues for about 5 minutes.  Once in awhile he throws in some English, I did hear 'I love the USA' at least once.    Then he shakes my hand for an uncomfortable amount of time, falls down, gets up and struggles into the next car.
Around 1900 Jeff and I decide to check out the dining car as we have yet to experience this on our trip.   On the way to Yekaterinburg, there was a dining car and we had decided to wait until the last hour it was open to have dinner, around 2200 at night.  We walked in and they said it was closed and pointed to the clock.  They explained that the hours are always based on local time and we had just crossed a time zone going east so it was actually 1 hour later than we thought.   So this time we go in 3 hours before closing just to be safe.  On this 28 hour trip, we are crossing 4 time zones so who knows what time it is anyway.   The menu is actually in Russian and English, and is several pages long with at least 100 items.  I choose the halibut for 350R, or about $10 USD, along with a new brand of Russian beer.  The halibut comes with French fries, vegetables and tea with lemon.  It was every bit as good as the Wildfire restaurant back home, our favorite.
The terrain has become more hilly now, somewhat like the Black Hills back in the US.    We curve around the hills and try to get photos of the train in the curves.   We pass through Tayshet which is a smaller city that is a major juncture on the Trans-Siberian railway.    Here you can take the northern route called the BAM(Baikal-Amur Mainline) which passes on the north side of Lake Baikal and continues in an easterly direction via Tynda  to the city of Sovetskaya on the Sea of Japan, or continue in southeasterly direction and pass Lake Baikal on the south side which is what we will do on this trip.
There is a 2 minute stop at Tayshet, which was an administrative center for gulag prisoners during the Stalin era.
The areas around the train station are gray and depressing, with lots of Soviet looking residential complexes.    Beyond Tayshet, the Sayan mountains that separate Russia from Mongolia can now be seen to the south.
At 2125 we stop briefly at Nizhneudinsk.   At 2300 local time, there is still lots of light outside.   Russian music is playing loudly in the compartment next to us.  Around midnight we turn the lights out as the music continues.
Monday May 9 Irkutsk and World War II Victory Day
At 0545 the Provodnitsa opens our compartment door and tells us we are 30 minutes from Irkutsk.   We clean up our bunks and bedding, trying not to wake up our roommates.   The Provodnitsa returns saying "stanka chai pajhlsta", tea glasses please.  It's pretty much assholes and elbows trying to get dressed and pack our suitcases.  I slept very little last night as our compartment was just too hot.  The temp gauge shows 30C this morning.  All of us snore, and Jeff sleeps zero.  Nevertheless we are excited about getting to Irkutsk.  We say Dasvadonya to Alexei and Yuri when the train pulls into the station.
Outside it is close to 0C or about 32 F, but the sun is rising as it is about 0615 local time.  There are many people waiting on the platform to board the train, so our seats will be taken immediately.    Wonder if Alexei and Yuri will get any rest.   Two days from now we will return to this exact spot and board this same train to Ulan-Ude.
Irkutsk is a large and busy train station, much like  Kazansky Vokszal  back in Moscow, but we are able to find an admin window and quickly exchange our etickets for real train tickets for the next leg.    The kacca understands what we need, asks no questions and we are on our way.
Back outside we grab a cab, verify that the fare is 400R and head for the hotel.     Again the cab driver sits on the right side of the cab.   Irkutsk is a large city, population around 600,000 and we are now about 6 times zones from Moscow, 5185 km to the east.   We are outside of the city across the Angara River, so the cab driver heads across a long bridge that gets us into Irkutsk.     This city is going to be a little different from the others we have seen.  It looks a little older but charming.   We drive through downtown and then go to the NE section of the city arriving at the Delta Business Hotel where we have reservations.
Next:   Irkutsk
Prior:   Tomsk