We leave the train station and start walking along an old street with run down buildings, but a couple blocks later as we reach the Bulak canal, the city becomes more appealing, with more of an older European look.  Feels good to walk after being on the train for almost 12 hours.  Six blocks more and we arrive at the Hotel Ibis.   The lobby is fairly new, very clean and modern, and the receptionist speaks excellent English.   It is only 1100 in the morning and they let us check in with no extra charge.  Our room has 2 single beds and again is very new and modern.   I am surprised as we paid only  $32 each USD  for this room, and something like this would cost $250 in Moscow.   I ask Jeff what he thinks and he just shrugs his shoulders and says its OK.     I try to start up my broken computer and it now boots up!
Downstairs there is a bar and a small café that looks interesting.   We decide to have lunch before we go touring.     The waitress is young and only speaks Russian but we are able to order just fine.   The entrees are about $10 each and the food is excellent!  We would eat 2 more meals here.
The best way to see Kazan is to walk, although it does have a Metro.  Kazan is a unique Russian city unlike any other we would see on our trip.   Technically it is not in Russia, but it's part of the Russian Federation which is comprised of Russia and 21 autonomous  republics.    Kazan is the capital of the Republic of Tatarstan, and has a bit of a Middle Eastern feel to it.   The main attraction that we want to see is the old Kremlin which sits on a hill where the Volga and Kazanka Rivers meet.
Our walk begins on Bauman Street just a block from our hotel.
It reminds me of the Nicollet mall back in Minneapolis.  No motor vehicles allowed, just pedestrians walking and shopping.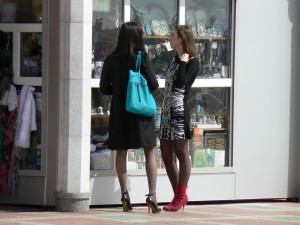 But the buildings are much older, more colorful, and the street is completely tiled with different colored bricks.  So far we don't see a lot of restaurants, but Jeff soon finds one and it is Mexican, with a large map of Mexico near the front entrance.  Too bad we just ate, it looks good.
On our right we pass the Nikolskiy Cathedral and a couple of old colorful Orthodox churches.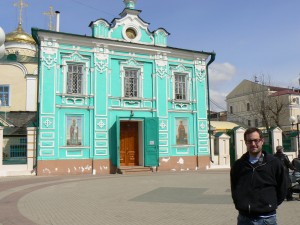 On the left, down the hill are several new, large complexes along the Volga River with impressive architecture including a large glass pyramid shaped entertainment complex and a football stadium.
In front of us a large white walled fortress is now apparent on the hill at the end of Bauman street.   It looks like it is getting a facelift as the entire outside walls are covered by scaffolding.
We find the ticket office in the Spasskaya tower and pay 100 rubles to enter.   There are 3 sights within the Kremlin that seemed especially interesting to me.   First we check out the Kul Sharif Mosque which can be seen from miles away and was visible from the train when we arrived.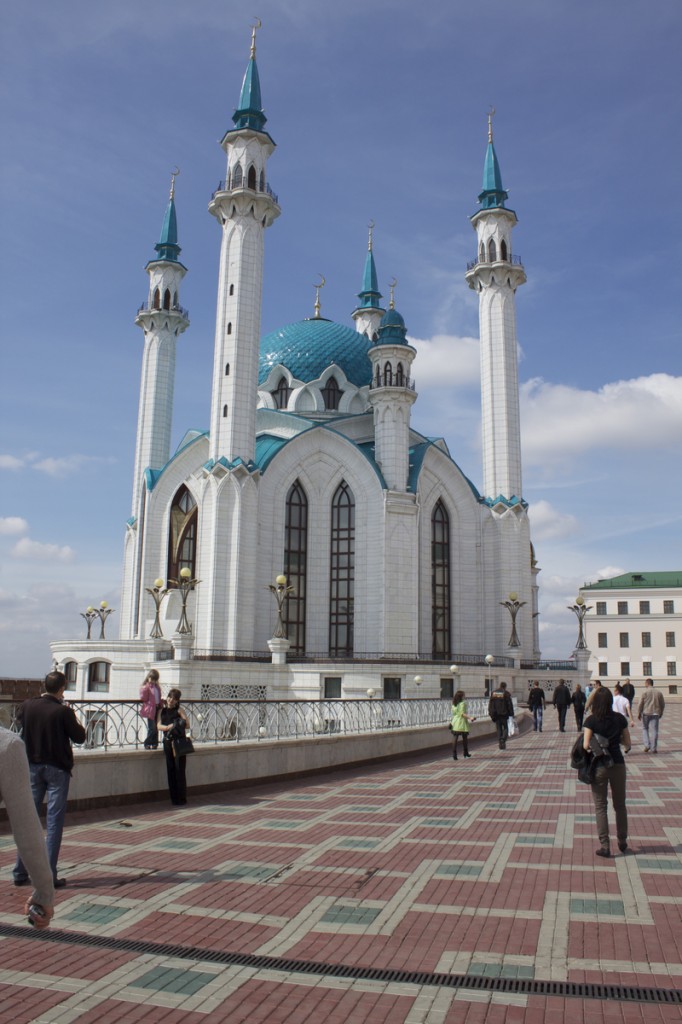 I would expect to see something like this in Istanbul but not in northern Russia.  Just completed in 2005, it is the largest mosque in Russia.   Just down the street is the Suyumbike tower which dates back to the 16thcentury and has an interesting story.
In 1552, Kul Sharif was the leader of the Tatars who had occupied Kazan for over 100 years.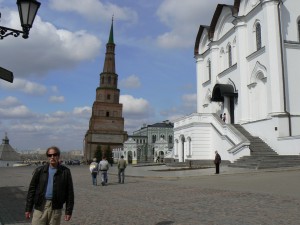 Ivan the Terrible and his Russian troops attacked Kazan, defeated Kul Sharif and returned Kazan to the Russian empire.   After the victory, Ivan wanted to marry a beautiful Tatar princess from Kazan.   She agreed to marry Ivan only if he would build her a tower, which he did.  But as soon as the tower was built, the princess walked to the top, jumped and killed herself.   Near the Suymbike Tower, is the large and colorful residence of the President of the Tartarstan Republic, just next to the Blagoveshenksiy Cathedral.
From the Kremlin, we walk down Kremlyovskaya  street, past a Marriot Courtyard,  another reminder that this is no longer the Soviet Union.  It's another beautiful spring day, sunny and near 70 degrees, but there are some large banks of snow in the shaded alleyways.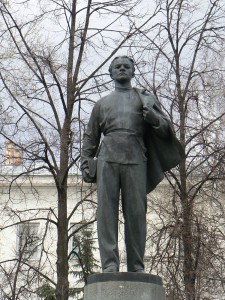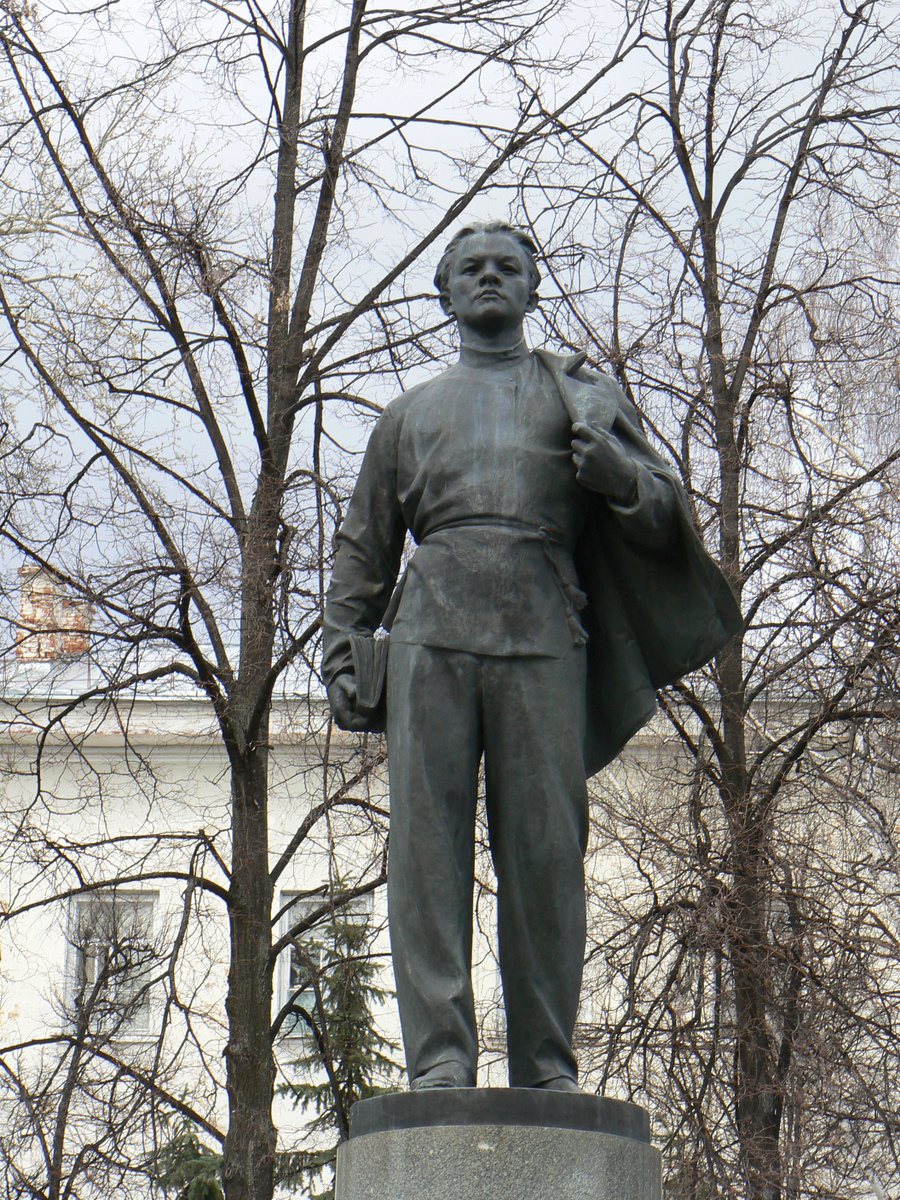 We come upon Kazan State University with a large Lenin statue in front of the administration building.    This Lenin statue is different from those in all of the other Russian cities;  It is Lenin as a teenager.   Lenin attended Kazan State University for a brief period of time but was expelled for 'revolutionary activities'.
Across the street a lovely young Russian woman is posing provocatively on the steps of another university building.  Her apparent boyfriend takes dozens of photos.  I get a couple myself using a zoom lens.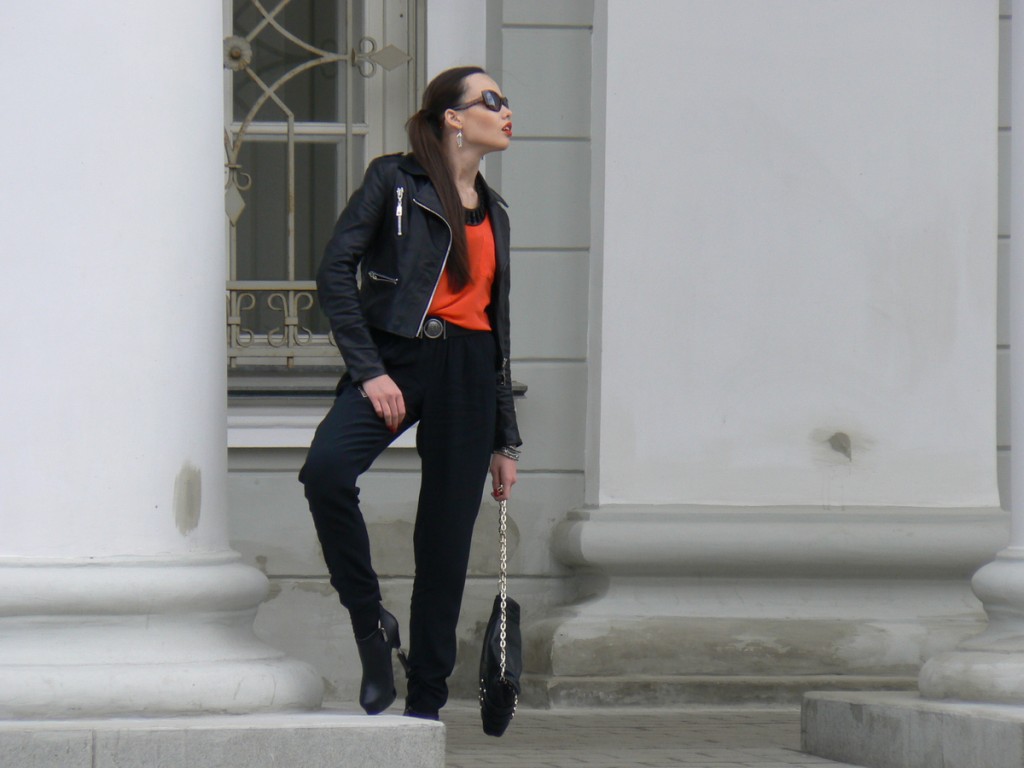 A short distance from the University is a large modern indoor shopping mall.  We're hungry now and Jeff needs caffeine.  Inside we find a Кофе Хауз, the same coffee house that we used in Moscow.   I try the Cappuccino for 150 rubles.   Inside the mall and the coffee house, you would never know you were in Russia if it weren't for the Cyrillic words in the store windows.  We relax for an hour or more and then go to a супермаркет(supermarket) to buy groceries for the train tomorrow.   Ramen, oranges, cookies, potato chips, nuts, and tea are purchased.   We also found that the supermarket was a great place to buy small gifts!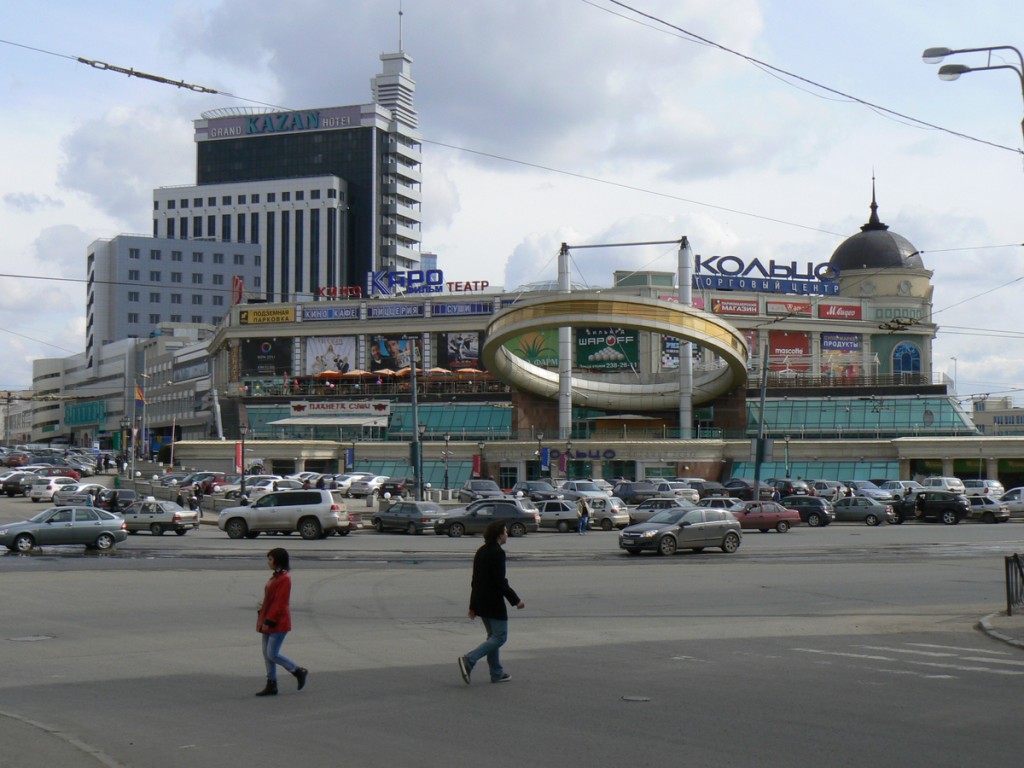 We manage to delay dinner until we get back to the hotel.   We have Perch for dinner and not only does it taste excellent but it is pleasant to look at.   A great dinner for $12 and felt like an expensive French meal.   After dinner, we take in the local news on Russian TV and turn in at 2330.
Tuesday May 3
We slept in today, until 0900.  Breakfast is included in the hotel room price so we head downstairs.    At the foot of the stairs in the lobby is a group of young Russian boys, about 10 years old, playing hockey in the lobby.  The parents are watching them apparently  making sure they don't destroy the hotel.   The hotel agents are busy checking people in and out and are not concerned.  We dodge the flying 'paper puck'  and walk through the bar to the dining area.   The bar is busy as there are a few older Russian men drinking beer and talking.  Looks like they are on break from work.
The dining room is very busy.  There are about 20 tables and most are full with Russian families.   There are several tables with food of all kinds and 4 or 5 waitresses are busy keeping food available.   The food that is offered reminds me of breakfast in Norway.  Lots of fish, bread, various kinds of cheese, ham,  chicken, sausage, fruit of all kinds, eggs, rolls and home made sweets for desert.  Most of the customers, all Russian, are drinking tea but there is a small coffee container with a Nescafe label.   Breakfast is absolutely fantastic.  This is a great place to stay!
It's raining outside today and our train does not leave for another 4 hours,  so we decide to stay in and get some computer work done.   We swap photos,  back them up, and watch some more youth hockey in the lobby.  Around noon we check out and start walking to the train station.   The train station departure area  is an old classic European red brick building and it is very crowded.   There are armed Security personnel everywhere, male and female, especially at the entrances to the waiting areas.  As we enter, we are asked to show tickets and passports.   The lady then asks a question in fast and un-understandable Russian, to which we shrug our shoulders, say we don't speak Russian and she clears us.  Would really like to take some pictures here, but after the experience in Moscow, I resist the urge.
In the departure area, we decide to double check our tickets.  We had originally booked train 307C to Yekaterinburg, but the train schedule that is posted overhead says that train 307C is going to Moscow,  i.e. the wrong direction.    We then take a look at the tickets that were issued to us yesterday and they show that we are scheduled for train 308, and the overhead schedule shows that 308 leaves for Yekaterinburg at 1505 so we should be fine.  Not sure why the trains were changed but guess it doesn 't matter, but a good thing that we double checked and did not miss the correct train.
No use sitting here for another hour or so, and the rain has ended, so we go back outside and look for food vendors.    We find a small restaurant next door, attached to the local train terminal that looks Middle Eastern, maybe Uzbeck or Kazak.   In total, it is about the size of a typical American kitchen, for example, but this one has 3 people working in a cafeteria style line, a cashier and then there are 6 or 7 small tables each with 3 or 4 chairs.  There are several entrees and I point to the 'meatloaf', French fries, bread, and have a piva(beer) as well.    They know we are foreigners, smile and take care of us.  The portions are a little small but the food is again excellent.    Not sure if I really had meatloaf but it got the job done.
Next:   Train trip from Kazan to Yekaterinburg