Our plan for Yekaterinburg is to do a self guided walking tour of the city.  There is a Metro,  and plenty of buses if needed.    It is a cloudless, sunny day and about 65 degrees F outside.    We find our way to Karla Libknekhta ulitsa and a large Byzantine  church is soon visible.    It is the Church of the Blood and was recently built to honor the Romanov family who were murdered at this spot in 1918.
The actual house itself was torn down by the Soviets in 1977 fearing sympathy for the tsar, and a return to a monarchy.  This was actually done by orders from Boris Yelstin who was the mayor of Yekaterinburg at that time.  In the background, across the Iset River and City Pond,  the ultra modern skyline of Yekaterinburg stands impressively with no signs of the Soviet past.
Nearby, there is a Military History Museum that is on our agenda, so we turn left on Pervomaskaya ul and walk a couple of blocks.   Unexpectedly we first come upon a large monument  in a plaza just prior to the museum.    There is a large metallic statue of a Soviet infantryman, sitting with head held down, and holding his AK-47.   Surrounding the statue are 10 steles, each 50 feet high, one for each year of the Soviet Afgan war, with the names of those from Yekaterinburg who died.    On the steps of the memorial, a young woman and her daughter lie a wreath in an area covered with flowers.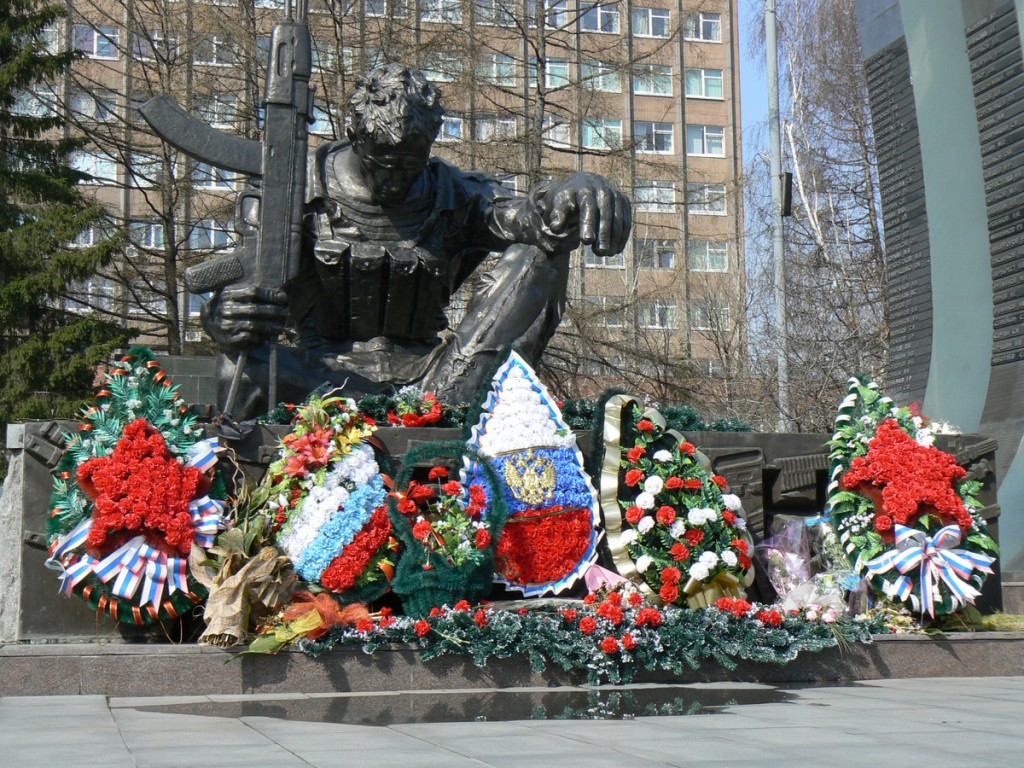 Continuing to the far end of the plaza, stands a large building with a long steeple having a Soviet Star at the top.   A  tank, rocket launcher and SAM sit on display outside the front of the entrance to the Military History Museum.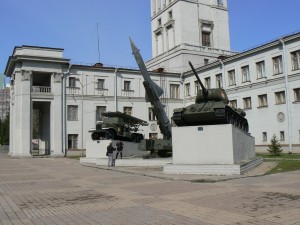 A couple of older Russian women meet us at the front door and show us to the ticket office where we pay 50 rubles each to get in.  I pay another 100 rubles to be able to take pictures.   The displays I am most interested in are those from WW2, the Great Patriotic War, as it is called by the Russians.    There are several displays of captured Nazi weapons and uniforms, and many large murals showing the most important battles on the Eastern front.   On the second floor, an old Russian woman in her 80's, working as a monitor,  proudly gives us a guided tour while speaking in a mixture of Russian and English.
Around 1300, we leave and starting walking to the city center;  we're also getting very hungry.    Yekaterinburg is another beautiful and clean Russian city.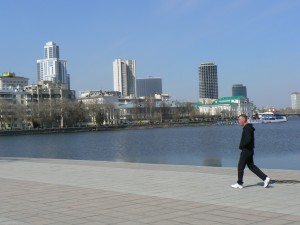 Similar to Moscow, the people look like white Europeans and we see few  minorities.   We walk to ul Lenina, cross over the City Pond and on to Lenina Square.   Just off the square we see TGI Fridays, Subway and a Travelers Coffee.   Jeff wants the coffee shop, and we go in.   It is quite crowded but the owner greets us in English as soon as we walk in and finds us a table.   We are surprised that he thinks we are Americans or British, as we are usually mistaken for Germans.   The owner talks to us for several minutes and is surprised that we are travelling across Siberia by ourselves and not as part of tour group.   He explains that he has travelled this route often, and has been to Mongolia on 13 separate trips!   Jeff and I each order pasta and coffee for a total of about $25.  The food is again very good.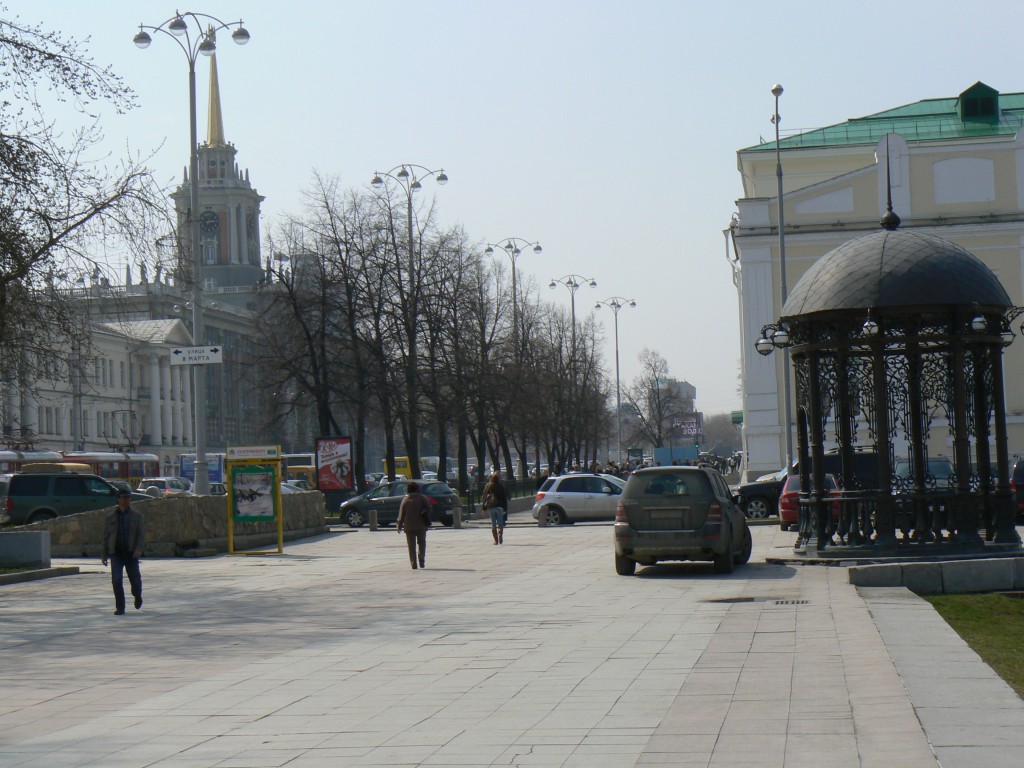 After eating we decide to walk along the City Pond and park that passes through the center of Yekaterinburg.   There are some young couples on park benches, but also a lot of young men walking around openly drinking beer.  This is legal in Russia and we would see this often.   A couple minutes later we walk past a park bench and see a person dressed entirely  in an animal costume, similar to a college mascot back home, but groping a young women.  Apparently they they know each other?
We continue to walk along the canal admiring the colorful buildings and the architecture.   In addition to the traditional Russian architecture is an unusual number of large newer buildings.   The streets near the canal are busy with buses and street cars.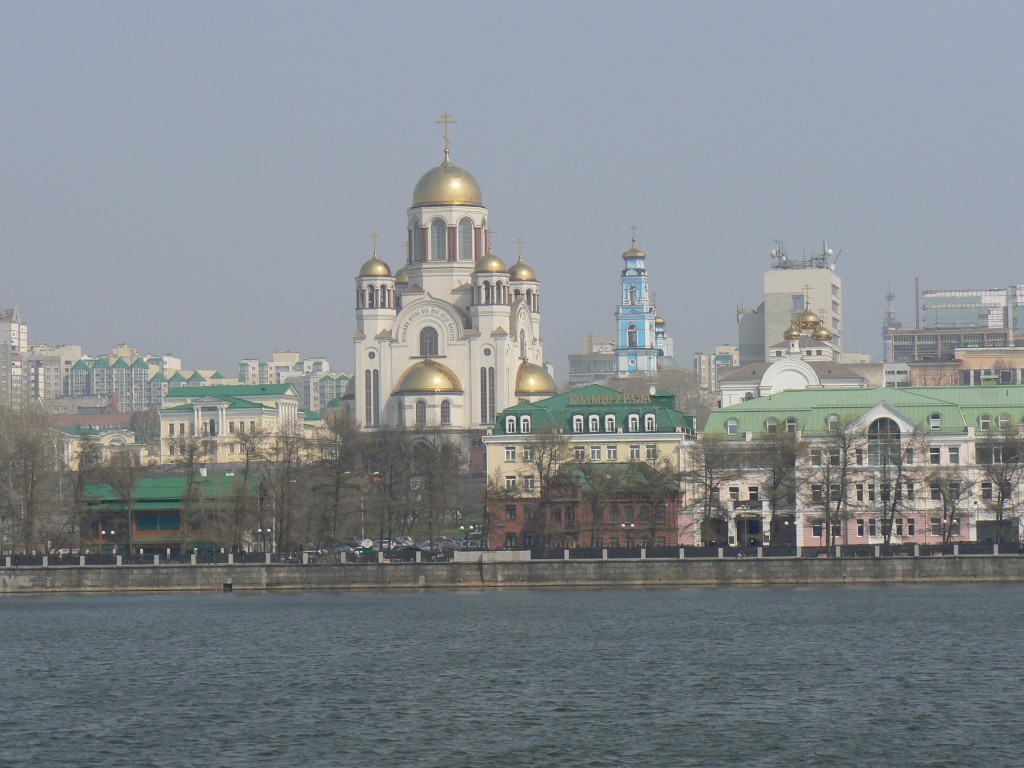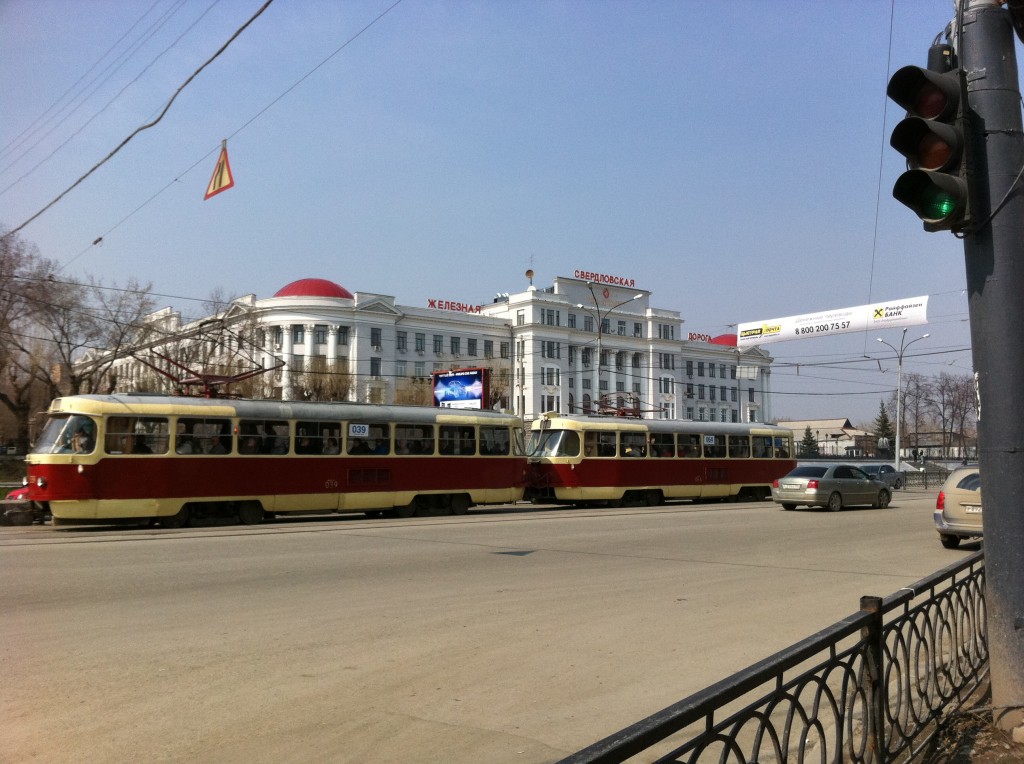 A couple hours later, we arrive back at the train station, but have a couple of hours to kill before our train departs for NovoSibirsk.   Next to the train station is a train museum so we spend an hour looking though it.  Leaving the museum, we run into an Kyrgyz looking cabbie who wants to practice talking English so we talk to him for awhile.    We walk some more and look at a number of restaurants surrounding the train station.   We find a cafeteria style place that looks good.    I have a meatloaf looking entrée with bread, French fries, a Baltica Beer and tea.
After dinner, we grab our suitcases from storage and walk up to the waiting area on the second floor of the train station.    A female guard checks our passports and tickets at the entrance and clears us to sit down.    The waiting area is a couple hundred feet long and has a beautiful arched ceiling divided into 8 sections.   Each section has a hand painted mural covering the entire ceiling.     Each mural covers a period in Russian history and shows a significant event.  Among these are the Industrial revolution, women in the Olympics, WW2, Tsar Nicholas II and family.   The most interesting however is a mural showing Francis Gary Powers parachuting into Russia and being captured by peasants.   This happened in 1960 about 20 miles from this location and he spent 2 years in prison in Moscow before being exchanged for a Russian spy.  I ask the Babushka at the door if I can take pictures and she nods her head in approval.
I sit down again to do some people watching.   Sitting across from us are 2 Russian men who appear to be construction workers.   One of them opens his suitcase and it is full of clothes.  He searches through his  clothes and pulls out a large loaf of bread that is not wrapped, but just laying loose in the clothes.   He tears off a large chunk of bread, hands it to his friend, then tears off another chunk for himself.  Back into the suitcase goes the bare loaf of bread.
Next:   Train Trip from Yekaterinburg to Novosibirsk